According to information collected by the Minghui.org website, another 47 Falun Gong practitioners were confirmed to have been sentenced in October 2020 for their faith in Falun Gong, a mind-body discipline that has been persecuted by the Chinese communist regime since 1999.
The 47 practitioners came from 17 provinces and municipalities. Shandong Province topped the list with 9 cases, followed by 6 cases in both Liaoning and Guangdong, and 5 cases in Sichuan.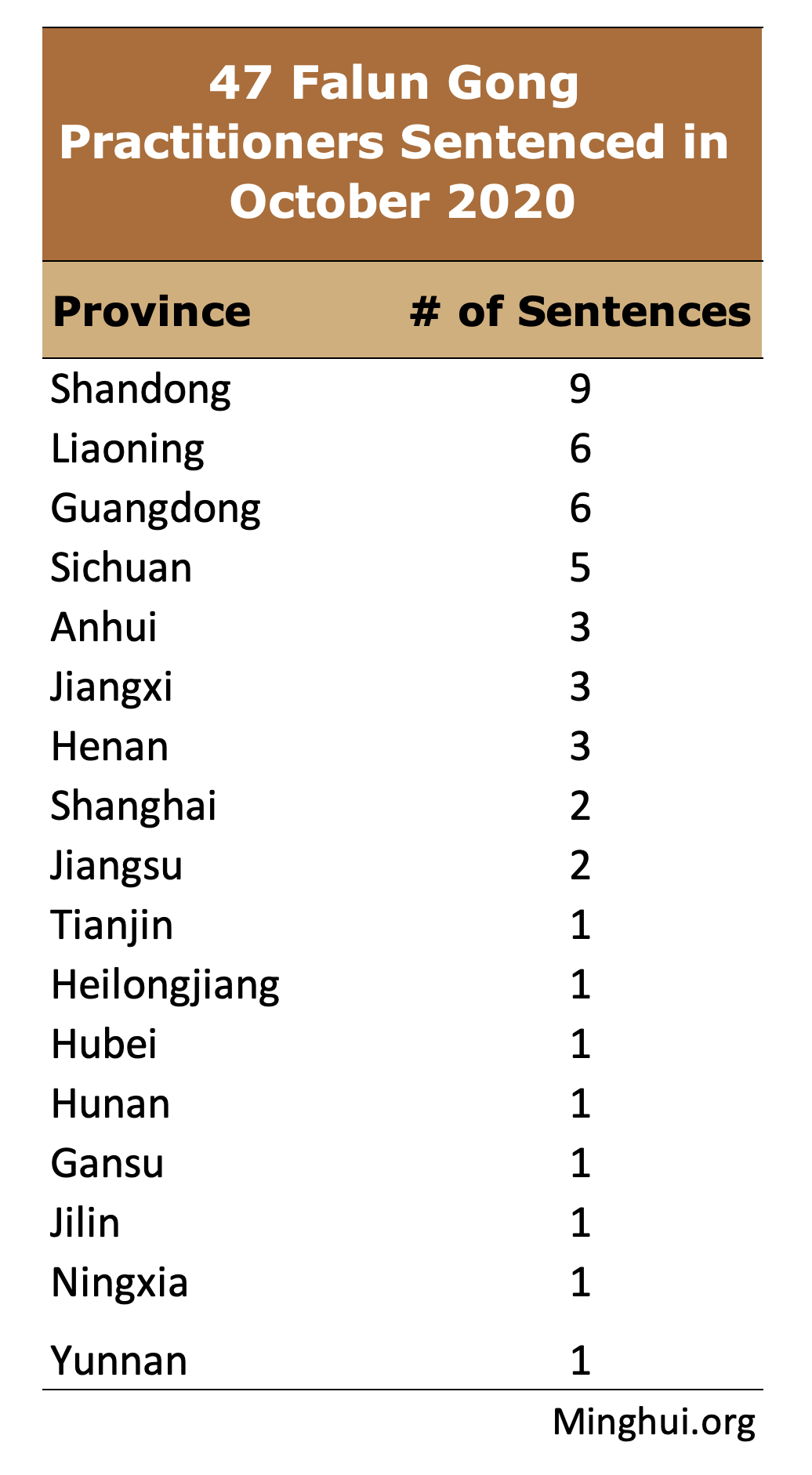 Prison terms ranged from 6 months to 7 years, with an average of 3.27 years. Thirteen of the practitioners were each fined between 2,000 and 20,000 yuan, averaging 7,538 yuan per person.
The authorities not only targeted the practitioners themselves but also convicted one practitioner's wife who doesn't practice Falun Gong. She was convicted in October for supporting the practitioners.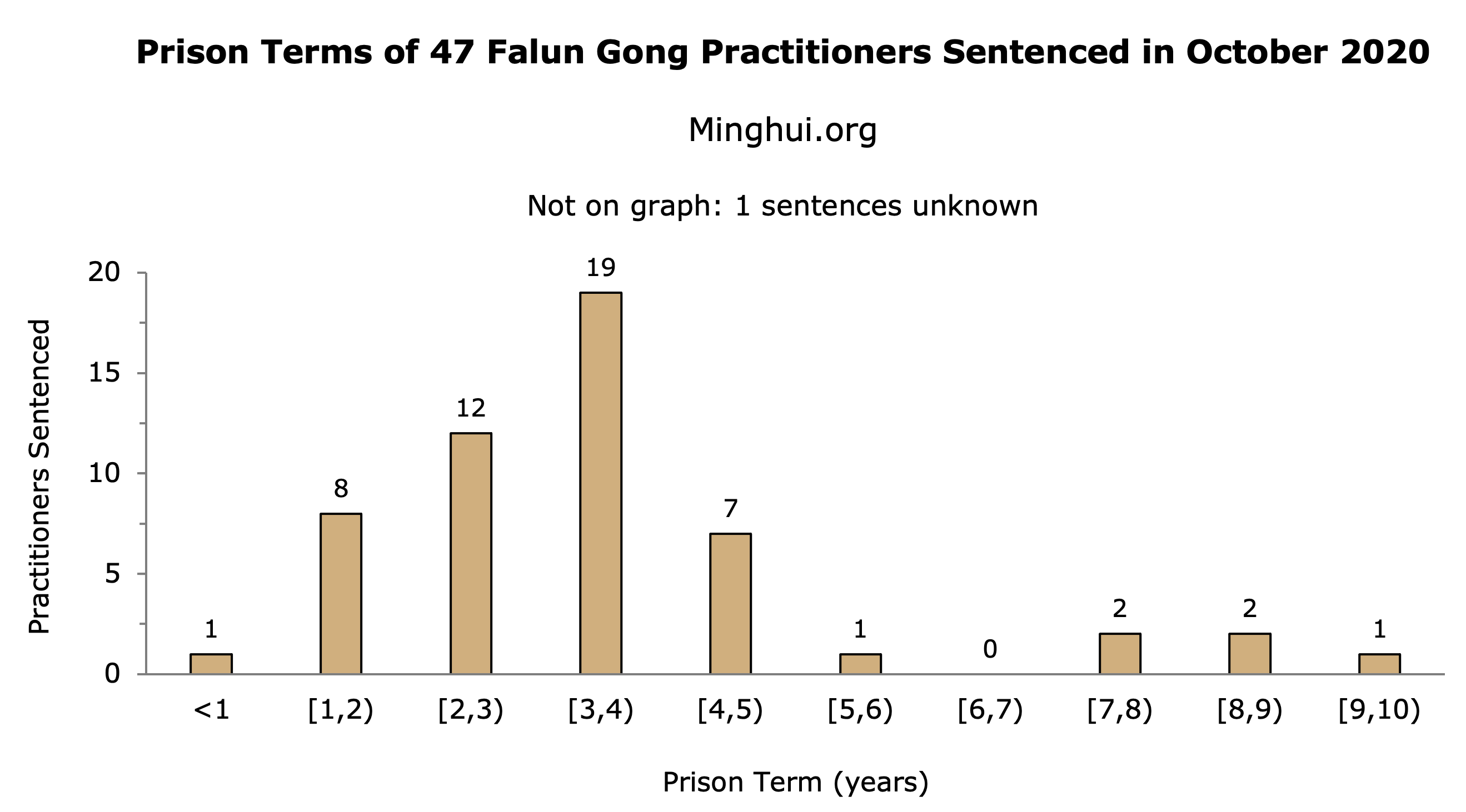 Eleven of the 47 practitioners were 65 or older. In particular, 75-year-old Mr. Xia Zhongzhi of Henan Province was sentenced to 3.5 years for urging a police officer not to participate in the persecution. This is his second prison term.
In addition to the October cases, another 3 from September were also confirmed in October, which brings the year-to-date tally of sentenced cases to 376.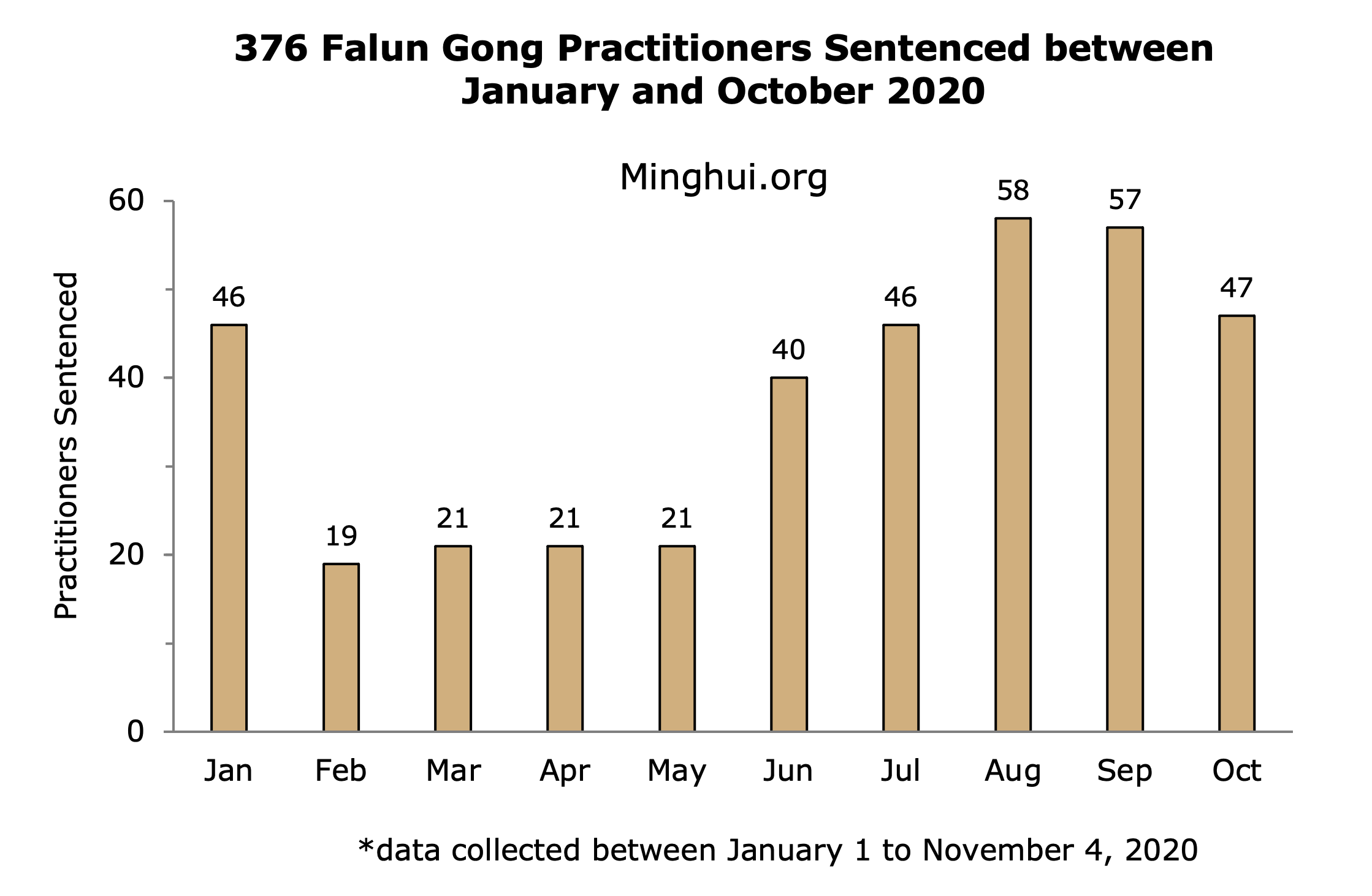 Of note, information about the sentencing cases was collected between January 1 and November 4, 2020. Due to the communist regime's censorship of information, the actual number of Falun Gong practitioners sentenced for their faith is likely much higher.
Download/view the full list of sentenced practitioners here (PDF) [Note: the cases were sorted by month (in ascending order) and then prison terms (in descending order)]
Below are snapshots of some cases.
*****
Elderly Practitioners Targeted
67-Year-Old Man Tricked into the Police Station, Arrested, and Sentenced
Mr. Gong Qinglin, a 67-year-old Yilong County, Sichuan Province resident, received a call from the police on March 7, 2019 and was asked to go to the police station for an ID registration. Suspecting that the police were trying to persecute Mr. Gong for practicing Falun Gong, his family asked him not to go. Mr. Gong still went, only to be arrested right away.
The police snatched Mr. Gong's home key and brought him back for home-ransacking. His Falun Gong books, computer, printer, as well as 80,000 yuan in cash, were confiscated.
The police interrogated Mr. Gong several times and said they would release him if he agreed to provide information on several other Falun Gong practitioners. He refused to comply and was kept in custody.
The police later submitted his case to the Procuratorate and the Falun Gong related items confiscated from him were included as prosecution evidence.
Worrying about his situation, Mr. Gong's family hired a lawyer to represent him. When the lawyer went to the Yilong County Procuratorate to review his case documents, the staff member there said that someone else had borrowed the documents, and that they didn't have an electronic file available.
When the lawyer went to the Procuratorate's Supervision Office to file a complaint about the staff blocking him from reviewing the case documents, it took more than an hour for the supervision office to agree to accept his complaint.
Mr. Gong was tried on October 20, 2020 and sentenced to a four-year prison term.
65-Year-Old Woman Secretly Arrested, Detained in a Psychiatric Hospital and Then Sentenced to 7 Years
Ms. Li Yanqun, 65, of Foshan City, Guangdong Province, was arrested at home on March 17, 2020. The authorities kept her family in the dark about her whereabouts. It took her daughter two months to find out that she had been detained in the Foshan City No. 3 People's Hospital, a well-known local psychiatric hospital.
The authorities blocked Ms. Li's lawyer from visiting or representing her in the virtual hearing held by the Chancheng District Court on August 5, 2020. Two of her family members were allowed to watch the hearing in a separate room, but they said the audio quality was very poor and they could hardly hear what was said.
The judge informed Ms. Li's lawyer on October 21, 2020, that she has been sentenced to seven years with a 7,000 yuan fine. Her family still doesn't know where she is being detained at the time of this writing.
This is the second time that Ms. Li has been sentenced for her faith, following a previous three-year term given in 2007. Her hands and feet were injured and disfigured as a result of the torture at Guangdong Province Women's Prison.
75-year-old Man Given Second Prison Term for Urging Police to Stop Persecuting Him
Mr. Xia Zhongzhi, 75, from Huaiyang County, Henan Province, was arrested on March 9, 2019, for talking to Cheng Weifeng, an officer with the Domestic Security Office, about Falun Gong and urging him to stop persecuting practitioners like him. Cheng refused to listen and arrested Mr. Xia. He and other officers stepped on Mr. Xia's feet and handcuffed him. They ransacked Mr. Xia's home later in the day and confiscated his Falun Gong books and materials.
Mr. Xia was later sentenced to 3.5 years and is now incarcerated in Xinmi Prison. His family is not allowed to visit him.
This is the second time that Mr. Xia has been sentenced for his faith. He was previously arrested on June 26, 2014, by the same officer Cheng. Mr. Xia had been studying the Falun Gong teachings with other practitioners. Ten other practitioners were arrested that same day.
Mr. Xia was sentenced to three years in the Xinmi Prison. He was tortured in both the detention center and prison for refusing to give up his faith.
Targeted for Attending a Private Gathering
Four Shandong Residents, Including a Married Couple, Sentenced for Alleged Illegal Assembly
Four Qufu City, Shandong Province residents arrested during a private gathering a year ago have been sentenced to prison after the police accused them of having an illegal assembly.
Ms. Huang Chunling, Mr. Zhao Genfa, and his wife Ms. Qiao Huarong, were arrested on September 24, 2019, moments after they visited another practitioner, Ms. Liu Honglan. One officer took Mr. Zhao's home key while searching his bag and then ransacked the couple's home when no one was present. Their Falun Gong books, cellphones, laptop computers, and some flash-drives were confiscated.
Mr. Zhao was sent to the Qufu City Detention Centre the next day, while the three female practitioners were held at the Jining City Detention Centre. Their arrests were approved by the Qufu City Procuratorate on November 1.
The four practitioners were tried by the Rencheng District Court through a video conference on October 20, 2020. The judge sentenced them two days later. Mr. Zhao was given a three-and-a-half year prison sentence and is appealing the verdict, Ms. Huang and Ms. Liu were each sentenced to three years and three months, and Ms. Qiao was given three years.
Repeated Persecution
Incarcerated in the Past for 9.5 Years, 67-year-old Woman Given Another 4.5 Years, Now Suffering with Uremia
Ms. Zhong Yifang, a 67-year-old Panzhihua City, Sichuan Province resident, was recently sentenced to 4.5 years in prison for practicing Falun Gong. She developed severe uremia while being held at the Panzhihua City Detention Centre. Her abdomen is badly swollen and she is emaciated. The guards are giving her injections every day, but it's not clear what is in them.
Ms. Zhong's latest arrest in mid-November 2019 for talking to people about Falun Gong came less than three years after she served eight years for her faith.
Ms. Zhong, a retired factory worker, took up Falun Gong in 1998. Since the persecution started a year later, she has been repeatedly arrested, and served 1.5 years of forced labor before being given eight years in 2010.
While she was serving time in Longquanyi Women's Prison, the guards injected her with unknown drugs and regularly took blood samples from her. She was also forced to do intensive unpaid labor during the day and stand with her upper body parallel to the ground for long hours at night.
When she was released, she was given only her undergarments. An inmate secretly gave her pajamas and a sweater so that she could leave the prison with some clothes on.
Having Spent 15 Years Behind Bars, 46-year-old Man Gets Three More Years for His Faith
Mr. Liu Qingliang, 46, of Liaocheng City, Shandong Province, was recently sentenced to three years for distributing informational materials about Falun Gong, after spending 15 years incarcerated for his faith.
Ms. Liu was arrested on May 8, 2020 and his home was ransacked. He was sent to the Dezhou City Detention Centre on the next day.
On October 28, 2020, Mr. Liu was tried by the Qihe County Court through a video conference. His family wasn't allowed to attend his hearing. His lawyer entered a not guilty plea for him. The judge sentenced him to three years at the trial's end.
Mr. Liu's latest sentence came shortly after he was released from serving a 12-year term for making informational materials about Falun Gong. He was arrested on July 6, 2008 while he was in Yuyao City, Zhejiang Province. The police interrogated and tortured him while he was detained at the Yuyao Detention Centre. The Yuyao City Court sentenced him to 12 years in the Zhejiang Province No. 4 Prison on June 2, 2009.
In addition to the two prison terms, Mr. Liu was made to serve three years in a forced labor camp in 2000. The police beat him with a rubber club and slapped his head with their shoes. He was severely injured and lost his ability to walk.
After Spending Nearly Ten Years Behind Bars, Hunan Man Sentenced for His Faith Again
Mr. Zhang Chunqiu, 57, of Yiyang City, Hunan Province, was recently sentenced to three years and seven months for practicing Falun Gong. This is the second time that Mr. Zhang has been sentenced, following an eight-year term between April 19, 2001 and April 19, 2009. He also served one year and nine months at Xinkaipu Forced Labor Camp between February 21, 2010 and November 21, 2011.
While in custody at various facilities, Mr. Zhang was subjected to relentless torture for upholding his faith. On April 19, 2002, the day when he was sent to Yiyang City First Detention Center, he was ordered to kneel down facing the wall. A guard then ran up to him from behind and repeatedly kneed him in the back until he spit up blood.
On October 2, 2002, while he was being held at the Hunan Province First Detention Centre, the guards shocked him with six electric batons on his sensitive and private parts.
On May 17, 2003, while he was jailed at Jinshi Prison, the guards hung him from his handcuffs, while hanging a wood board weighing nearly 165 pounds around his neck, for 13 hours, causing tremendous damage to his neck. In addition, the prison authorities also performed clinical trials of tuberculosis and hepatitis tests on him.
After he was released from the labor camp in 2011, Mr. Zhang moved to Foshan City, Guangdong Province to make a living. He was arrested again on October 10, 2012. His rental apartment was ransacked and he was taken back to Yiyang and detained at the Datonghu District Detention Centre.
The authorities closely monitored Mr. Zhang and his family's daily life after he was released on November 18, 2012.
Mr. Zhang was arrested again on April 8, 2014 while working in Huaihua City, Hunan Province, and sent back to Yiyang.
Mr. Zhang's latest arrest was on December 6, 2019, while he was working in Loudi, a city southwest to Yiyang. He was tried by the Louxing District Court on June 11, 2020 and later sentenced to prison. He has appealed the verdict with the Loudi City Intermediate Court.
Jiangxi Man Sentenced After Having Barely Survived Years of Horrific Torture in Labor Camp
Mr. Fan Lujie, 65, of Jiujiang City, Jiangxi Province, was recently sentenced to two years for practicing Falun Gong. He was arrested in July 2019 and has been detained at Jiujiang Detention Centre since.
Mr. Fan took up Falun Gong in November 1995. After the communist regime ordered the persecution of Falun Gong in 1999, he was arrested multiple times and given three labor camp terms. His mother passed away from overwhelming grief, and his wife was also terrified and sickened as a result of the enormous pressure.
Mr. Fan served all three terms at the now-defunct Majialong Forced Labor Camp. The guards always arranged inmates to monitor him, including when he was eating, sleeping and using the restroom. He wasn't allowed to talk to any other Falun Gong practitioners detained there.
Mr. Fan was forced to work from dawn to midnight during his first term. As the guards always gave him the quota that he could never finish, they used that as an excuse to torture him every day.
In one torture, they forced him to bend down for hours, with his fingers touching his feet while keeping his legs straight. In another torture, they forced him to kneel down in front of a wall, with his legs split as wide as possible. They then forced him to place his upper body against the wall. While most people couldn't stand seconds of such torture, Mr. Fan was forced to hold the position for two hours.
The guards didn't allow him to sleep in a bed, but instead on a wooden board placed directly on the ground. As the room was leaking, water always got in when it rained outside. Sometimes the water accumulated in the room, as high as the wooden board he slept on.
Due to the humid living environment, Mr. Fan developed scabies all over his body, which was very painful and itchy. Pus oozed out everywhere. After he sat for a day to do the unpaid labor, the pus on his buttocks would wet his pants and stick to the chair. When he stood up, a layer of skin would be torn off and the pain was excruciating. The guards turned a blind eye to his condition and still forced him to do intensive labor.
His ankles later began to fester and he had one big hole on each ankle. The wounds oozed smelly blood. His legs also turned black. A guard surnamed Xu said to him, "I can't eat for a week after I see your feet." The labor camp doctor warned that they would have to amputate if treatment was delayed any longer.
During Mr. Fan's second labor camp term, he submitted a solemn declaration to retract the statement he was forced to write to renounce Falun Gong during his previous term. The guards were infuriated and extended his term by three months. They constantly force-fed him after he held hunger strikes to protest the persecution, including on the last day of his third term.
Mother of Two Sentenced to Prison
Ms. Bu Rumei, a 48-year-old Changzhou City, Jiangsu Province resident, was given one and a half years in prison on October 23, 2020 for practicing Falun Gong, after having been incarcerated for nearly four years.
Ms. Bu, the mother of two girls, was arrested at home on April 16, 2020. Her terminally ill father-in-law, who was living with her and her husband, was so terrified by the police raid that his condition quickly worsened. He passed away a month later.
Ms. Bu was indicted around July. When the prosecutors questioned her husband and two daughters on July 23, her 12-year-old younger daughter said to the prosecutors, "My mom didn't do anything wrong, nor has she harmed anyone. I won't accept you sentencing my mom."
Ms. Bu was tried by the Wujin District Court on October 23. She is currently detained at the Changzhou Detention Centre.
Prior to her latest sentencing, Ms. Bu had served one year and nine months in a labor camp and two years in prison for upholding her faith.
She was arrested on September 9, 2009 and detained at the Wujin Detention Centre. She was force-fed for holding a hunger strike to protest the arbitrary detention. Despite her serious condition, the police gave her the labor camp term without due process.
She was arrested again and sent to a brainwashing center on July 22, 2014.
Her next arrest was on June 17, 2016. After six months of detention at the Xilin Detention Centre, she was sentenced to two years at the Changzhou Prison and fined 10,000 yuan by the Jingkai District Court on December 29.
Ms. Bu's mother, Ms. Bu Xiuying, who is in her late 70s, and brother, Mr. Bu Danyu, have also been arrested and detained for their faith in Falun Gong.
Newly Confirmed Sentencing Cases in September
Chongqing Woman Secretly Sentenced, Denied Family Visits Despite Medical Condition
Ms. Peng Shibi of Chongqing, who was secretly sentenced for practicing Falun Gong, is experiencing serious health problems, and is still being denied family visits by the prison authorities.
Around late August or early September 2019, Ms. Peng, a 69-year-old retired kindergarten teacher, went to the local Hualongqiao Police Station to deliver Falun Gong-related materials and urge the officers not to participate in the persecution of Falun Gong.
Though the police didn't arrest her on the spot, they ransacked her home hours later when she was not at home. After her son notified Ms. Peng of the house raid, she went to a relative's home to evade arrest, but was still located by the police, who tracked her cellphone and arrested her on September 7, 2019.
Ms. Peng's family was kept in the dark about her case status after her arrest. In June 2020, upon learning that the Procuratorate had returned her case twice due to insufficient evidence, they went to the Hualongqiao Police Station to demand her release. The officer who received them initially attempted to turn them away, but later relented and allowed one of them to meet with the police station's director.
Xia Jiong, the deputy police director, said that Ms. Peng's case would be closed soon. He threatened to arrest Ms. Peng's family member when the latter defended Falun Gong.
Ms. Peng was later secretly sentenced and transferred from the Caijia Detention Centre to Chongqing Women's Prison in early September 2020. Her family didn't know when she was tried or the length of her prison term.
Ms. Peng is currently experiencing dangerously high blood pressure and has a heart condition, yet the prison authorities have still blocked her family from visiting her.
Prior to her latest term, Ms. Peng was given a term at Chongqing Women's Forced Labor Camp following her arrest on September 17, 2008.
She was arrested again on January 26, 2013 for talking to people about Falun Gong, and was sentenced to three years on July 17, 2013. Her appeal was rejected by the Chongqing Intermediate Court.
Ms. Peng was subjected to intensive torture at the Chongqing Women's Prison. Her term was extended by a month. She returned home on July 25, 2015.
While Ms. Peng was serving time, her younger brother, Mr. Peng Shigui, was arrested on September 6, 2013, also for practicing Falun Gong. After his wife, Ms. Yao Hong, was forced to live away from home to avoid the constant police harassment, the siblings' elderly mother, who was mentally ill, was left at home alone and struggled to take care of herself.
Elementary School Teacher Sentenced to Prison, Husband Arrested and Daughter Fired for Seeking Her Release
Ms. Zhu Surong, a 45-year-old elementary school teacher in Baoding City, Hebei Province, was sentenced to three years and ten months with a 50,000-yuan fine on September 24, 2020, for practicing Falun Gong. She has filed an appeal against the verdict.
Ms. Zhu's prison sentence, that came two months later, dealt a further blow to her family. Her older daughter, who had recently given birth, struggled to care for her newborn son and take care of her school-age sister and elderly grandmother.
Ms. Zhu was teaching in class on October 11, 2019, when police officers came to harass her. She was arrested at home later that day and taken to the Baoding City Detention Centre.
It turned out that a thief in her village, who had stolen her electric bike, reported her to the police after finding Falun Gong materials in the bike's basket. Instead of arresting the thief, the police arrested Ms. Zhu.
More than 300 local villagers signed a petition within a few days following Ms. Zhu's arrest, demanding the beloved teacher's release. The police continued to hold her in custody, and submitted her case to the Procuratorate.
At one point, the police promised Ms. Zhu that they would release her immediately if she signed a statement renouncing Falun Gong, but she refused to comply.
Ms. Zhu appeared in Gaoyang Court on May 12, June 19, and July 6, 2020, before being convicted.
On July 1, 2020, Ms. Zhu's husband was arrested and their older daughter was fired from her job, both for seeking justice for her.
Paralyzed 80-Year-Old Woman Sentenced to Prison
Ms. Chen Guifen, 80, who has developed medical problems following her arrest for practicing Falun Gong, was sentenced in her hospital ward on September 17, 2020.
Ms. Chen, a resident of Chongqing, was arrested by officers from the Jiangjin Domestic Security Division. The police ransacked her home and said she was recorded by a surveillance camera while distributing materials about Falun Gong in a residential area.
She suffered a stroke and had a cerebral vascular blockage that paralysed her on one side of her body. She was tried by the Jiulongpo District Court on September 17 while she was still hospitalized for her condition.
The court staff went through the motions and announced her 1.5-year term shortly after. All five witnesses were police officers involved in her arrest. The police also subtracted five years from her age so that they could press charges against her.
Heilongjiang Woman Sentenced, Suffers Ankle Injury in Custody
Ms. Zhang Shuqin, a 69-year-old resident in Yichun City, Heilongjiang Province, was sentenced to three years and four months for practicing Falun Gong. The Yimei District Court announced the verdict against Ms. Zhang on September 28, 2020. She is now in the process of appealing the sentence.
According to Ms. Zhang's family, who attended her sentencing hearing, she said she had been subjected to severe abuse during her six months of detention, and was emaciated. She was also crippled due to severe swelling of her ankle.
Ms. Zhang said she was suffering enormous pain in her ankle due to some injuries. The guards at Yichun City Detention Centre refused to take her for a medical check up despite her repeated requests. Although they later performed an X-ray on her ankle, the guards claimed she was fine, even though she was still experiencing sharp pain. It's not clear whether Ms. Zhang incurred the ankle injury before or after her arrest.
Ms. Zhang, the owner of a family-run hotel, was arrested on March 5, 2020 while on her way to deliver some food to a friend. While she struggled to get away, she suffered a heart attack and collapsed to the ground. One officer kicked and verbally abused her.
She was tried through a video conference in the detention center on August 19, 2020. Her lawyer and her daughter entered a not guilty plea for her.
Related reports: