U.S. Secretary of State Mike Pompeo gave a speech in Indonesia on October 29, highlighting the shared values of religious freedom between Western society and Asian countries. Reiterating the U.S. government's commitment in this regard, he urged officials and citizens in Asia to safeguard these values and counter religious suppression by the Chinese Communist Party (CCP).
The speech was part of Pompeo's Indo-Pacific trip between October 25 and 30, which includes India, Sri Lanka, the Maldives, Indonesia, and Vietnam.
Unalienable Rights
Pompeo gave his speech at his meeting in Jakarta with Yahya Cholil Staquf, Secretary-General of the religious organisation of Nahdlatul Ulama. Pompeo greeted faith leaders and diplomatic officials, as well as those who watched the meeting through a livestream.
In his speech titled "Unalienable Rights and Traditions of Tolerance," Pompeo mentioned a report published in July 2020 by the State Department's Commission on Unalienable Rights. He reiterated the report's key message of safeguarding the foundation of human dignity and freedom.
"The founding principle of the United States is very, very simple. America's Declaration of Independence affirms that governments exist—governments exist to secure the rights inherent in every human being," he explained.
"Now, the most fundamental of these rights is the right to freedom of conscience, including religious freedom," he continued. "It's the basis for the most important conversations about what conscience tells us and about what God demands of each of us."
A Spirit Without Borders
In the United States, religious freedom is a constitutionally protected right. On a personal level as a Christian, Pompeo said his faith tells him "how I live, how I work, how I think."
He pointed out, "Our respect, America's respect for God-given rights, is the defining feature of our national spirit," and that as a result, the U.S. has been the strongest supporter of democracy around the world. "The fact that our people embrace freedom and uphold a tradition of tolerance is very special. We should never lose it," he added. "We must continue upholding our traditions, and we must do so very actively. We can't assume our freedoms and our faith will live on. We must stand for what we believe."
Pompeo said that Indonesia's constitution since 1945 has made it clear that "every person shall be free." He continued, "'Every person shall be free to…practice the religion of his [or] her choice.' Thomas Jefferson could not have said it better."
A Clear Contrast Between the Free World and the Authoritarian CCP
Pompeo acknowledged the lengthy and arduous efforts it took to achieve the goals mentioned above. "I accept the core problem that democracies aren't perfect either. We get it wrong sometimes, too," he said. Referring to the Unalienable Rights report, he added, "most of American history can be understood as a struggle, a struggle to realise the Declaration of Independence's beautiful promises."
Pompeo warned, "We must always distinguish between free and democratic nations that inevitably fall short of their principles and those regimes that reject the very idea of human rights, the very idea of religious freedom, the very concept of self-government as a possibility."
While praising leadership from Indonesian officials, he also commended the critical role of ordinary citizens: "But in any free society, it's a nation's citizens who ultimately sustain and propagate its core ideals." He told religious leaders, "I know too that you'll draw on your faith to advocate for the human dignity of your fellow human beings when you know that they are being mistreated… And today I want to urge you – I want you to urge the same actions I asked the Catholic Church's leaders to do in the Vatican."
CCP Is the Biggest Threat
Among religious suppression around the world, Pompeo said the situation in China is the worst. "In fact, the gravest threat to the future of religious freedom is the Chinese Communist Party's war against people of all faiths: Muslims, Buddhists, Christians, and Falun Gong practitioners alike," he remarked.
He pointed out that such persecutions are often conducted in the name of counterterrorism. "But you know—you know; we know—we know that there is no counterterrorism justification for forcing Uyghur Muslims to eat pork during Ramadan or destroying a Muslim cemetery," he said.
He also condemned the CCP's one-child policy and other inhumane treatment of its citizens: "There is no poverty-alleviation justification for forced sterilisations or taking children away from their parents to be re-educated in state-run boarding schools."
He warned that the CCP "has tried to convince Indonesians to look away from the torments your fellow Muslims are suffering." "I know that these same CCP officials have spun fantastic tales of happy Uyghurs eager to discard their ethnic, religious, and cultural identities to become more 'modern' and enjoy the benefits of CCP-led development," he said.
"When you hear these arguments, I'd just ask you to do this: search your hearts. Look at the facts. Listen to the tales of the survivors and of their families," explained Pompeo, "Think about what you know of how authoritarian governments treat those who resist its rule."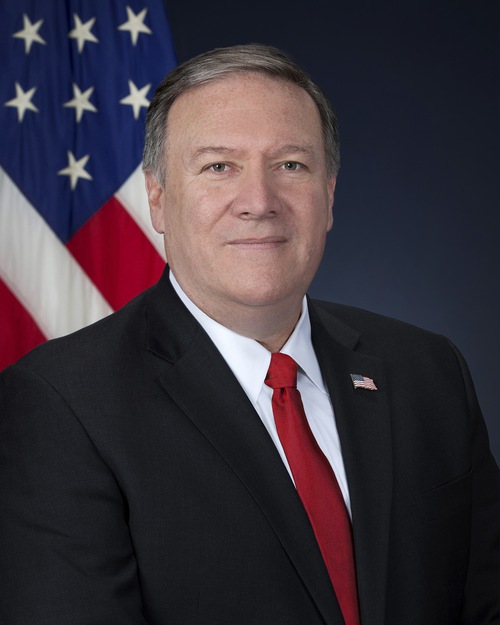 Safeguarding Human Dignity
Pompeo said the stories he heard about how people have suffered in China for their belief gave him resolve to further defend religious freedom. He said his own faith teaches him "that human beings have a basic dignity because they are made in God's image, and that as people of faith we have an obligation to honor that truth by protecting the weak and comforting the afflicted." He said that "faith without works is dead."
"It teaches me that of those to whom much is given, much is expected," he said. Therefore, he calls on "free people of free nations" to defend those rights of religious freedom.
"It is our duty. Even as we each do this—and even as we do this in our own and often different ways, we should recognize that we have strength in numbers," he said. "We should recognize that we can turn to each other for support in difficult times," he added, " and that our cherished rights and values are absolutely worth defending at every moment, as the birthright of every people."