Falun Gong practitioners held activities on Queen Street in Auckland, New Zealand on August 10, 2019. They introduced the ancient spiritual practice and called for an end to the Chinese Communist Party's (CCP) persecution of practitioners.
Many people stopped to watch the practitioners doing the exercises.
Ms. Christi Armet, a photographer, said she feels the CCP's organ harvesting from living people undermines the value of human life and destroys the spirit of humanity.
Ms. Armet said that democratic countries should pressure the CCP to respect human rights. She pointed out that the Party's trampling on human rights could infect the whole world like a virus.
She said many governments were short-sighted and bribed by the CCP, but young people should learn the evil nature of the CCP and the importance of human rights, and take action.
She believed humans wouldn't be humans, and human civilizations would fade away if humanity wasn't respected.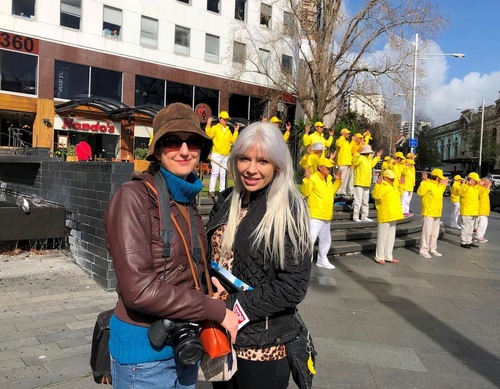 Tayler, Sharna, and Lincoln from Napier were appalled to learn of the CCP's atrocities. They said practitioners' efforts to expose the state-sanctioned organ harvesting is very important and that the CCP brought brutality to a higher level than the Nazis during World War II.
Tayler said, "Social media is a powerful tool in today's society. Spread the news to the world!" She and her friends said they would help by sharing the information with more people. They praised Falun Gong practitioners' actions and admired their peaceful protest.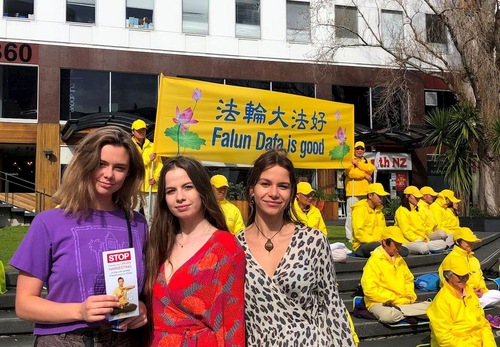 Savanna, who works in a medical facility on Waiheke Island, said she first heard about Falun Gong when practitioners held introductory activities there a few years ago.
She believes that the CCP can't hide the disgusting and horrifying crimes of organ harvesting forever. She said that she would help by spreading the information to her family, friends, and colleagues.
(Clearwisdom)