In Japan, August 15th marks "memorial day for the end of the war." The solemn occasion offers Japanese people an opportunity to reflect on the meaning of peace and freedom.
Falun Gong practitioners held an event to call on the public to help stop the 20-year-long persecution.
Practitioners from Tokyo collected signatures on a petition that supports lawsuits against the former Chinese communist head, Jiang Zemin, who personally launched and directed the persecution.
Practitioners passed out flyers, set up displays, and talked to passersby about the persecution. People were shocked to learn of the state-sanctioned organ harvesting, and several signed the petition condemning the persecution. Practitioners collected nearly 2000 signatures.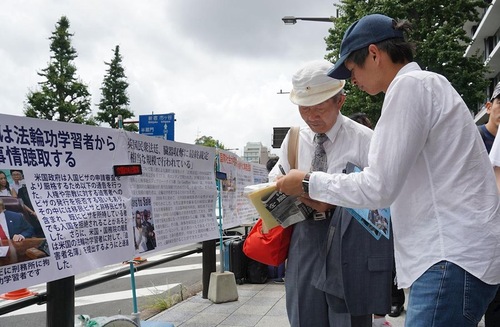 Japanese politicians and public have paid increasing attention to the persecution of this ancient spiritual practice in China.
One lawmaker from Tokorozawa said, "This is manslaughter. It is incredible that the Chinese Communist Party kills its own people for organs. As a democratic country, Japan should actively protect people and stop this crime."
One person said, "The entire world supports the lawsuit against Jiang Zemin. The persecution and the forced organ harvesting, directed by him, are beyond the Japanese public's imagination."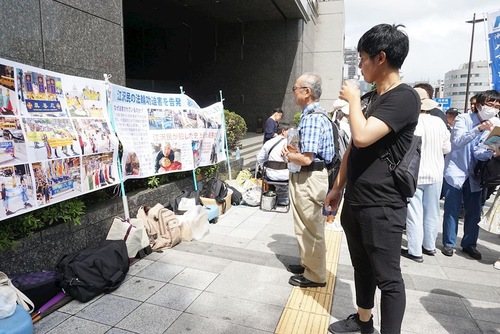 A passerby who signed the petition said, "I learned about the crimes that Jiang committed. The forced organ harvesting and the physical torture to the female Falun Gong practitioners are shocking. It is also unbelievable that the persecution has been going on for 20 years. It should be stopped, so I signed the petition."
According to incomplete statistics, as of July 19, 2019, nearly 3.2 million people from 35 countries have signed the petition submitted to the Chinese Supreme Procuratorate and Supreme Court, supporting the lawsuits filed by Falun Gong practitioners against Jiang Zemin.
(Clearwisdom)