Falun Dafa practitioners participated in the annual Fall Welcome Event on August 20-21, 2019, at Arizona State University.
They handed out information about Falun Dafa and how it's being persecuted, and gave people handmade lotus flowers. They were also invited to demonstrate the exercises on stage.
Several freshmen attended the event and stopped by the practitioners' booth. Many left their contact information, wishing to learn more about the ancient spiritual practice.
A university adviser who wanted to learn more about Falun Dafa, expressed her sympathy for those being persecuted in China.
She said that she has traveled to Hong Kong and has some understanding of the Chinese Communist Party's (CCP) crimes. She said she admired practitioners' unyielding courage in protesting the persecution.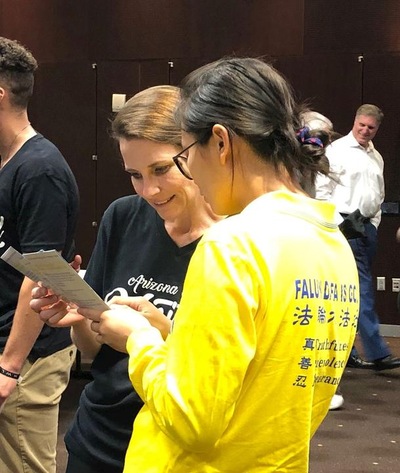 The event on August 21 was held indoors. One Chinese student who has lived in the U.S. for many years said that she had seen Falun Dafa practitioners talking to people in Hong Kong and read their banners, but she did not fully understand what was happening.
She said she wished to know more and felt fortunate to meet practitioners during the university's event.
She explained that because she came to the U.S. with her family when she was very young, she knew little about the persecution in China. After listening to a practitioner's explanation, she learned the extent of the persecution brutality and how the CCP tries to conceal it. She took a DVD and said that she would watch it carefully.
Practitioners were also invited to demonstrate the exercises on stage, and many students came to watch. After practitioners demonstrated the five sets of exercises, the moderator announced information about the practice site, and welcomed students and staff to participate every week.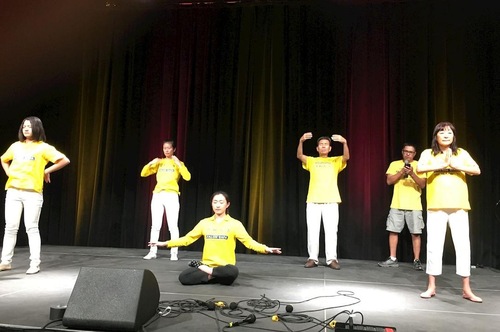 A group of American students came to the stand and said they were very interested in learning more. Before they left, practitioners handed them hand-made lotus flowers. They accepted them and said, "Beautiful! Thank you!"
(Clearwisdom)