Falun Gong practitioners held activities to expose the 20th anniversary of the persecution in China at Brisbane Square on July 13, 2019. The Chinese Communist Party (CCP) started persecuting Falun Gong on July 20, 1999, and it continues to this day.
The practitioners demonstrated the Falun Gong exercises, held up banners, distributed fliers and collected signatures for a petition. Many passers-by signed a petition protesting the CCP's persecution.


"Justice Will Prevail"
Two years ago, a practitioner named Mairann talked with a historian named Lucas, who signed a petition calling for an end to the CCP's state-sanctioned live organ harvesting from Falun Gong practitioners.
Lucas said that he was impressed with and admired the practitioners' long-term efforts advocating for human rights. He said he believes that Falun Gong practitioners are good people and that history has shown time and time again that justice will prevail.
Lucas said that the CCP's forced organ harvesting of Falun Gong practitioners has shown its evil nature. He said he hopes that Falun Gong practitioners will continue to raise awareness until the persecution ends.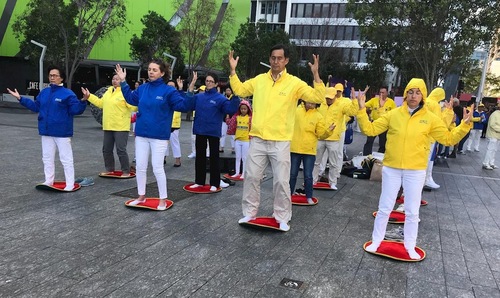 "We Should Impose Sanctions on the Perpetrators"
Anthony Dean and Amanda Bennett are undergraduate students enrolled at the Department of Arts at the University of the Sunshine Coast.
A practitioner talked about how the CCP is persecuting Falun Gong. Many innocent practitioners have been arrested, imprisoned, tortured or even subjected to live organ harvesting. The two said the perpetrators should be sanctioned.
Upon hearing that some countries passed legislation to curb their citizens from going to China for organ transplant tourism, they said the Australian government should do its part as well.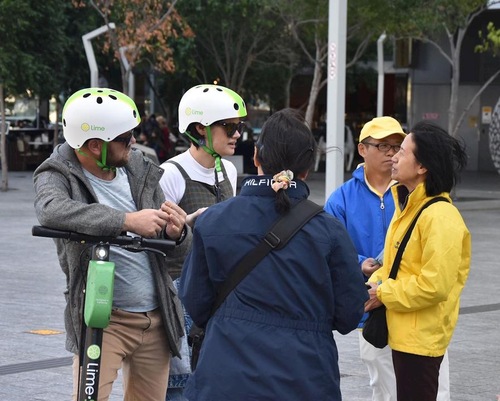 Interested in Learning Falun Gong
Falun Gong practitioners also met with people of different ethnicities. Many of them signed the petition against the persecution and encouraged the practitioners to keep up their efforts.
A passer-by named Olivia and her friends took Falun Gong fliers from a practitioner and listened to her information about the persecution. They were appalled by the CCP's brutality and signed the petition right away.
They were touched by Falun Gong's principles of Truthfulness-Compassion-Forbearance. They expressed interest in learning Falun Gong at a local group practice site.
Mr. Zhuan from Hong Kong passed by the event venue and expressed an interest in Falun Gong. He learned about the practice from a practitioner and said, "I think Falun Gong is very good! I will come with my classmates to learn it."