Ms. Zhang Yuhua was among the 27 survivors of religious persecution from 17 countries, who met with President Donald Trump in the Oval Office in the White House on July 17, 2019.
The 27 survivors were in town to attend the second Ministerial to Advance Religious Freedom this week, which was held in the U.S. Department of State in Washington DC on July 16-18, 2019.
This was the first time that President Trump officially met with a Falun Gong practitioner at the White House since he took office in 2017.
Ms. Zhang, 59, told President Trump about the persecution of her husband Mr. Ma Zhenyu, who is currently serving a three-year term at Suzhou Prison in Jiangsu Province.
Mr. Ma, 56, was arrested in September 2017 and sentenced to prison in June 2018 for "writing seven letters to central government leaders to appeal for Falun Gong," as stated by the verdict.
Ms. Zhang told President Trump that she is very worried about her husband. She knew another practitioner who was imprisoned for three years at the same facility. That practitioner vomited a lot of blood and died two days after being released.
She urged President Trump to take solid action against China for the human rights abuses and the forced organ harvesting.
The President said, "Yes, I understand."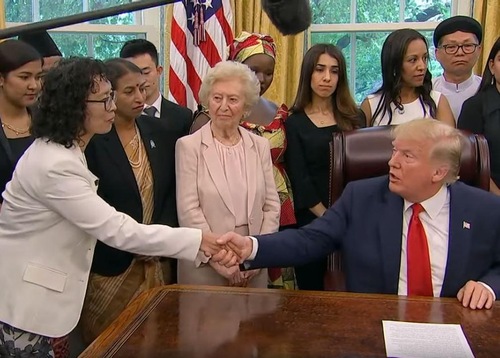 President Trump: Religious Freedom "Vital" and "Very Important"
During his opening remarks, President Trump expressed his solidarity to the survivors and reaffirmed his commitment to protect religious freedom.
"Each of you have suffered tremendously for your faith. You've endured harassment, threats, attacks, trials, imprisonment and torture. Each of you has now becomes a witness to the importance of advancing religious liberty well around the world," he said.
"In America, we always understood that our rights come from God, not from government. In our Bill of Rights, the first liberty is religious liberty. Each of us has the right to follow the dictates of our conscience and the demands of our religious conviction."
"For everyone here, you've been through a lot more than most people could ever endure and I want to congratulate you. It's really an honor to be with you and I will stand side by side with you forever."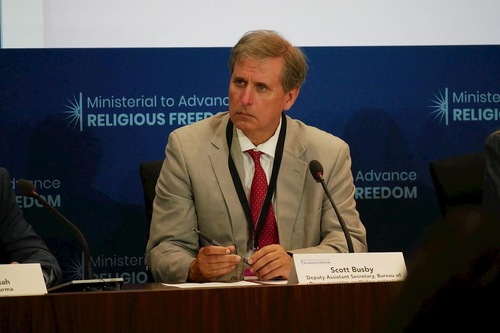 Zhang Called for the End of the Persecution
Earlier that day, Ms. Zhang spoke at the Ministerial to Advance Religious Freedom about the persecution she and her husband are enduring.
Ms. Zhang, a former professor of Russian Language at Nanjing Normal University, was arrested four times and sentenced to seven years and seven months for practicing Falun Gong. She was severely tortured in the prison, including being shocked by electric batons, deprived of sleep, given forced injections of unknown drugs, and made run under the baking sun for hours.
Her husband, Mr. Ma, a radar design engineer, was arrested multiple times and served seven years in prison prior to his latest term.
As the authorities are blocking lawyers from meeting with Mr. Ma and several lawyers who represented him before were retaliated against, Ms. Zhang said that she worries day and night about him.
"He could be tortured to death like thousands of other Falun Gong practitioners have been. He could be killed for his organs like an unknown number of Falun Gong practitioners have been."
She called on the U.S. government to impose sanctions under the Global Magnitsky Act on Chinese officials "known to have illegally detained, tortured, and killed Falun Gong practitioners."
"I hope that the U.S. government, international media, and human rights groups can help free my husband and the hundreds of thousands of other innocent but jailed Falun Gong practitioners," she said.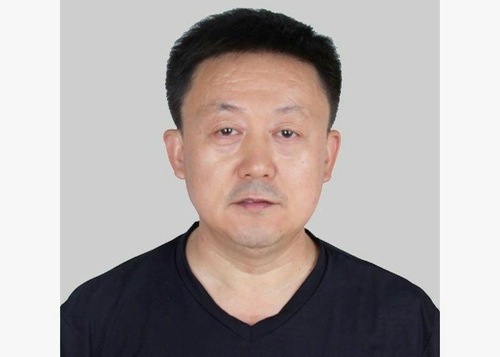 House Speaker and Former Lawmaker Condemn Human Rights Violations in China
U.S. House Speaker Nancy Pelosi also attended the conference. She had an hour-long discussion with former Congressman Frank Wolf, focusing on the human rights violations in China.
In the discussion, Ms. Pelosi called the suppression of religious freedom in China "a challenge to the conscience of the world." She said that if the United States is unwilling to call out China for its abuses of religious freedom then it loses its ability to call out other countries for similar abuses.
She added: "Violations are of such scale and so big, and the commercial interests are so significant, that it sometimes tempers our values as to how we are to act on it."
Former Congressman Frank Wolf expressed his concerned about the escalating repression of religious freedom in China and how companies in the western countries are working with the Chinese regime to develop technologies used in its repression of faith groups, such as mass surveillance technology and artificial intelligence.
"No company in the West ought to be cooperating with the Chinese to do this," Mr. Wolf said. "I think they ought to be sued." He said people should bring lawsuits against such companies, and damages should be then awarded to victim groups, such as Uyghurs, Tibetans, and Falun Gong practitioners.
Ms. Pelosi supported the proposal and said companies need to be called out for aiding human rights abuses.
"We have to shine a bright light and say, 'You are accomplices for very evil actions.' Do you want to be known for that?" she said.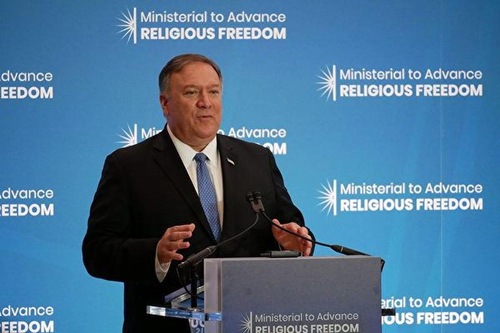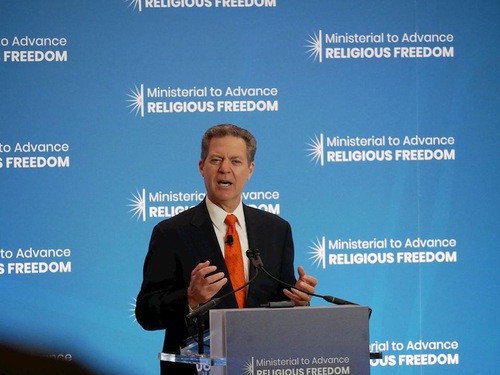 Twenty Years Too Long
Falun Gong spokesman Zhang Erping said in his speech at the conference that this July 20 marks the 20th anniversary of Falun Gong's peaceful resistance against the persecution.
He said that the guiding principle of the practice, Truthfulness-Compassion-Forbearance, and practitioners' effort of raising public awareness of the persecution have been widely acknowledged by the international community.
"Falun Gong practitioners have been fighting for their freedom of belief, and protecting the universal value of Truthfulness-Compassion-Forbearance, which is the foundation of human morality," he added.
Zhang hopes that more people will stand up against the human rights violations and fight for a bright future for everyone.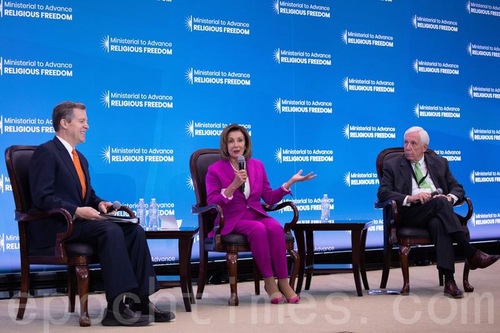 Related report:
U.S. Resident's Husband Imprisoned in China for His Faith, Denied Meetings with Lawyer
(Clearwisdom)