Falun Gong practitioners held a rally at the city center in Perth on July 20, 2018, calling to stop the 19-year-long suppression in China. Perth is the capital of West Australia and the fourth most populous city in the nation.
According to the Minghui website, at least 4,236 practitioners have lost their lives as a result of torture during police custody. Numerous evidence has also confirmed the existence of large-scale organ harvesting from living Falun Gong practitioners in China.
To help people become aware of the brutality and help stop it, practitioners stayed at St. Georges Terrace in the central business district from dawn to dusk displaying banners, distributing flyers, and collecting signatures.
Many people stopped to talk with practitioners and signed petitions to help stop the persecution of Falun Gong. One person, who worked as an engineer, said that forced organ harvesting was horrifying. "It is against humanity and not something we could imagine. I hope government officials in Australia and Western Society will take action to stop this."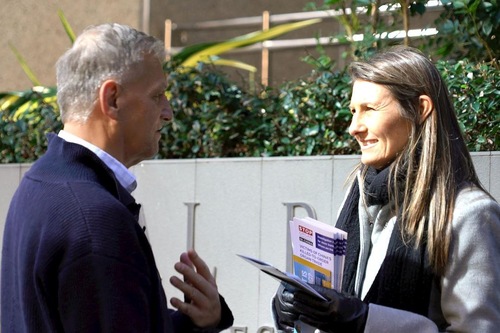 Standing with a poster in front her, Susan Mortimer said she traveled about 450 km (280 miles) from Albany to attend the event. "It took me about five hours yesterday to get here. I want to tell people that while we Australians can enjoy this peaceful meditation with the rest of the world, the severe persecution has been going on for 19 years in China," she explained.
To make it worse, the Communist Party kills practitioners on demand to sell their organs for profit. Medical professionals too have violated their ethics and conscience as accomplices in this crime. She added, "Quite a few people I met said they have heard about this and signed petitions. Some gave thumbs-up to me and encouraged us to continue the efforts."