On Saturday, June 23, 2018, Croatian Falun Dafa practitioners held a booth to share the practice with the community during the "Days of Ivanec" annual festival.
Ivanec, also known as the "City of Knights," is an ancient mining town located in the northwestern part of Croatia at the base of Ivancica Mountain. The "Days of Ivanec" is an annual event spanning several days and featuring exhibitions, concerts, entertainment, and sporting events.
The exhibition booths were located in the city square. Participating in the celebration for the first time, Falun Dafa practitioners gave visitors information about the benefits of the practice and collected signatures on a petition protesting forced organ harvesting from practitioners in China.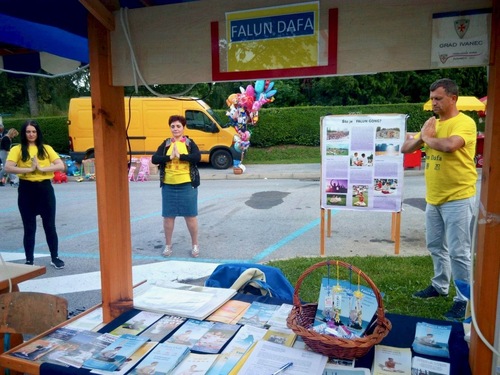 When two women stopped to hear what a practitioner had to say about Falun Dafa and the persecution in China, one of them said she knew about the state-sanctioned forced organ harvesting in China. They both signed the petition.
One man who asked about the practice said he wanted to go to live in China or India in search of spirituality. The practitioner noted that it might be right in Ivanec that he'd found what he was looking for. In a brief conversation, he learned the principles of Falun Dafa and facts about the persecution and forced organ harvesting. He also signed the petition.
Most of the visitors had not heard about Falun Dafa or the persecution. Some of them had heard of forced organ harvesting, but did not know the details. When they learned more, they signed the petition.
(Clearwisdom)
38 total views