Letter from Masanjia, a documentary on a forced labor camp in China, was screened on April 27, 2018, at the 25th Hot Docs Canadian International Documentary Festival, the largest of its kind in North America. The audience gave the film a lot of positive feedback.
The festival started on April 26 and ends on May 6. Among over 3,000 documentaries submitted, the judges selected 246. Letter from Masanjia was screened on April 27 and 29 and will be shown again on May 4.
A Letter that Crossed the Ocean
The letter begins:
"Sir: If you occasionally buy this product, please kindly resend this letter to the World Human Rights Organisation. Thousands of people who are here are being persecuted by the Chinese Communist Party government and will thank and remember you forever."
This letter fell out as Oregon resident Julie Keith opened a Halloween toy she bought from a store in October 2012. After she posted it on social media, it was picked up and reported by the local newspaper, CNN, New York Times, and other news outlets. The U.S. Immigration and Customs Enforcement, a law enforcement agency under the Department of Homeland Security, also began its investigation.
The person who wrote the letter was Sun Yi, a Falun Gong practitioner detained in Group 8 of Division 2 in Masanjia Forced Labor Camp. Besides enduring severe, long-term torture, he was made to do slave labor for about 20 hours a day.
Producing Halloween toys, he risked his life and secretly placed more than 20 such letters in goods made by the detainees. The toys were shipped to the United States and one of them was purchased by Keith.
Leon Lee, a director and producer of films, one of which earned the Peabody Award, was able to find Sun and ask about his experience in the labor camp. After hearing that Sun was an engineer and had been illegally sent to the labor camp because of his belief in Falun Gong, Lee decided to produce a documentary on this topic.
The footage was secretly filmed in China, where Sun was able to document his life while being closely watched by the police.
He also visited individuals who had been detained in Masanjia Labor Camp before him. Based on information and illustrations provided by Sun, the film also contains animations that show the brutal treatment Sun suffered in the labor camp.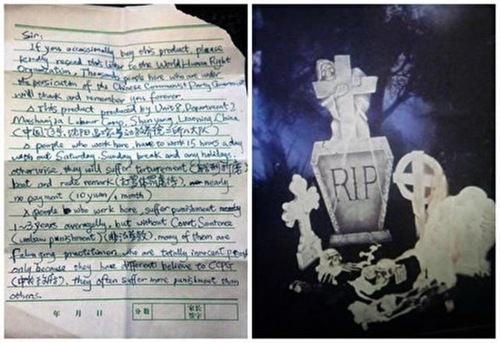 A Product of Body and Soul
"Sun is not a professional filmmaker. Others produce films with techniques, while Sun did it with his heart and soul," explained Lee. He and his crew not only obtained source materials and information from Sun but also benefited from his constant encouragement and motivation. "Sometimes we were lost and did not know what to do next. Sun was always optimistic, telling us it would be fine. He would then come up with an idea and then begin to work on it. We are indebted to him for his courage, perseverance, and optimism."
A great deal of effort was put into presenting the torture Sun endured in the labor camp. "We included some animations to illustrate the methods of torture. The design and sketches were all from Sun. We could see his mind was peaceful, because he did not want to show terrifying pictures. Rather, he just wanted to show what had happened. We converted his sketches into animations to make it more realistic and vivid."
Sun also interviewed others who were involved in the persecution. "He suffered tremendously, but he was able to describe those experiences calmly and with no resentment. Through his sense of calm, we could feel his forbearance,"
Lee added. He said Sun forgave those who mistreated him and tortured him. Those people were impressed by that, and two of them testified in the documentary.
"Sun has a gentle nature, which is supported by a very strong spiritual belief," said Lee. "I think the two are connected. As he explained in the documentary, he is willing to sacrifice a lot for his belief. He said that and did that."
Sun was arrested again during the making of the film in China. He managed to flee to Indonesia, where he was able to meet with Lee and Keith. Knowing that Keith had traveled a long distance to see him, poor as he was, he bought her a flower.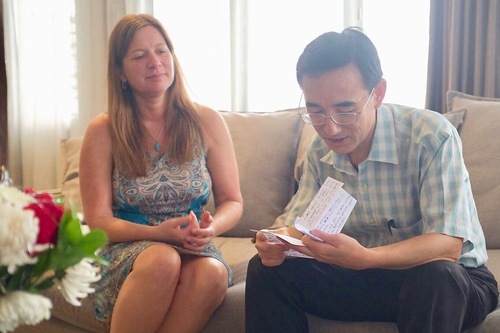 The Power of Compassion
The largest documentary festival in North America, the Hot Docs Festival was founded in 1993 and attracts more than 200,000 patrons and critics every year.
Shane Smith, Hot Docs' Director of Programming, was impressed by the film. He said Letter from Masanjia really showed the power of compassion.
Mariam Zaidi, the festival's Associate Programmer, said she had watched the documentary from beginning to end, completely engrossed. Seeing what happens to prisoners of conscience in China shocked her.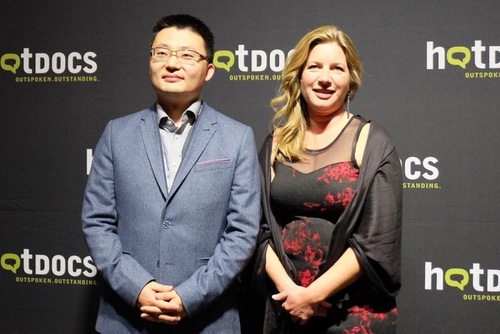 Audience Feedback
Many audience members said they were touched by the film, not only because of what Sun suffered for his belief but also because of his courage to film it and present it to the public. They said his sense of calm and ability to forgive really moved them. Several expressed their hope that Sun and the others would remain safe and that the suppression in China would end soon.
Des Maynard, a construction contractor, commented on the importance of the film. "More people need to see this. I also expect more media coverage on it," he remarked. He said he had done business with China but that he was not aware of how serious the issues there were. He learned that the real situation is much worse than what he thought. "I am thinking about what we can do to help," he said. "Falun Gong brings health and peace. The persecution is totally wrong."
Filmmaker Erin Kökdil saw the introduction to the documentary and then watched the film. "From the introduction, I thought the film would have a happy ending, that is, that Sun would rejoin his family. Apparently, the communist party changed everything," she said.
Brian, a cancer researcher in Toronto, said the film gave him some new perspectives on China. "I feel like our understandings of China are like a blind person's impression of an elephant—hard to see the entire picture." He said the documentary was unprecedented and powerful. He was impressed that the letter had such a huge impact and, like a catalyst, helped end the labor camp system in China.
His girlfriend Ha-Doan, a manager in a firm, had read about the letter in the Halloween decoration several years ago. In the film she learned about the torture Sun endured in Masanjia Forced Labor Camp and yet saw how he was able to maintain a positive attitude.
She said the words in the letter touched her. "He [Sun] is honest and kind and seems to harbor no negative thoughts."
58 total views