Falun Gong practitioners were invited to participate in the Bio&Co expo in Strasbourg, Alsace, France from May 18 to 21, 2018.
The expo host provided an open space for the practitioners, where they introduced Falun Gong and taught the exercises for free at the site. They also raised awareness about the Chinese Communist Party's (CCP) brutal persecution of Falun Gong practitioners in China.
Many people took Falun Gong flyers and asked about local group practice sites. Some bought Zhuan Falun, the main book of Falun Gong.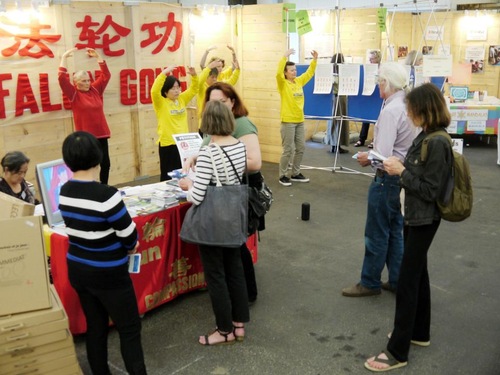 Introducing Falun Gong in Oviedo, Asturias, Spain
Falun Gong practitioners were also invited to introduce Falun Gong in Oviedo, the capital of Asturias, Spain on May 18, 2018.
Asturias, a beautiful mountainous area, is well known as a tourist destination. Oviedo was established in the ninth century and has a long history.
Falun Gong practitioners demonstrated the exercises on a downtown square in Oviedo in the morning. Many people paused to watch and many took photos.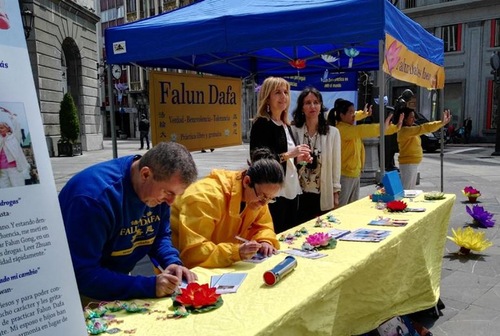 City official Marisa Pinga, one of the sponsors of this event, came to the venue and affirmed, "We support Falun Gong." She said that many westerners have an affinity for traditional Chinese culture.
Many local people came to the square to learn Falun Gong, which was being taught free of charge. Many expressed an interest to continue practicing Falun Gong and asked for information about group practice sites and times.
In the afternoon, Falun Gong practitioners went to the busy business area and collected signatures on a petition against the persecution in China.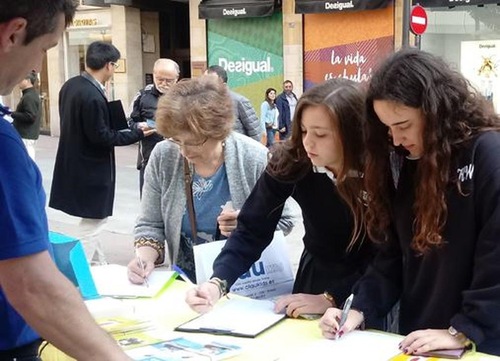 People were surprised at the CCP's state-sanctioned live organ harvesting of prisoners of conscience, the majority of whom are Falun Gong practitioners. A woman from Brazil said, after accepting a flyer, "Forced live organ harvesting is horrible. It is a disgrace to human beings."
A tourist from the former Soviet Union said that he knew the evil nature of the communist party, and signed the petition without hesitation.
Over the course of the two-day event, many people learned about Falun Gong and the CCP's persecution in China. A community center director said to the practitioners, "We will introduce Falun Gong on our governmental website. We'd like to hold such an event every year to have more people know about Falun Gong."
Related article in Chinese:   Spreading Falun Gong in Oviedo, Spain.