Falun Dafa practitioners from Latvia participated for the first time in the 2018 Wellness Expo in Klaipeda, Lithuania's third largest city, on March 25, 2018.
The group demonstrated the exercises and introduced Falun Dafa, pointing out how the practice helps to improve well-being, reduces stress, and improves one's spiritual nature. Practitioners also taught children who attended the expo how to make paper lotus flowers.
Explaining the Benefits of Falun Dafa
One woman watched the exercise demonstration with a great deal of interest. She said she had recently visited Canada and saw Falun Dafa practitioners doing the exercises in a park. She has now met them again in her home country – Lithuania.
However, since the practitioners were from Latvia, she said she wished there were Dafa practitioners in Lithuania. "It is a pity we don't have Falun Gong practitioners in Lithuania," she said.
Practitioners explained that all information about Falun Dafa and the exercise videos are available for free on the Internet, and that anyone can learn and practice Falun Dafa at home using these materials.
Another woman saw the book Zhuan Falun and asked about it. The practitioners explained that the book helps people cultivate to a higher level by according with the principles of Truthfulness-Compassion-Forbearance. The woman immediately decided to buy the book.
Many people watched the exercise demonstration and talked with practitioners. One woman wanted to know how practitioners overcame tribulations. A practitioner explained to her that Falun Dafa teaches one to not harm others, to be a good person, and to think of others first. The practitioner also mentioned the issue of striving to eliminate attachments and to eventually return to one's true self.
The woman later learned how to make lotus flowers and took flyers about Falun Dafa.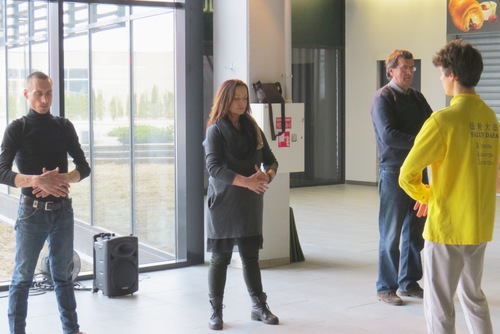 Learning About the Persecution
A couple from London were very interested in Falun Dafa. Practitioners gave them information about the practice and the book Zhuan Falun. They also explained that the Chinese Communist Party (CCP) has persecuted Falun Gong practitioners in China for many years, and that the cruelest CCP crime was organ harvesting from living Falun Dafa practitioners for profit.
The couple was shocked by this information. They condemned the persecution of Falun Dafa and said they hoped to find a practice site in London.
Many people were interested in learning the Falun Dafa exercises. One woman said, after doing the exercises, "This is a very good thing. It helps to relieve stress in this modern corrupt world."
Another man said, "I felt energy while doing the exercises. They gave me inner peace and helped me to relax."
A couple who did the exercises with the practitioners shared their experience. "During the exercises I felt that my mind and conscience became clearer and more open!" Her husband added, "The exercises are worth practicing and more people should try it."
Some people shared their contact information with practitioners, wanting to hear about future Falun Dafa events in Lithuania. Another couple suggested that the practitioners should participate in Sea Fest which is an annual event in Klaipeda.
Many families with children were drawn to the table where paper lotus flowers were being made. The children enjoyed making the lotus flowers and thanked the practitioners. At the end of each session, practitioners gave the children booklets with fairy tales about lotus flowers.
Falun Gong practitioners later visited with other expo participants and offered them lotus flowers, which were greatly appreciated.
Two women stopped a practitioner and began talking to her because they admired her golden kimono. The practitioner told them about Falun Dafa and how the practice had changed her life. She also gave them lotus flowers. The women were happy and said, "We were in a bad mood but after we had our conversation with you our moods improved."
Some people said that when they talked with Dafa practitioners they suddenly felt warmth and positive energy.
(Clearwisdom)