In Bulgaria, February 1st is dedicated to the victims of communism. The day was formally declared Victims of Communism Day in 2011. On that day in 1945, the People's Court sentenced 3 regents and 67 MPs, ministers, generals, and colonels to death.
Local Falun Gong practitioners took part in activities in five Bulgarian cities to commemorate Victims of Communism Day. The events took place in Sofia, Varna, and Pazardzhik on February 1st and in the cities of Bourgas and Panagyurishte on February 3rd.
Practitioners took this opportunity to raise awareness of the persecution of Falun Gong by China's communist regime that continues to this day.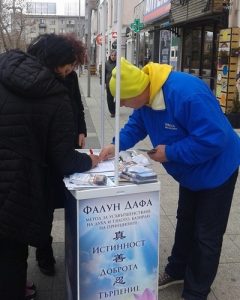 In the capital of Sofia, the event took place near Sofia University, where many people signed a petition supporting Falun Dafa practitioners in China.
Among them was a 9-year-old boy who insisted on signing the petition while his grandmother patiently waited at his side. A young lady said that Falun Dafa's principles of Truthfulness-Compassion-Forbearance were very dear to her heart.
"I know about the events on Tiananmen Square," commented a teenager from the city of Varna while signing a petition to bring Jiang Zemin, the Party leader who started the persecution, to justice. Many people took a moment out of their busy lives to stop and learn about the peaceful spiritual practice and the persecution it faces in China to this day.
Many more signatures protesting Jiang Zemin and his crimes were collected in the city of Pazardzhik.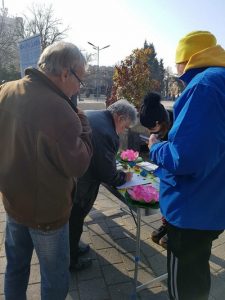 The February 3rd events in the cities of Panagyurishte and Bourgas were met with a great deal of interest. Hundreds of people lined up, eager to learn about Falun Gong. Many asked where they could learn the Falun Gong exercises.
In the mountain town of Gabrovo, January 28th marked the start of the annual Health Fest "Zdravei Zdrave," where Falun Dafa practitioners were invited to participate for the second year in a row. 50 people learned the Falun Gong exercises for the very first time and many of them mentioned that they could feel the energy flow.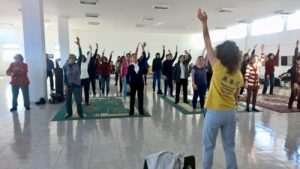 The presenter, Dyan, shared his own life-changing experiences after starting the practice and shared stories of two others. He told how a young local woman diagnosed with depression had recovered after practicing Falun Gong, as did a 9-year-old autistic boy.
Dozens of people of all ages left the event with their own hand-made origami lotus flower as a memento of their encounter with Falun Gong and its core principles of Zhen-Shan-Ren (Truthfulness-Compassion-Forbearance).
(Clearwisdom)