Over the past weekend, many residents in Sydney were glad to see Falun Gong practitioners at the annual Moon Festival celebration at Cabramatta.
With support from city officials, the Cabramatta Moon Festival has become the largest celebration of its kind in the Sydney metro area.
Nearly 90,000 people attended the Moon Festival celebration this year, many of them Vietnamese and Vietnamese Chinese. Practitioners demonstrated the exercises and distributed flyers in English, Chinese, and Vietnamese on September 24. Their handmade paper lotus flowers were very popular, and hundreds of them were given away in a few hours.
Andrew and Kirsty had never heard of Falun Gong. They read a pamphlet and talked with practitioners about the practice. "I agree with the principles of Truthfulness-Compassion-Forbearance," said Andrew. Both of them signed petitions calling for an end to stop the persecution of Falun Gong in China.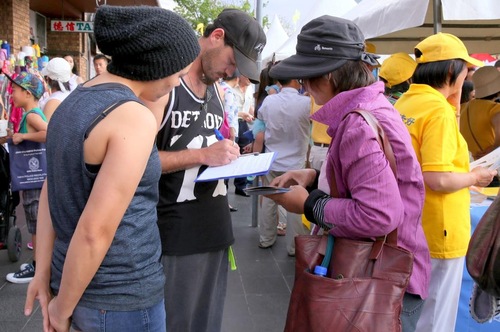 Matt lives in northern Sydney and had heard about Falun Gong before, but he was not aware that it is being persecuted in China. He was especially disturbed by the organ harvesting from living practitioners in China. "This meditation looks good and I will definitely look into it," he remarked as he signed a petition.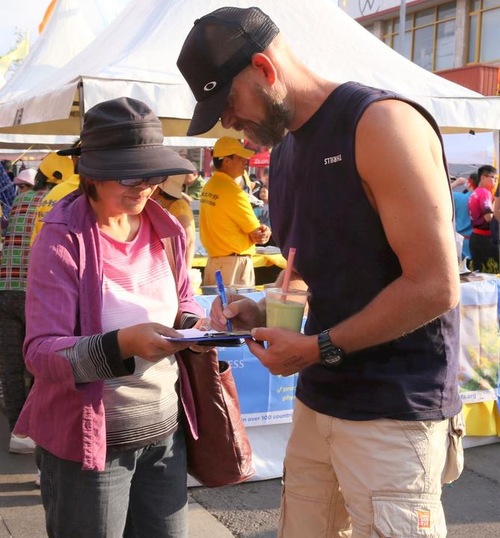 One woman had started to practice Falun Gong back in Vietnam but did not continue. Seeing the practitioners doing the exercises at the festival, she felt touched and wanted to take it up again. After a practitioner told her there was a group exercise site nearby, the woman thanked the practitioners several times.
Helen, a Vietnamese Chinese, wanted to read the Falun Gong books, but she does not speak Chinese. When a practitioner told her where to purchase the books in Vietnamese, Helen said she would follow up on it.
(Clearwisdom)
12 total views