Practitioners from across Australia attended series of events in Sydney prior to the annual experience-sharing conference on September 10. Here is a report on the grand rally and march on September 8, 2017.
Group Meditation
Outside the Customs House, an historic Sydney landmark located in Circular Quay, practitioners performed group exercises in the morning. The bright yellow color, organised layout, and beautiful music drew the attention of spectators during rush hour.
One woman stopped to watch the group exercises and took many pictures. A practitioner talked with her, and the woman said she liked the serene environment. After hearing about the physical and spiritual benefits of the practice, she was very interested and asked how to get started. Before leaving, she wrote down the website address for Falun Dafa, and said she would check into it.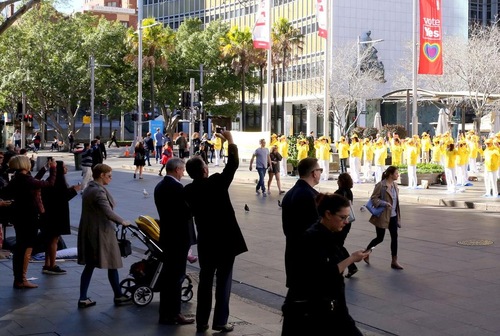 A young man was also impressed by practitioners' gentle movements. He commented, "This looks peaceful and relaxed, very interesting." He said he worked as a professional fitness trainer, and was intrigued by the scene and believed people could benefit from the exercises. He thanked the practitioners and said he would follow up on it.
One Chinese tour group was comprised of many female students. Surprised by the large-scale exercises, they watched for a while and began talking, repeating the slanderous propaganda produced by Chinese communist regime.
One practitioner chatted with them, telling them about the peaceful nature of the practice as well as the severe suppression in China. "Please think about it, over 100 million people from all walks of life were practicing when the suppression started in 1999. Just think about it. Is there anything wrong with being a better person by following the principles of Truthfulness-Compassion-Forbearance?" she asked.
This practitioner then encouraged the students to think independently, instead of blindly following the Communist Party's propaganda. The students nodded and thanked her.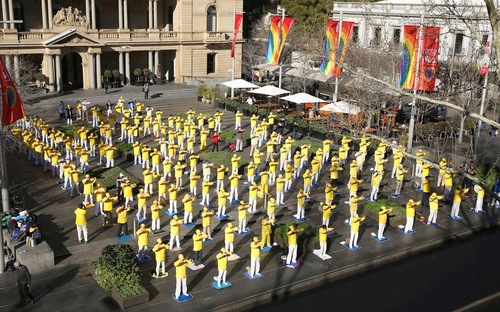 March in City Centre
Led by the Tian Guo Marching Band, practitioners held a march at 12:30 p.m. with hundreds of banners and posters. The march started on Young Street at Circular Quay, crossed the city center, and arrived at Belmore Park.
Many pedestrians stopped to watch the procession and took photos. Local resident Rowan Cameron praised the practitioners for their efforts, saying, "It's a crime for the Chinese communists to torture and kill practitioners. And the suppression has been too long." He said that events like this march were very important to raise awareness. He said, "Persecution happens in places where people pay little attention to it. Once this brutality is known to the general public, international society will put more pressure [on China] to stop it [the suppression]."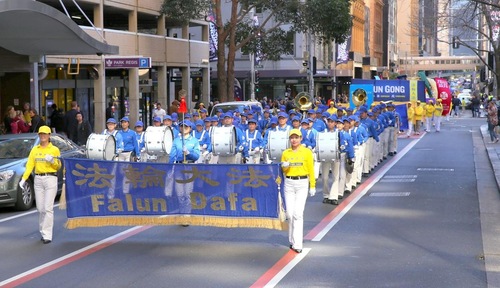 Marketing professional Amy Messina said that these activities would help inform people about the human rights violations which still exist in contemporary society. She said, "Especially young people, they need to know what is going on. Once more people know the persecution is wrong and begin to support practitioners, the situation will change."
A mother and son, who were visiting from China, asked a practitioner about the march. The practitioner told them that even though Falun Dafa is banned in China, it is well accepted in over 100 countries. She also told them how the Communist Party had defamed Falun Dafa with hate propaganda. Both mother and son then agreed to quit the Communist Party organisations.
27 total views