Local Falun Dafa practitioners from the Wollongong area, took part in the 36th annual event 'Spring into Corrimal' on the 10th September in Corrimal, a suburb of greater Wollongong.  The event is the largest and longest running event in the Illawarra and Regional NSW areas attracting thousands of visitors annually.
The Spring into Corrimal festival had many attractions from face painting and rides for the kids, food outlets, live music and our own Falun Dafa stall with local practitioners managing the booth, discussing and talking with passerbys about the beauty of the practice, the benefits of the exercises and sadly how the practice is currently being persecuted in China.
This year saw local practitioners bringing along the 'petals of peace' story of little Fadu with teaching visitors how to make lotus flowers out of origami paper.   Instructions with little Fadu's story was also made available to many who took them.
Practitioners also made available ready made lotus flowers with a beautiful tag hanging off the flower inscripted with truthfulness, compassion and tolerence.   These were quite a hit with many commenting on how beautiful they were.
There were visitors who were aware of the persecution of Falun Gong in China and some that were not.  One lady mentioned how could the Government of China persecute a practice which teaches people to good.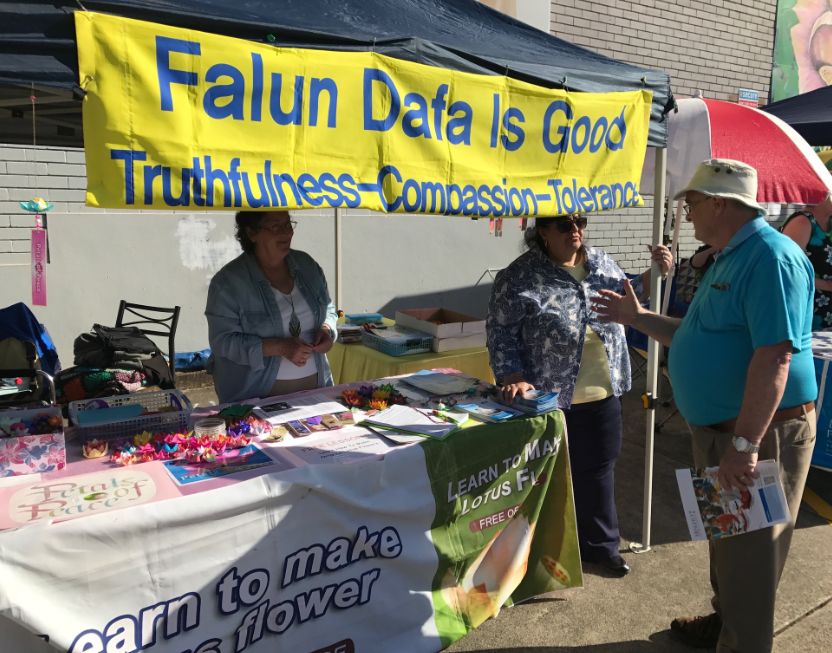 Another lady who lives in the Wollongong area but is from Michigan, USA discussed how interested she was in learning the exercises and mentioned how she has an understanding of Qigong.  She took a brochure and was given the location of the local practice site in Wollongong.
There are also some visitors who have made it a yearly visit to come an say hello and have a chat with local practitioners, they gladly signed the petition to stop the state santioned organ harvesting attrocity in China.
Until the next Spring into Corrimal event in 2018 in which Falun Dafa will again be part of, the day with it's perfect weather and community spirit, offered many the chance to understand and experience the beauty of Falun Dafa.
(Falun Dafa Australia Information Centre)