Pekin, county seat of Tazewell County in central Illinois, has a name very close to China's capital city Peking (Beijing). But their attitude towards freedom of belief is drastically different than their Chinese counterpart's.
While the spiritual practice of Falun Dafa is severely suppressed in China, this meditation system is well accepted in Pekin, as demonstrated at the recent Marigold Festival on September 9, 2017.
Since its inception in 1973, the Marigold Festival has taken place on the first weekend after Labor Day and attracts a large number of area residents.
Next to the practitioners' booth was a booth for a Christian organisation. A man from that booth said that he had heard about Falun Dafa and the persecution in China. He'd also read on social media about the state-sanctioned organ harvesting from living practitioners. Without hesitation he signed the petition calling for an end to this brutality in China.
A middle-aged woman talked with practitioners about a religious radio station she was affiliated with. Upon hearing about the benefits of the practice, she asked for more information and was surprised about the persecution in China. "Freedom of belief should be respected everywhere," she commented.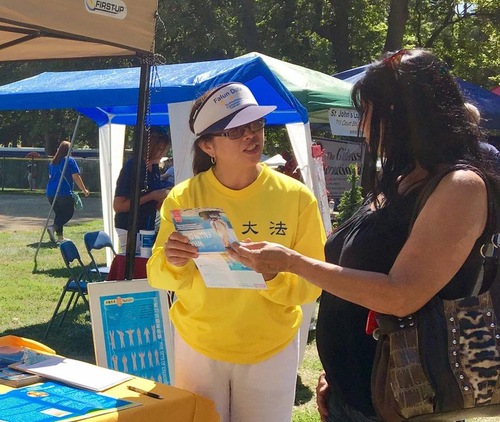 Festival-goers Cindy and her husband read through the information they'd picked up at the Falun Dafa booth. They were shocked to read about the forced organ harvesting of prisoners of conscience in China and took a petition as they left. The couple came back in the afternoon with a signed petition. With tears in her eyes Cindy held the petition with both hands and handed it to the practitioners. "You have our support," she said.
Sahlin, who is Christian, heard about the suppression in China for the first time. Impressed by practitioners' perseverance in their belief, she said that the communist party was known to persecute other religious groups in China as well.
Upon leaving, Sahlin thanked practitioners for their efforts, "I will pray for you, because you showed me a door, through which I could see a connection with China and the divine."