After the Australian Falun Dafa Experience Sharing Conference on September 10, practitioners held a large rally in front of Parliament House in Canberra on September 11 and 12. A forum also took place in the parliament on September 11 on how to stop the state-sanctioned killing of Falun Gong practitioners for their organs and organ tourism in China.
Mr. Scott Buchholz MP hosted the meeting, which was attended by members from the Senate and House of Representatives. According to Dr. Zhao, president of the Australian Falun Dafa Association, legal experts and medical professionals gave presentations on how to expose and end this brutality. Investigative journalist Ethan Gutmann also reviewed legal progress that have been made in various nations.
'Government-Sanctioned Torture'
Buchholz thanked presenters and participants for their support of the meeting. He said the information was very valuable and that he would continue to monitor the case and speak out for the victims and others affected by the crime.
Human rights activist Andrea Tokaji said, "We can ensure we regulate the Australians who travel overseas to try getting organs, to make sure they are not getting it from the black market, or the government-sanctioned torture and organ harvesting … We will speak up for the victims, for their rights, and prevent this crime from occurring in our nation."
She added that forced organ harvesting is a serious human rights violation and "the highest form of violation someone can experience."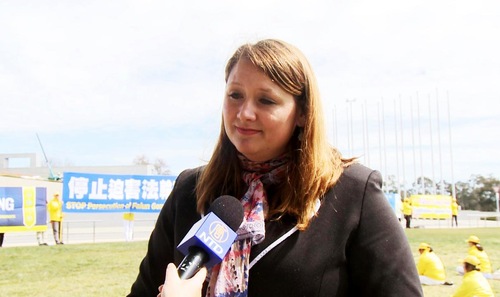 Support from Spectators
Many passersby thanked practitioners for telling the public about this crime and encouraged them to continue their efforts. Amanda Rison said she had known about the persecution of Falun Dafa practitioners in China for a long time: "Since I moved to Canberra 15 years ago, I have seen practitioners coming to the Chinese Embassy every day, urging to stop this suppression."
She admired practitioners' perseverance and believes that, with help from the Australian government, citizens, and the international community, the atrocity would come to an end. "Please keep up the good work, and I wish you the best success," she said.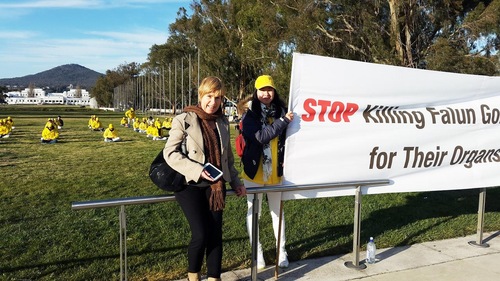 Nickie Turk, a tourist from Germany, watched the practitioners do the Falun Gong exercises for a long time. Impressed by their peacefulness, she said the killing of practitioners for their organs in China is not just a human rights violation but also genocide.
"I will post this information on my Facebook page so all my friends would know this and help stop the crime," she added.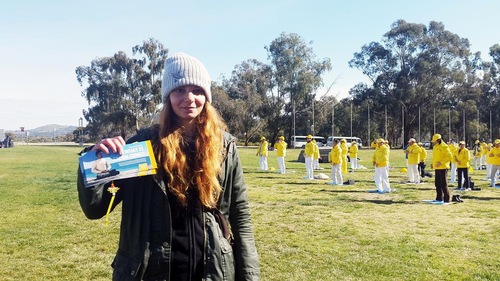 30 total views