The Art of Zhen-Shan-Ren International Exhibition returned to Kharkiv, Ukraine, from March 16 to April 11. The artworks tell the stories of Falun Gong practitioners, who live by the principles of Zhen-Shan-Ren (Truthfulness-Compassion-Forbearance) even in the face of brutal persecution by the communist regime in China.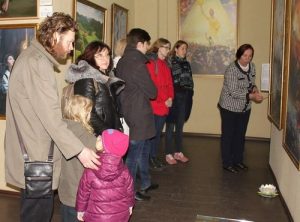 Natasha, an engineer, first learned about Falun Gong ten years ago while walking in a local park. She saw a group of practitioners meditating, took a flyer, and went online to learn more.
"These paintings perfectly reveal the hidden truth," she said. "Facing brutal torture, these practitioners have not fought back with violence. Although their lives are threatened, their hearts are still compassionate."
Natasha said she would recommend the exhibition to her friends, not only for the information but for the inspiration she gained from it. "The paintings awaken the compassion in people's hearts. I believe that righteousness will prevail, which is the message that many of these paintings convey."
"The Communist Party is really cruel," said Anastasia, a local college student who came to the exhibit.
"The story these paintings tell is shocking," she added, comparing the victims depicted in the paintings to the Christians who were persecuted by the Roman emperors.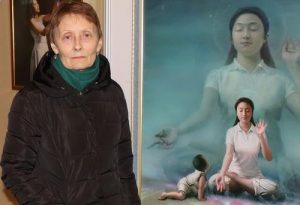 Anastasia took a lot of photos of the artwork, planning to post them on social media, and encourage more people to attend the exhibition.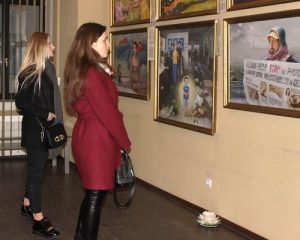 A group of students and faculty from the State Flight Academy of Ukraine visited the exhibition.
Julian, a faculty member, had heard about Falun Gong and the persecution but appreciated an opportunity to learn about it in more depth.
"I knew it was a spiritual meditation practice," Julian said, "but I knew nothing about its history and teachings. Here at this exhibition, I learned about the principles of Truthfulness-Compassion-Forbearance.
"The artworks are thought-provoking," he said.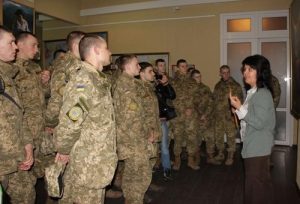 24 total views