Falun Gong practitioners in Portugal collected signatures on a petition in Lisbon on February 19, 2017. The petition called for an end to the Chinese Communist Party's (CCP) state-sanctioned forced organ harvesting from living Falun Gong practitioners for profit.
Local residents and tourists from all over the world were very supportive.
Every week, Falun Gong practitioners tell people about the practice of Falun Gong and let them know about the persecution. This week they also collected signatures. They held their activities at Portuguese Pavillon Expo 98, a busy shopping district in Lisbon. Many people stopped to ask for information and sign the petition.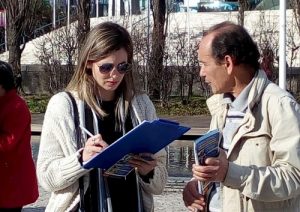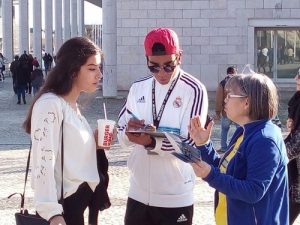 Three generations of one family stopped at the Falun Gong booth to ask for information. They were surprised to learn that innocent people were being persecuted. It was the first time they had heard about the CCP's forced organ harvesting. The young man in the family said, "The entire world should stand together and stop the persecution!"
A young couple signed the petition to show their support for Falun Gong. The woman was very saddened to hear about the persecution. She said, "Everyone should sign the petition. If I ever see Falun Gong collecting signatures again, I will certainly sign!"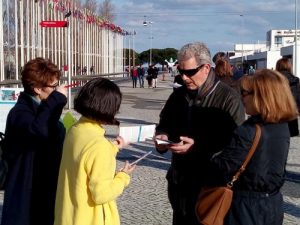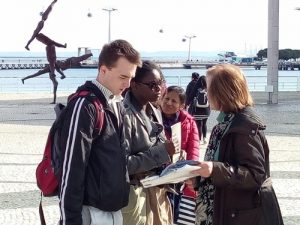 A man from Britain said that he taught at a university in Hong Kong and had heard about the persecution of Falun Gong. He signed the petition to express his condemnation of forced organ harvesting.
More than ten Chinese, including immigrants, students, and tourists, decided to quit the communist organisations after hearing facts about the persecution.