Chinese Premier Li Keqiang visited Australia and New Zealand from March 22 to 28. In both Sydney and Auckland, he was met with Falun Gong practitioners staging peaceful protests outside his hotel and meeting places.
Falun Gong is a spiritual discipline that has been persecuted in China since 1999. The protesters demonstrated in an attempt to persuade Li to take action to end the persecution and hold Jiang Zemin responsible for the crimes committed in the past 18 years. Jiang is a former Chinese leader who orchestrated the crackdown on Falun Gong.
Peaceful Appeal for Justice
As Li was leaving the airport for his hotel around midnight on March 22, the practitioners stood on the sidewalk where he could see from his car. They quietly held up their banners wanting their voice to be heard by the Chinese leader.
Earlier at 9 p.m., a bus dropped off a group of Chinese students who came to the airport to welcome Li's arrival. When they spotted the Falun Gong group on the sidewalk, they surrounded them and their banners so people couldn't see them from their cars. A policewoman, after learning what happened, drove the students away.
Such groups of student and other Chinese "official greeters" for visiting Chinese leaders are typically arranged and paid by local Chinese embassies.
On the 24th, practitioners went to Martin Place in Sydney to raise the awareness of the ongoing persecution.
Talking to a reporter from SBS, a practitioner said that they came because they wanted to get their point across to the Chinese leader. They wanted the Chinese leaders to stop persecuting the practitioners in China and hold dictator Jiang responsible for their years of suffering.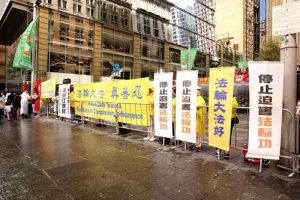 Telling People the Facts of the Persecution
Chinese Premier Li visited the Fisher & Paykel office in Auckland, New Zealand, on March 28th. The practitioners stood outside of the entrance with their banners up. The same scenario happened when Li stopped by the Langham Hotel and Government House in Epsom.
Among those who came to welcome Li, many of them listened to the practitioners telling them about the persecution and why it is wrong. Several chose to quit the Chinese Communist Party and its affiliates to sever ties with the regime. Some were clearly quite pleased and thanked practitioners for their efforts.