Siberia is now covered in snow. The temperature has plunged to well below freezing in many parts of this vast region. Yet despite the severe cold, Falun Gong has received warm support from local residents in many Siberian towns.
Over the weekend of December 3 and 4, Falun Gong practitioners reached out to the Siberian public to introduce this traditional Chinese spiritual discipline and to raise awareness of the 17-year persecution of the practice in China. In Irkutsk, Angarsk, Tomsk, and Ulan-Ude practitioners set up display boards, handed out informational materials, and collected signatures calling for an end to the persecution.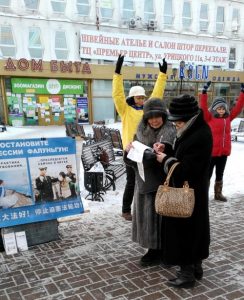 Even in sub-zero temperatures, many people in downtown Irkutsk stopped by the practitioners' display boards and took materials to read.
In Irkutsk, Lidia was shocked by China's state-sanctioned organ harvesting from living Falun Gong practitioners in China. She praised the practitioners for their efforts to stop the persecution. "They [the Chinese government] will be punished by Heaven," Lidia said. "You guys are great. Keep up the good work. If everybody is against the communist party, the persecution will stop. We stand with you."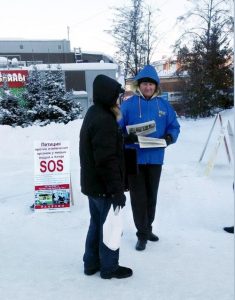 Practitioner Tatiana Kalinina said that more and more Russian people have learned about the persecution of Falun Gong in China. She noted that when they hold activities, many people now approach practitioners asking to sign the petition. Some people also come back with friends or family members to sign. Nearly everyone that the practitioners meet expresses their wish for the persecution to end as soon as possible.