Human Harvest: China's Illegal Organ Trade, a documentary on organ harvesting atrocities being committed in the persecution of Falun Gong in China, was screened at National Chung Cheng University on December 8. More than 100 students and faculty members attended the film screening, followed by a forum discussion.
Ku Chin-Nan, presiding judge of Taichung High Court, thanked the organisers for raising awareness of this important issue. "Many Taiwan residents traveled to the mainland for organ transplants, but they didn't know the hard reality behind this—to some extent, one organ transplant in China could mean killing one person."
Since organ harvesting from living Falun Gong prisoners of conscience was first exposed in 2006 by the Epoch Times, this atrocity has drawn worldwide attention. Based on the testimonies from witnesses and independent investigations by David Kilgour and David Matas, this documentary shed light on the tragedy and received many awards, including the Peabody Award in 2015.
Chiayi County Councilor: Horrifying Facts Covered Up
Ai Chang-rui, an associate professor at National Chung Cheng University who organised the event, said the documentary provides strong evidence that the killing of Falun Gong practitioners for their organs is taking in China. This includes the testimonies of three patients in Taiwan who had received organ transplants in China, as well as investigations by human rights lawyers, doctors, and journalists.
Chiayi County Councilor, He Zi-fan, who supported a resolution in March to condemn this atrocity, also attended the screening. "Forced organ harvesting is something we cannot tolerate. Unfortunately, not enough people know about it, because the facts have been covered up [by the Chinese regime]," he said.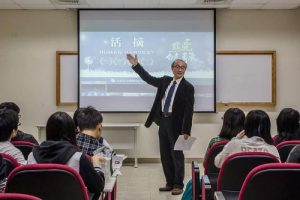 Audience: 'I will tell all my friends about this'
Liao Huiwen, associate professor at the university who attended the screening, commented that live organ harvesting is unimaginable. "It reminds me of the Holocaust. It may take time, but justice will prevail in the end," he said.
"We all know mainland China has poor human rights," pointed out alumnus Woo Jun-yi during the forum discussion. "But very often we don't know how it relates to us." He suggested that anyone thinking about traveling to mainland China for an organ transplant should reconsider.
Lee, a student at the university, said the film was eye-opening. "I feel sad that so many innocent people were mistreated or even killed for their belief. Everyone needs to know about it. I will tell all my friends about this."
Physician Cheng Yuan-yu said during the discussion that events like this would help more people know about it and help to stop the brutality.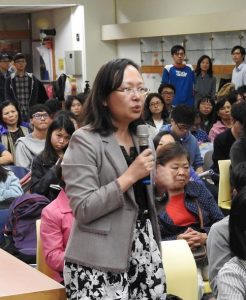 Chiayi Mayor: Organ Harvesting 'A Crime Against Humanity'
A separate screening of the film was held on December 3 at the Chiayi Labor Recreation Center on December 3. Nearly 200 residents and local officials attended.
After watching the documentary, Chiayi Mayor Twu Shiing-jer urged more action to stop the brutality. "Forced organ harvesting is a crime against humanity, and we cannot let it continue," he said.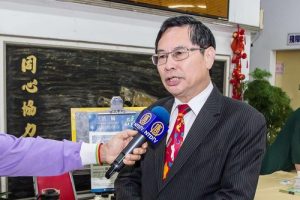 Tseng Jinyuan, who owns a law firm in Chiayi, said he was shocked by the film. "It's hard to imagine that things like this are happening today in the 21st century. We have to face it and step forward to say 'no.'"
Lee Junyi, a Taiwan Legislative Council member, said a policy was passed last year that bans organ transplant tourism to China unless the organs come from consenting donors.
"We will try to work with officials in mainland China on this so that this policy can be implemented and we can help bring an end to forced organ harvesting."