A Benxi City resident had been on hunger strike for 34 days when he was forced to stand trial for refusing to renounce Falun Gong, a spiritual discipline being persecuted by the Chinese communist regime. Mr. Song Yuegang's lawyer had made a request for postponement of the hearing, but it was denied.
During the trial on December 13, both Mr. Song and his lawyer requested that the judge and prosecutor be recused from the case, because they felt the court officials, who are Chinese communist party members sworn to atheism, were unfit to try Mr. Song for his spiritual belief.
The judge recessed the hearing for 10 minutes before returning to announce that the recusal request had been denied. She ordered the hearing to proceed, but Mr. Song suddenly collapsed.
The lawyer demanded immediate medical attention for Mr. Song, and two bailiffs wheeled Mr. Song out. The lawyer next requested Mr. Song be released on bail, and the judge promised to hold a meeting to discuss the request.
It is unclear if Mr. Song is still being hospitalised or has been returned to Benxi Detention Centre.
Latest Arrest
Mr. Song had just stepped out of the door around 5 a.m. on June 28, 2016 when his wife, Ms. Wang Wei, heard him yelling, "Someone is mugging me!"
Ms. Wang ran downstairs to see a group of officers holding down her husband. She ran back upstairs and locked herself in a room. The police kept knocking on the door but she refused to open. The standoff lasted until around 11:30 a.m., when the police left. Ms. Wang realised that the police had confiscated 9,000 yuan of cash from her home.
The then-two-months-pregnant wife brought her then-15-month-old daughter, her mother-in-law and sister-in-law to the police station the next day. They requested Mr. Song's release, but the police chief threatened to detain the toddler and her grandmother.
Mr. Song was formally arrested on July 22. Xihu District Court initially scheduled a court hearing for November 22, but changed it to November 29 without stating a reason. The new court date, though, was later canceled.
The judge ordered Mr. Song to appear in court on December 1, but he refused to comply when he learned that the court didn't inform his lawyer as required by law.
A trial of Mr. Song was finally held on December 13, but it was adjourned after he collapsed.
Once Imprisoned for 8 Years
This is not the first time that Mr. Song has been targeted for his faith. The 36-year-old man was first arrested in November 2000 and suffered brutal torture while detained at Benxi Labor Camp. He once had his hands cuffed behind his back for 28 straight days. Another time he was beaten so badly that his face became deformed.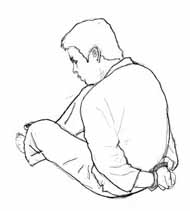 Mr. Song was arrested again in 2002 and sentenced to 8 years in prison, where he developed severe lung problems due to various forms of abuse.