By Australian Dafa disciples
On November 12, 2016 the Hungarian President and First Lady met with a Falun Dafa practitioner during their official visit to Australia.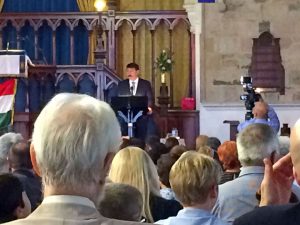 President Janos Ader and First Lady Anita Herczegh had the opportunity to speak with an Australian Dafa practitioner during the Brisbane leg of their visit.
The President and First Lady, who are very popular in Hungary, had just attended the 65th anniversary of the Hungarian Reformed Church Service at St Pauls Presbyterian Church.
They received a paper-folded lotus flower, symbolising peacefulness and purity in Asian culture, and also a flyer and newspaper with information about the Falun Dafa exercises as well as the Chinese Communist Party's ongoing persecution of the peaceful spiritual practice.
The couple were very pleased to accept the small gifts and hear a little about Dafa. They praised the practitioner's Hungarian language skills after learning he was not born in Hungary and had learnt the language over many years.
The practitioner thanked them for their kind words and wished them a pleasant remainder of their journey.
38 total views