"Falun Gong has unique spiritual content, which can bring people to a different realm," said Kurt Newman as he watched the Falun Gong waist drum performance at the annual Tulip Time Festival parade in Bowral, Australia on September 17, 2016. Mr. Newman, chair of the Southern Highlands Chamber of Commerce and Industry, is glad to see Falun Gong in the parade every year.
The Bong Bong Street Parade is the highlight of the 56th annual Tulip Time Festival, which spans from September 13 to 25.
Local residents are familiar with and have come to expect to the "team dressed in gold" – the Falun Gong waist drummers – which has participated in this parade since 2001.
Newly elected Federal Parliament Member Stephen Jones thanked the Falun Gong practitioners for their contribution to the community.
MP Jones, from the Division of Whitlam, said that he is aware of the persecution of Falun Gong in China. He is glad that practitioners can enjoy freedom of belief and speech in Australia. "You are welcome here," he said to practitioners.
Gary Turland, Wingecarribee City Council Member, said that he wants to learn the Falun Gong exercises.
"Falun Gong is always the most colorful team in this parade," said Mr. Turland. "I am glad to see them here again this year."
Mr. Turland said that the town has the largest tulip garden in the world, and that the tulip festival reflects the harmony of the multiple cultures in Australia.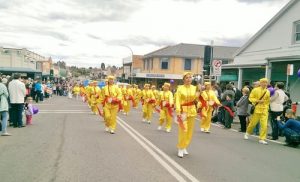 The city council member has practiced yoga before and wants to give Falun Gong a try. "I will contact you soon," he told practitioners.
Festival manager Steve Rosa said that practically the whole town watched the parade this year. He believes that Falun Gong was perfect as the final group in this parade, which had 40 entries this year.
"I know that you have performed in this parade for 15 years," he said. "I hope we can collaborate for another 15 years! This also offers an opportunity for people to learn about Falun Gong."
Kurt Newman encouraged practitioners to introduce this ancient Chinese cultivation practice to more people. He suggested that practitioners contact local TV and radio stations, and teach the exercises at organizations such as Rotary Clubs.
"We can learn a lot from traditional Chinese culture," he said. "I like the spirituality of the Chinese culture, which has been passed down for thousands of years. It's wonderful."