The scenic inland waterway Limfjord, Thy National Park, and Skagen between the North Sea and the Baltic Sea are some of the popular tourist attractions in Denmark. Over the past few days, both local residents and tourists had the chance to learn about an ancient meditation practice from the remote land of China.
Between August 25 and 28, practitioners from Denmark went to the cities of Holstebro, Nykøping Mors, Thisted, and Hjørring to tell the public about Falun Dafa and its ongoing persecution in China.
Eager to Learn More
One woman in Holstebro said she had watched a television documentary on forced organ harvesting in China. "It's a real tragedy that it happens in this world now," she said.
A man who was waiting for a tour bus with his two children in Thisted said he had heard about the persecution of Falun Dafa in China from news media: "It is horrible that the Communist Party kills [Falun Dafa] practitioners and sell their organs for profit."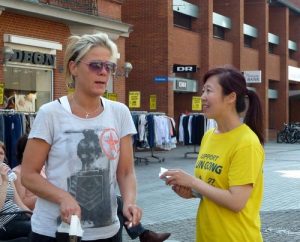 Welcome from Cultural Summit
When the Cultural Summit (Kulturmødet) was held in Nykøbing Mors between August 25 and 27, more than 20,000 visitors rushed to this 13th century town with a population of 9,000. Coming from various industries, including performing arts, music, film, literature, architecture, and visual arts, many of them expressed interest in Chinese culture and were happy to see the practitioners.
A television reporter said he had heard about Falun Dafa and told a practitioner with a smile, "You have my support."
Some passersby could not understand why the Chinese Communist Party would mistreat a peaceful meditation group like Falun Dafa. After one practitioner explained how the regime had purged a large number of innocent people in its previous political campaigns, an elderly man nodded and said he hoped the suppression would end soon.
Learning the Exercises
Students from a high school photography club were excited to see practitioners in Hjørring. They took many pictures of the exercises, and some began to learn the exercises on site.
One woman said she had tried medication and acupuncture, but neither worked for her eye disease. After learning that many practitioners became healthier through the practice of Falun Dafa, she said she would give a try.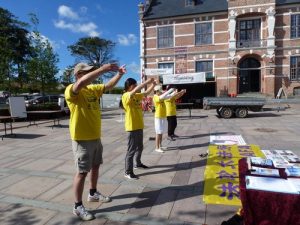 Mikkel, who works at a telephone company in Holstebro, talked with a practitioner for a long time. Aside from the physical benefits of Falun Dafa, he was particularly interested in its spiritual guidance in the principles of Truthfulness-Compassion-Tolerance.
"I have always been wondering where life comes from and where it goes. I think I will find the answer here," he said.
(Clearwisdom)
6 total views