During the long Independence Day holiday weekend in the United States, a group of Falun Gong practitioners in Chicago participated in the 24th annual International Festival of Life to introduce Falun Gong (also called Falun Dafa) to a larger audience.
Many people had an opportunity to hear about this ancient Chinese spiritual discipline and many expressed their desire to learn the practice. One woman sent a text message to a practitioner the day after she was given the book Zhuan Falun, saying, "Thank you for giving me this book. My heart is touched."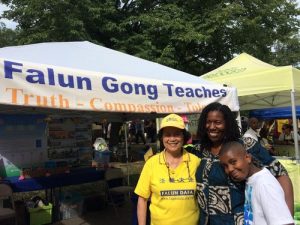 The peaceful exercise music wafting from the Falun Gong booth attracted many festival goers to stop and take in the exercise demonstration or talk to practitioners. More than 80 people left their contact information over the four-day event, expressing their interest in attending an upcoming Falun Gong nine-day introductory seminar.
Many people learned about the brutal persecution of the practice in China, and signed a petition calling for bringing chief perpetrator and former Chinese dictator Jiang Zemin to justice. Jiang is responsible for initiating and directing the 17-year persecution of Falun Gong in China.
Mr. Harrison and his wife quietly watched a short video introducing Falun Gong, and carefully viewed all of the information provided on the display boards. While chatting with a practitioner, they said that they believed that Falun Gong's principle of Truthfulness-Compassion-Forbearance can bring hope to humanity, and also bring harmony to their family.
Both of them expressed their hope to attend the free nine-day seminar. Mr. Harrison repeatedly reminded the practitioner before leaving, "Do please remember to call me when you hold the seminar!"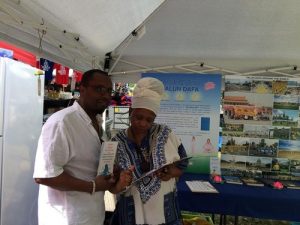 Another couple, Mr. Harris and his wife Raymond, were beaming with joy while watching the short introductory video about Falun Gong. Raymond told a practitioner, "I feel this is what we have been looking for." Her husband echoed her excitement, "You're right!" They left their contact information and hoped to have an opportunity to attend the next nine-day seminar. "It's really kind of you to hold such a seminar. Even if we are busy, we will try our best to attend," said Mr. Harris.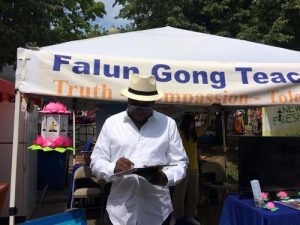 Cecile stopped in front of the practitioners' booth and asked if she could read Falun Gong's main book Zhuan Falun displayed on the table. After getting a practitioner's approval, she started reading it right away. She kept asking questions while reading. She finally took the book home with her.
The next morning she sent a text message, saying, "Good morning, I'm Cecile. We met on Saturday. Thanks for giving me this book. I'm reading it. My heart is touched! Thank you!"
(Clearwisdom)