(Minghui.org) Falun Dafa practitioners held activities at Brisbane Square on April 22, 2023 to commemorate the 24th anniversary of the April 25 Appeal.
Twenty-four years ago, practitioners peacefully appealed for the release of arrested Falun Gong practitioners and requested a legal environment to practice their belief. In response, the CCP launched a brutal persecution that has lasted 24 years.
The peaceful protest displayed their moral courage in upholding justice and conviction in the universal principles of Truthfulness-Compassion-Forbearance.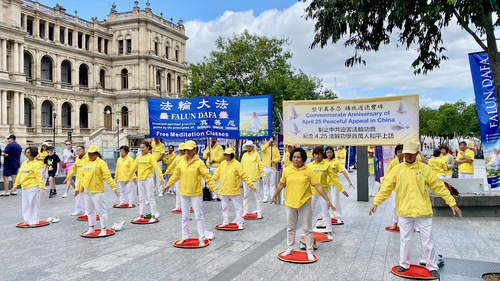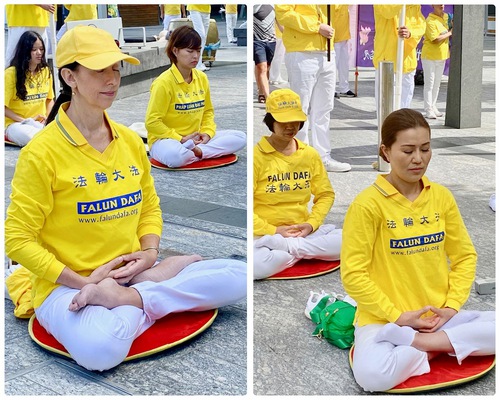 The sight of practitioners quietly doing the exercises drew the passersby' attention. They went to find out what Falun Dafa is. When they learned of the CCP's brutal persecution, including organ harvesting, many signed the petition to call for an end to the atrocities. One Australian resident said, "Thank you for informing people about this. I support you in opposing the persecution 100 percent."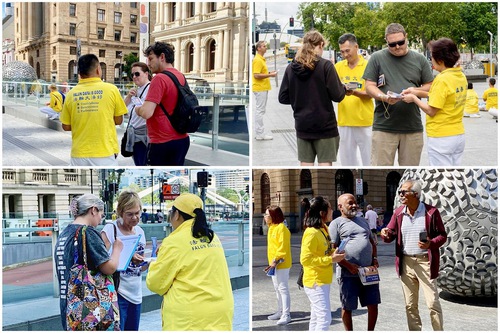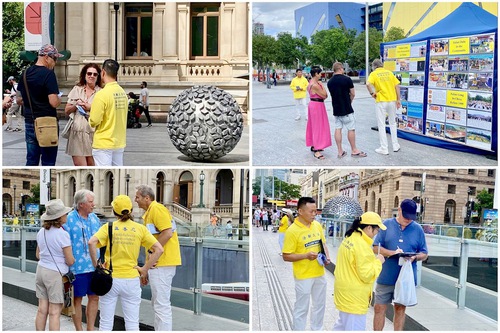 University Student Whose Parents Were Arrested in China Receives Help from Australian Government
Guo Li, who attends Griffith University on the Gold Coast, called for help to release her parents, who were arrested by the police in Jiangsu Province. Her parents, who live in Wuhan City, began to practice Falun Dafa in 1996. They were reported for giving out information on the practice while visiting relatives in Taizhou City, Jiangsu Province. Police officers arrested her parents on February 14 of this year and incarcerated them at the Taizhou city detention centre. To date, she has not been able to contact her parents and she is very worried about their safety.
Guo Li went to Canberra to ask the Australian government for help. Several Members of Parliament and officers in Department of Foreign Affairs met Guo Li. She told them, "In Chinese prisons, my parents may be forced to have blood samples taken and upon a successful match, they might be subjected to organ harvesting."
Australian officials are aware that Falun Dafa practitioners, Tibetans and underground Christians are main targets for organ harvesting by the CCP and they told Guo Li that they would help her.
On April 6, she received a response from Lisa Mortimer, Assistant Director of the Southeast Asia Regional division of the Australian Department of Foreign Affairs and Trade, "We raised the case of your parents with the Chinese Embassy in Australia. We let them know our concerns towards religious freedom. We hope this will bring about positive changes."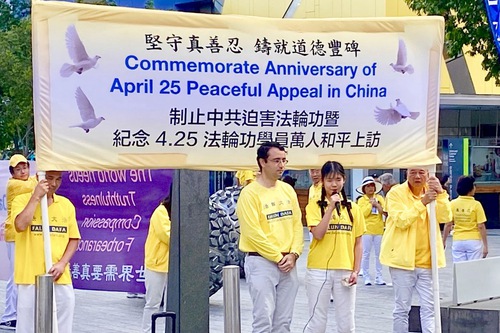 Truthfulness-Compassion-Forbearance Are Humanity's Core Values
Braden Pierson, who works at SA Power Networks, said, "Truthfulness-Compassion-Forbearance are humanity's core values. They offer humanity hope. If people don't follow these values, there will be no hope for people. I saw hope because Falun Dafa practitioners are passing on these values."
Braden is studying environmental science in college and said, "I support Falun Dafa practitioners in protesting against this persecution 100 percent. They know that they face brutal torture, yet they persist in justice and telling people the facts. This is courage. I thank practitioners for spreading the truth. All of us should continue to resist this persecution until the CCP collapses."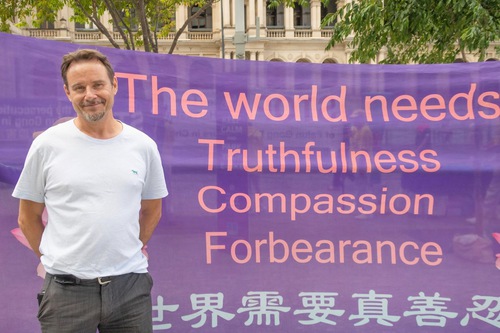 Falun Dafa Practitioners Should Have Freedom to Practice
Brooke Renwick, who is a small business owner, said, "Falun Dafa practitioners should have freedom to practice. We see the CCP oppressing its own people, this is the problem. I am astonished that practitioners can deal with this so peacefully. The CCP easily arrests everyone, yet Falun Dafa practitioners choose to raise awareness on this unjust treatment using peaceful, rational means."
Moved by the practitioners' peaceful exercises, he stood and watched for a long time and chatted with practitioners. He said, "A young woman who is 22 spoke just now. Her parents were arrested by the CCP. They knew the risks but they continued to tell people about the persecution. This shows great courage. It would be great if there was no CCP in China."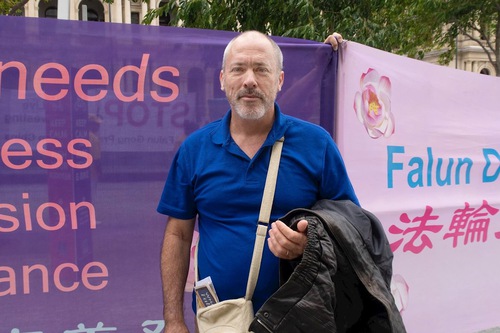 The CCP's Persecution of Falun Dafa Tramples on Human Rights and Freedom
Stuart Laing is a writer and has published 36 books. He took a brochure and asked if any practitioners experienced the persecution in China. A practitioner told him he was sent to labor camp, imprisoned and tortured. Stuart listened to his story and said he is very concerned about the brutal persecution suffered by Falun Dafa practitioners in China. Perhaps this might be the subject of his next book.
He said, "The CCP's persecution of Falun Dafa tramples on human rights and freedom. In communist China, such tragedies against humanity takes place every day. We must take action to stop it." He said he was glad to see the Five Eyes Alliance as well as other Western countries taking action to stop the CCP. For example, recently, employees in a "secret CCP police station" were arrested in the U.S.
He hopes more governments will take action to end the CCP. He signed the petition to show his support.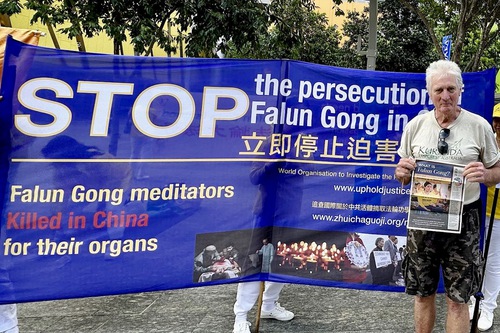 Chinese version available
(Clearwisdom)
Brisbane: Rally Held to Celebrate 400 Million Withdrawals from the CCP