Falun Gong practitioners in Melbourne, Australia held a candlelight vigil in front of the Chinese Consulate on the evening of July 20, 2016, to commemorate their fellow practitioners who died from the Chinese Communist Party's (CCP) persecution, and calling for an end to the 17-year suppression. They also called for the chief perpetrators of the persecution to be brought to justice.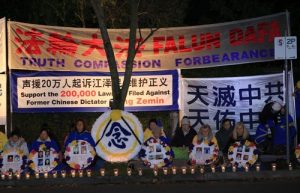 Banners at the vigil stated "Support the 200,000 Lawsuits Filed against Former Chinese Dictator Jiang Zemin," "Stop the Persecution of Falun Gong in China," and "Falun Dafa – Truth Compassion Forbearance."
Ms. Veronika Mueller, a Falun Gong practitioner from Germany, said that the power of Truthfulness, Compassion and Forbearance has bought improved health and huge changes in her life. Family conflicts were resolved when she followed these principles. "In China, when you see that good people are tortured in labor camps and their organs harvested, you will know how evil the persecution is, and how clearly the contrast between good and evil are presented," she said. Veronika believes that the best way to end the persecution is to bring former Chinese leader Jiang Zemin to justice. Jiang single handedly initiated the persecution in 1999.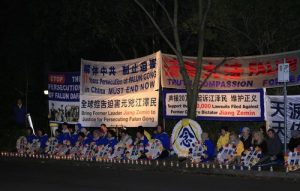 Mr. Michael Anderson, an Australian practitioner, told a reporter, "Falun Dafa is powerful. It's a great practice. Falun Gong practitioners don't give up their beliefs, because everyone in their families benefits from it. The CCP aimed to eliminate Falun Gong 17 years ago. But we are standing here in front of the Chinese Consulate today, telling them that their evil persecution won't last. Falun Gong Practitioners will gather, expose the persecution, and stop the persecution."
(Clearwisdom)
38 total views