Falun Dafa practitioners held a weekend event in Auckland, New Zealand to raise awareness of the ongoing persecution of the meditation practice by the communist regime in China.
At the June 11 gathering in the business district of Otara in South Auckland, practitioners demonstrated the gentle Falun Dafa exercises, gave a waist drum performance, and handed out flyers about Falun Dafa and the persecution in China.
Many locals expressed interest in learning the exercises and showed their support for Falun Dafa practitioners.
As the most populous city in New Zealand, Auckland also has the largest Polynesian community in the world. A young Maori man watched the practitioners' performance for a long time and asked many questions.
"I have some Chinese friends working in a transportation service company, and they told me a lot about China," he said. He had overheard that the Communist Party not only suppresses citizens inside China but also controls the ideology of Chinese people living overseas.
He asked how to learn the exercises and was told about group practice sites nearby, including public parks where practitioners regularly gather to do the exercises.
More than 160 people signed a petition calling to end the persecution of Falun Dafa in China, especially state-sanctioned killing of imprisoned practitioners for their organs. One woman said, "I believe in good, because everyone will have to pay for whatever he or she does."
An elderly man was in tears upon hearing of the brutality that Falun Dafa practitioners suffer for their belief in China. "I will pray for you," he said.
One passerby said he had seen events held by Falun Dafa practitioners when he visited Hong Kong. "What you're doing is important. You have my blessings," he said before taking some handouts.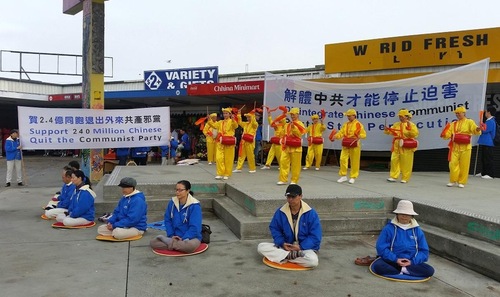 More than 50 Chinese agreed to quit the Chinese Communist Party (CCP) during the three-hour event. In total, over 240 million have renounced their membership in the CCP and its youth organizations since the book Nine Commentaries on the Communist Party was published in November 2004.
(Clearwisdom)