May 03, 2016 | May Day (May 1) is a traditional holiday in France. As tourists from various regions in France and other countries visited tourist sites, such as the Eiffel Tower, many were happy to learn the facts about Falun Dafa at nearby Trocadero Square.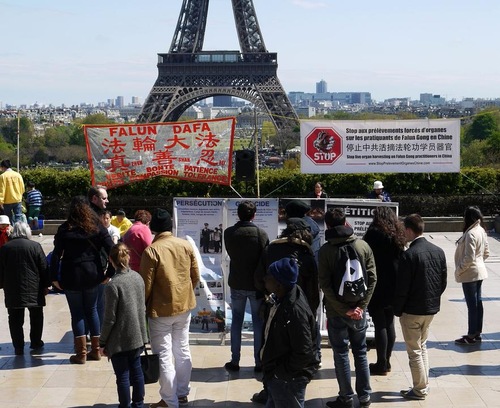 Practitioners have maintained a presence at the square since 1999, when Jiang Zemin ordered the suppression of Falun Dafa in China. It is a location also known as Human Rights Plaza. The practitioners talk to visitors to raise awareness about the brutality in China.
One French couple, who had lived in China for ten years, had just returned. The husband said, "We have heard about this before, but we did not know the details."
The couple talked with one practitioner in Chinese, and all their questions were soon addressed. They both signed a petition to support practitioners, and expressed hope that the persecution would soon end.
Accountant Alain Dchanga also signed a petition. He said he knew that Falun Dafa helped to improve one's physical health and mind nature, but nonetheless, the Communist Party decided to ban the peaceful mediation. He said he was glad to help practitioners by signing the petition.
A large number of the tourists and residents were shocked by the torture practitioners had suffered.
One commented, "This is insane. How could one kill others to sell their organs?"
Another said, "It's too vicious. This [organ harvesting] is not something a human being would do."
Many people encouraged practitioners to continue the efforts, and some began to learn the exercises or asked where they could obtain a copy of the book Zhuan Falun.
Chinese tourists also chatted with Falun Dafa practitioners, seeking more information. Some agreed to renounce their memberships in the Communist Party, and some took Falun Dafa materials to bring back to China.
(Clearwisdom)
34 total views