(Minghui.org) Practitioners held activities in Mataro, Barcelona, Spain on September 16, 2023, to tell people about Falun Dafa and collect signatures on a petition calling for an end to the persecution of practitioners in China.
Mataro, a town in the province of Barcelona, is the capital of the Catalonian coastal Mediterranean county of Maresme. Located between the ocean and mountains, Mataro's beautiful scenery, pleasant climate, unique traditions, history, and cultural heritage attract large numbers of domestic and foreign tourists every year.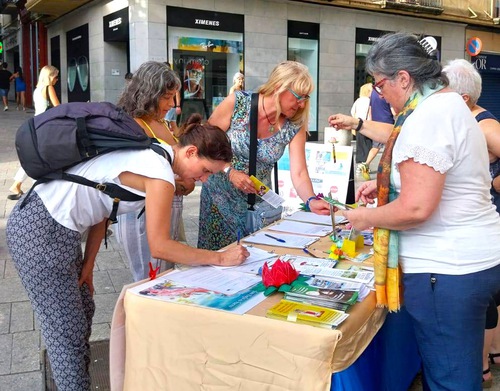 It rained heavily earlier that day, so the air was exceptionally clear and fresh. Practitioners set up a booth on the Plaza Santa Ana, an intersection where all the pedestrian streets converge. As they demonstrated the Falun Dafa exercises, a constant stream of tourists and passersby paused to watch. Some took informational materials, while others talked with practitioners and asked for more information about Falun Dafa.
Based on their personal experiences after they began practicing, practitioners told people how Falun Dafa is beneficial in improving one's physical and mental health. They explained that practitioners follow the principles of Truthfulness, Compassion, and Forbearance to become good people. Some practitioners talked about the changes in their hearts after practicing Falun Dafa and that their positive changes impacted their families. Many people exclaimed, "Truthfulness, Compassion, and Forbearance are so good! Our world today needs Truthfulness, Compassion, and Forbearance!"
People were shocked when they read how the Chinese Communist Party (CCP) persecutes practitioners in China, including harvesting organs from practitioners while they are alive for profit. Many people said that, under a communist system, there is no freedom, only killing and suffering. Some said that the CCP's brutal persecution of practitioners defied their imagination.
Ms. Tremosa told a practitioner that she had already heard about the persecution. She said, "The media that published the report is very reliable and explained the situation thoroughly. I never understood what the Communist Party was, but now I realise the Communist Party is a cult and has done all kinds of bad things."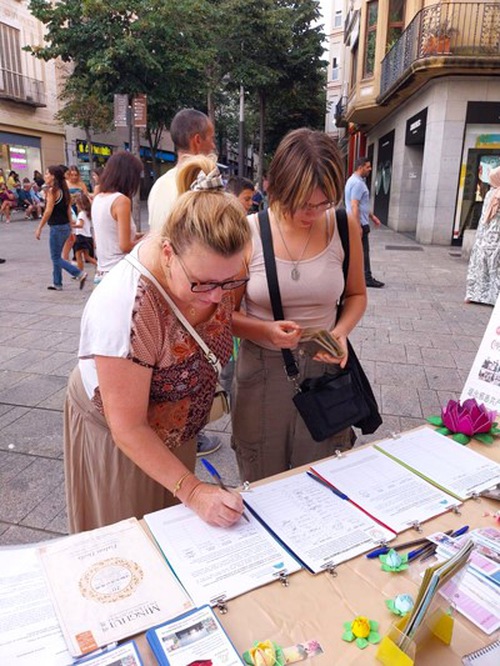 Ms. Dorsa said, "Everyone should have the right to their own belief, not to mention that you [practitioners] are practicing in accordance with Truthfulness, Compassion, and Forbearance. What's wrong with that? The Communist Party's persecution of you just highlights its wickedness and how evil it is. We support you! You deliver this very important message! We will tell our friends and family what we learned here! Thank you for coming here!"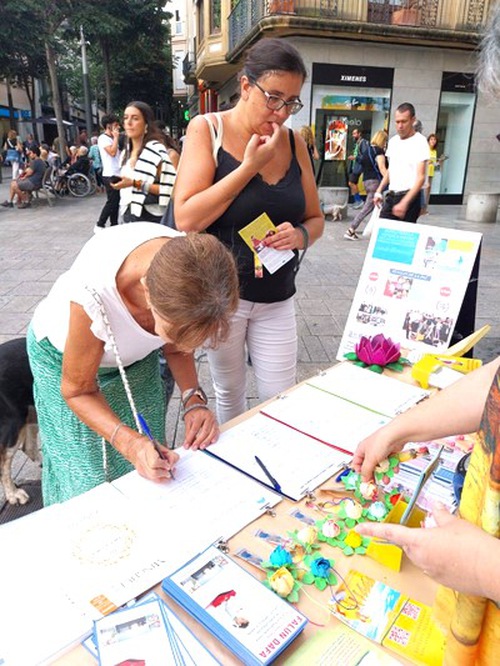 Ms. Conchita, 74, learned about Falun Dafa when she saw the Art of Zhen Shan Ren (Truthfulness-Compassion-Forbearance) Exhibition held in Mataro a few years ago. She said that was the first time she'd heard about Falun Dafa and the persecution.
The paintings about the persecution shocked her. Another part of the art exhibition that touched her was, "Salvation: Infinite Grace of Buddha." The paintings showed the victory of good over evil and the universe was rectified.
Ms. Conchita said, "It is ridiculous that people are being persecuted today because of their spiritual beliefs."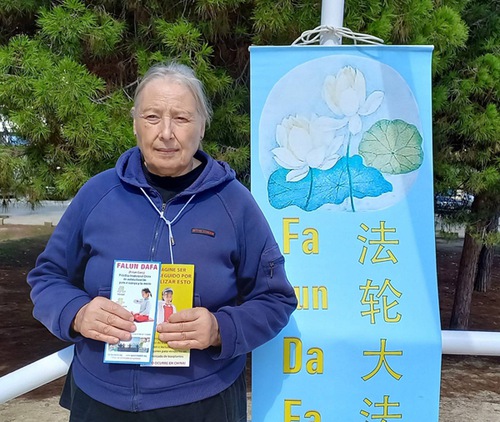 Chinese version available
(Clearwisdom)
Cartagena, Spain: Introducing Falun Dafa to Local Residents and Tourists