(Minghui.org) The Cairns Regional Council hosted the annual Cairns Festival, a ten-day event filled with dance and music performances in Tropical North Queensland. The event showcases the rich cultural diversity of Cairns, including the much-anticipated return of Reef Lights at the Esplanade Lagoon. Thousands of tourists are attracted to the festival each year.
Falun Dafa practitioners from Melbourne, Brisbane, Mackay and the Whitsundays participated in activities at Carins Esplanade on August 25-26. They set up a booth at the Port Douglas market on August 27, and demonstrated the exercises at Kuranda on August 28.
Locals warmly applauded practitioners' energetic waist-drum performances. Practitioners also demonstrated the Falun Dafa exercises and offered free exercise instruction. Many people talked with practitioners. They learned the exercises and asked about the persecution of Falun Dafa in China. After she did the exercises, a woman said, "I feel an inner peace and both my mind and body are one. I feel full of positive energy."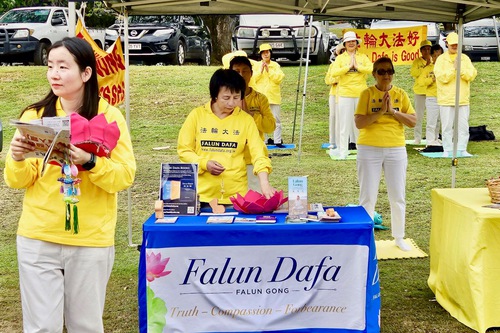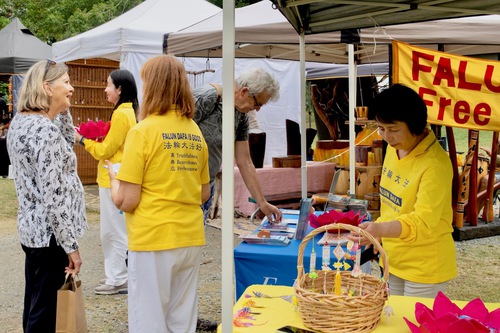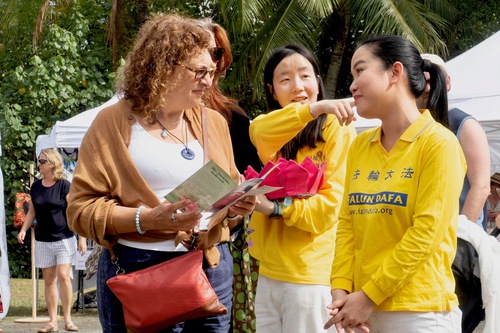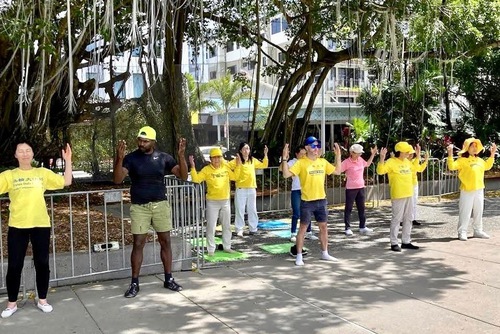 British Tourist: "The principles of Truthfulness-Compassion-Forbearance are very important to me"
Anna is a therapist and counselor. She noticed the Falun Dafa booth at the Cairns Esplanade. She was intrigued by practitioners' exercise demonstration and said she felt a strong energy field. She had a lengthy conversation with practitioners and learned to practice the exercises.
After she did the exercises, Anna said, "I feel peaceful and that my mind and body are one. It was a lovely experience."
She added, "The principles of Truthfulness-Compassion-Forbearance are very important to me. I could sense these qualities in practitioners as I interacted with them. I felt an opening from deep within."
Anna happily accepted truth-clarification materials and a handmade lotus flower. She said she planned to continue learning Falun Dafa when she returns to England. She said she could not understand, "…why people would be persecuted (for practicing Falun Dafa)!" She said, "This is terrible and makes me sad!"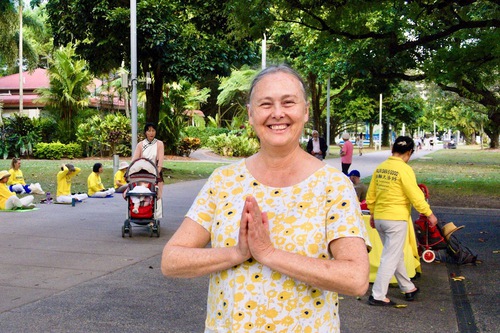 Locals Experience Falun Dafa's Energy Field
Francis, a local resident, noticed the Falun Dafa exercise demonstrations. He said he was interested in the practice and learned the exercise movements. Afterwards he said, "I feel energised and relaxed. It feels great!"
Matthew from Victoria, noticed the Falun Dafa activities at the Cairns Esplanade, and said he felt "energy beaming off" people when they did the exercises. He said, "The energy just hit me when I walked past practitioners!"
He was surprised that Falun Dafa was persecuted in China. "It is unacceptable that such a good practice is being treated as something bad [by the CCP] in this world."
He signed the petition to help practitioners end the persecution.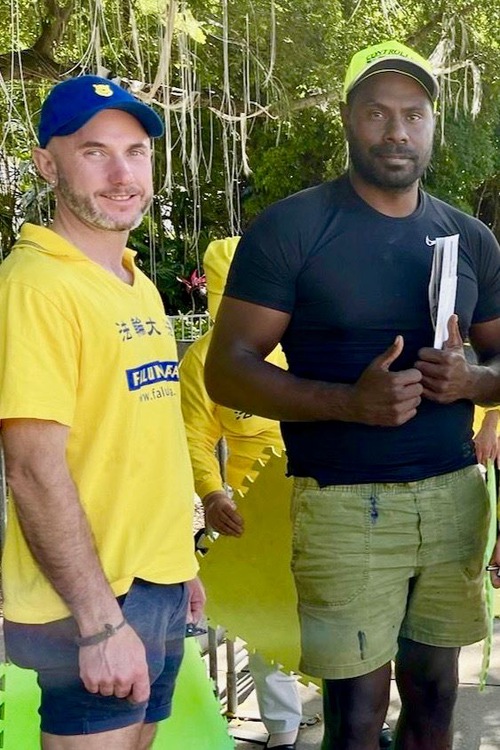 People Condemn the CCP's Persecution
William lives in Cairns and is a horticulturalist. He told a practitioner, "I had heard about Falun Dafa and the persecution."
He was shocked to learn about the CCP's state-sanctioned forced live organ harvesting and exclaimed, "This is a nightmare—your worst nightmare come true!"
William said, "I think what upsets many of us is the deviousness, underhandedness, and deceitfulness. The CCP is lying to the world while brutally persecuting Falun Dafa."
He condemned the CCP and signed the petition to support practitioners in ending the persecution.
William took some information about the Falun Dafa and said he would look deeper into Falun Dafa's teachings.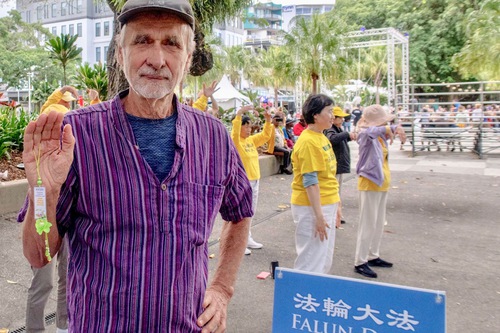 International Tourists Interested in Falun Dafa 
Local practitioners arrived early at the Port Douglas markets to set up a booth on August 27. There were over 100 vendors at the market and it attracted many tourists. People enjoyed the warm weather and many were attracted to the colorful Falun Dafa booth.
Tilly, Guy, Mac and Levon met each other while they were traveling the world. They watched practitioners as they did the Falun Dafa exercises. They talked with a practitioner who asked if they wished to learn the exercises. Levon responded, "Sure!" After she did the exercises Tilly said, "I think this exercise is great—it's calming and makes me feel relaxed."
Her friends agreed. They appreciated the fact that Falun Dafa was taught free-of-charge worldwide.
Tilly said, "Everyone should be compassionate."
Tilly said she knew that the CCP was persecuting practitioners and said this was very bad. Before the group of friends left, they thanked practitioners and said they planned to learn more about Falun Dafa.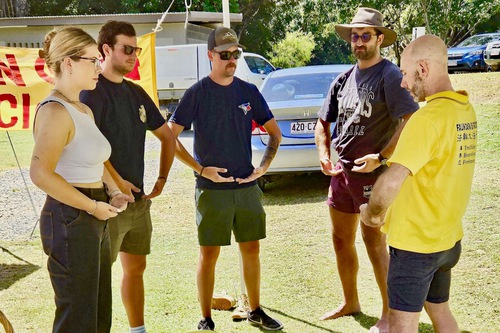 Chinese version available
(Clearwisdom)
Cairns, QLD: Falun Dafa Warmly Welcomed at Multicultural Festival