(Minghui.org) Falun Dafa practitioners held a rally and parade in Munich on July 15, 2023, to call for an end to the persecution of Falun Dafa launched by the Chinese Communist Party (CCP) 24 years ago. Practitioners from German-speaking Switzerland, Czechia, and Austria also participated in the event. Several federal and state parliament members as well as other elected officials wrote letters expressing their support.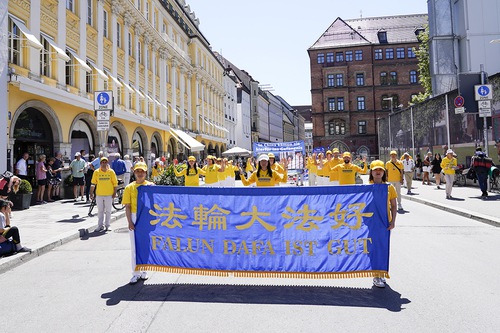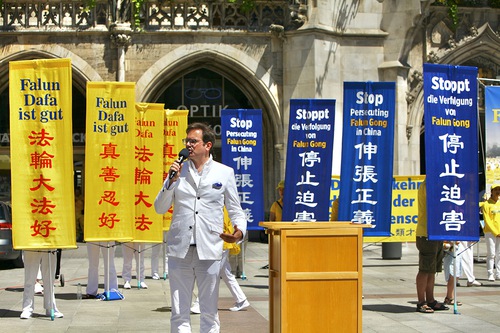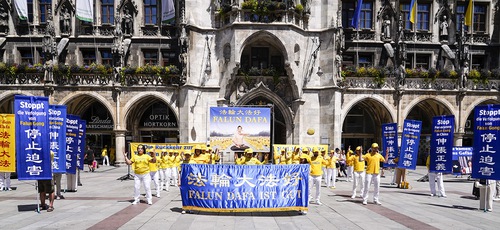 The activities started with a rally in Marienplatz, a public square in front of Munich's city hall, at 10 a.m. This was followed by a march at 2 p.m. that went through popular locations in the city including the Bavarian State Opera, Nymphenburg Palace (Residenz), and Odeonsplatz. Proceeding through the renowned royal avenue of Maximilianstraße, practitioners passed by Tal Street, Isar Gate (Isartor), Karlsplatz, Bavarian Court, and arrived at Karl-Stützel-Platz near the train station.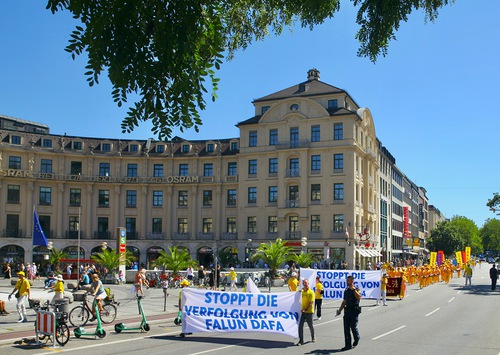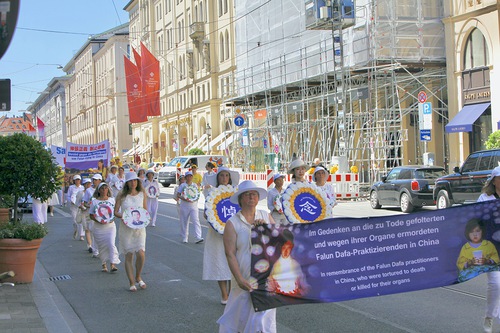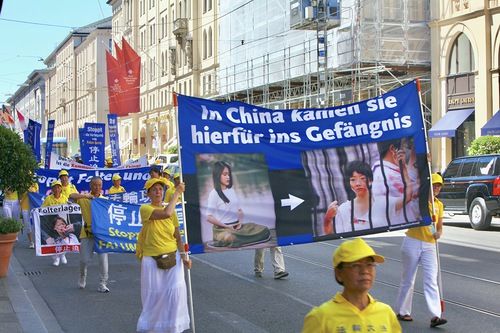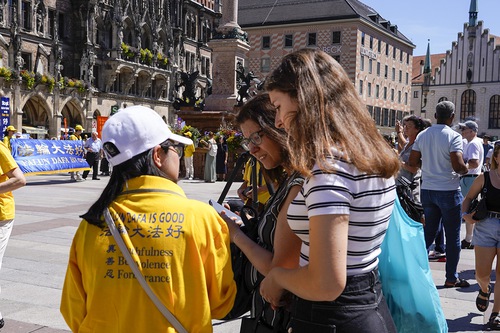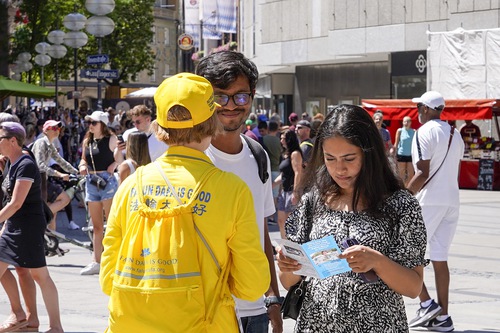 Supporting Basic Principles
Silvia Huber stopped and listened to the speeches during the rally and signed a petition calling for an end to the brutality. She said she supported practitioners because it is wrong for the CCP to arrest them for their belief, let alone kill them for their organs.
"This is a great event," Ms. Huber said. She praised practitioners for their efforts on such a hot summer day. She said it is unfortunate that the CCP suppressed citizens based on their belief in Truthfulness-Compassion-Forbearance since these are basic principles.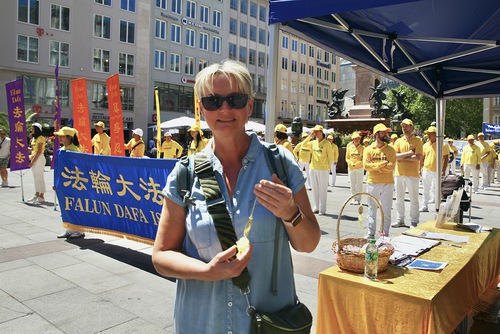 End the Organ Harvesting
Bernhard Wilms is a librarian, and said he signed the petition to support practitioners. He is against the persecution, especially forced organ harvesting. He feels practitioners are peaceful citizens, and only a totalitarian regime would treat people so ruthlessly.
He said that was why an event like this is very important. He was glad that tourists from many countries could come to Marienplatz and learn what is going on in China. Such an informational event, along with practitioners' exercise demonstration, are really great, he added.
Mr. Wilms said the principles of Truthfulness-Compassion-Forbearance are indeed good. It is hard to imagine that the CCP persecutes people who have followed such principles for 24 years. He said this was a horrible situation in which innocent practitioners were treated as criminals. He believes that international society should be clear on human rights abuses in China. He feels little has been done so far due to the countries' financial interests.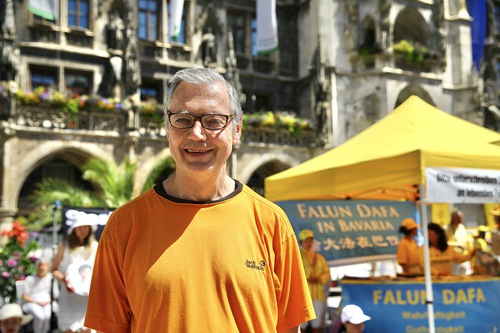 Psychologist: "These Are Important Words"
Sabina, a child psychologist, was so impressed by the rally at Marienplatz that she immediately signed a petition. She was shocked to hear that the human rights suppression by the CCP had escalated to such a level. She also said practitioners did very well, and that the messages on the banners were powerful. "These are important words," she said. She felt compelled to stop and support the event instead of just walking by.
She said the entire event was very positive and refreshing, and the colors and presentation catch people's attention. She hopes that practitioners hold more activities like this so that they can safeguard "freedom in their heart" and the public will be informed.
Universal Values
Marcella Ostafie works as a buyer for a large company. She stopped her bike to watch the march and said the event was great. She said tragedies like this must stop wherever they happen in the world. She said it is terrible to see such brutality in our modern society.
People have the right to practice the principles of Truthfulness-Compassion-Forbearance because they are universal values, she added. She expressed hope that the persecution in China would end, and wished the practitioners well.
Rejecting the CCP
Some Chinese students and residents also watched the rally and march. One woman video-recorded the activities with her cell phone and chatted with a practitioner for a long time. She said she heard about Falun Dafa when she was a child and was gratified to see the practice was well received around the world.
During the conversation, the practitioner also answered many of the woman's questions. For example, she could not understand why practitioners held an event like this. The practitioner explained that innocent citizens are mistreated in China, and the CCP uses all means to cover it up. By misleading the public and suppressing the principles of Truthfulness-Compassion-Forbearance, the CCP is also destroying moral values and harming all Chinese. The woman nodded and agreed.
The practitioner added that the CCP has launched various political campaigns in the past few decades, and mistreated people with brutality and lies. That is why it is important for one to sever ties with the regime because the CCP is doomed. The woman agreed to renounce the CCP's Youth League she joined many years ago.
Chinese version available
(Clearwisdom)
Munich, Germany: Practitioners Hold Activities to Introduce Falun Dafa and Expose the CCP Regime's Decades Long Persecution