(Minghui.org) Falun Dafa practitioners set up an information booth in Siófok, a small town in Hungary, on July 8, 2023. Practitioners spread the beauty of Falun Dafa and raised awareness of the Chinese Communist Party's (CCP) 24 years of persecution. Many people signed the practitioners' petition calling for an end to the persecution in China after learning about Falun Dafa.
Siófok is situated on the southern bank of Lake Balaton, and the Petofi Promenade is a popular spot during the summer time for both tourists and locals. Practitioners set up two booths on the promenade and many tourists from Germany and Romania came over to learn more about Falun Dafa.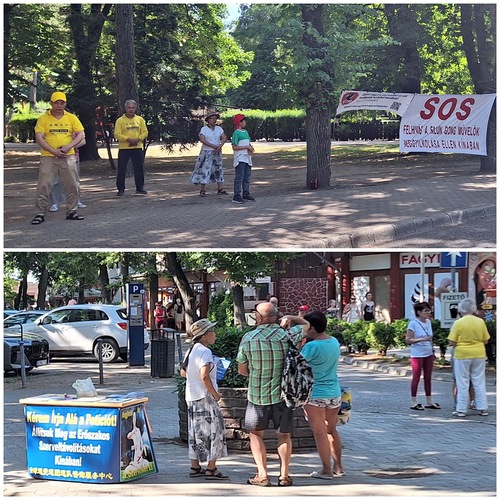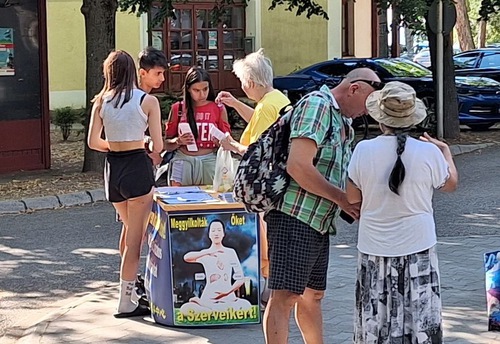 Many people paused to watch practitioners demonstrate the Falun Dafa exercises and some wanted to learn the exercise movements. People expressed support for efforts to end the persecution and signed the practitioners' petition to call for the Hungarian government to issue a formal declaration demanding an end to the persecution of Falun Dafa practitioners in China.
Three young men from Tatabánya signed the petition after learning about the persecution. One of them said, "The way the CCP murders its own people is terrible. I am happy that our signatures can help end this persecution faster."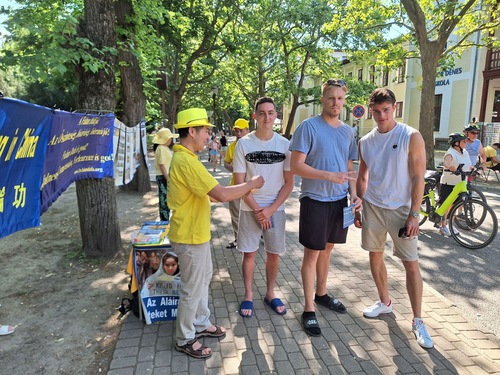 A woman was shocked to learn that a group of people who believe in the principles of Truthfulness-Compassion-Forbearance would be persecuted. "Please tell me why the CCP is persecuting such a good practice? The principles of Truthfulness-Compassion-Forbearance are truly good! Why is the CCP persecuting them?" She signed the petition a short time later.
A woman from Budapest asked, "Can I sign the petition again?" It turned out that she had already signed the petition when practitioners held an Information Day event in Budapest. She was happy to be able to support practitioners again.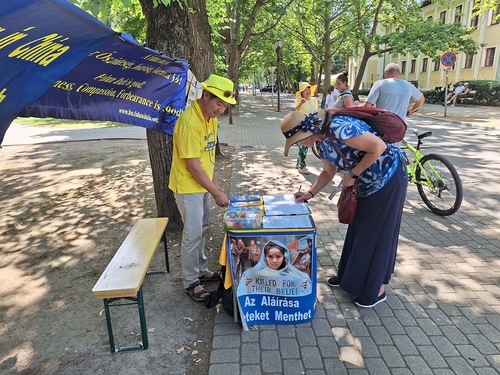 A German man watched practitioners demonstrate the exercises and then walked over to a practitioner and asked, "I like this music. Where can I buy it? I would like to purchase it." He was happy to learn that the practice and exercise music, as well as many Falun Dafa lectures in multiple languages, can be downloaded online free-of-charge.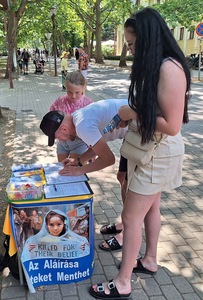 Two policemen were patrolling the area and they stopped to chat with practitioners. They learned about Falun Dafa and read the truth-clarification flyers. The policemen promised to come back to sign the petition after they got off work.
Practitioners have hosted truth clarification activities in different cities in Hungary recently, and Siófok is the fourth city they have visited.
Chinese version available
(Clearwisdom)
Hungary: Falun Dafa Practitioners Tell People about the Practice in Budapest