(Minghui.org) Practitioners held activities in Geneva's Old Town on April 28, 2023, to introduce Falun Dafa and tell people about the ongoing persecution in China. The venue was in the lower arcade hall of a seventeenth-century building, opposite the Cantonal Parliament (Parlement Cantonal) and Chancellery (Chancellerie d'Etat) of Geneva.
Members of the Council of State of Geneva came to support the event and gave speeches. Some signed the petition to call for an end to the persecution and took photos with practitioners. All of them praised practitioners' protest against the Chinese Communist Party's persecution as a righteous deed. One member said, "I support your fight for justice!"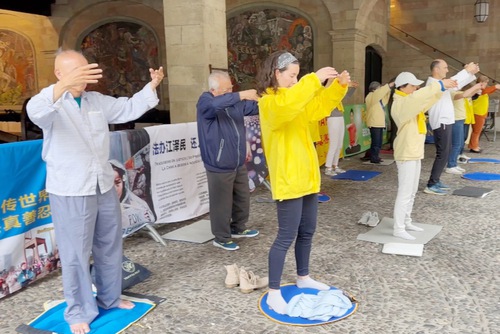 President of the Council of State of Geneva: What You Are Doing Is Righteous
Mauro Poggia, president of the Council of State of Geneva came to the event to show his support. He said, "What you are doing is righteous, your actions are positive. We know what is happening in China. Fortunately, the world has opened its eyes now but this is not enough. After opening their eyes, they should speak out for you now and bring about more changes."
He added, "Thank you for bringing this to the world's attention and helping the world move out of inertia. We shall help all these unfortunate victims (Falun Dafa practitioners), get them out of prison, and return their freedom and dignity. This is a group of people who will not harm anyone." Before leaving, Mauro expressed his respect to practitioners with a heshi (palms together in front of the chest) gesture.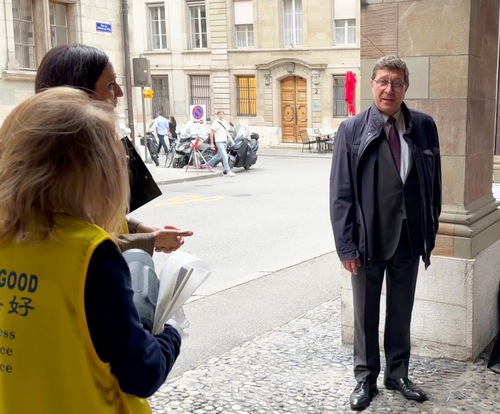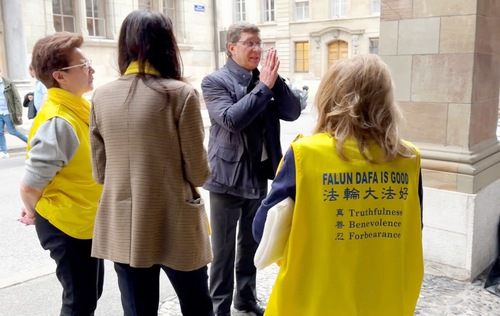 Member of the Council of State of Geneva: Falun Dafa Is Great!
Patrick Dimier, a member of the Council of State of Geneva has been supporting practitioners in their efforts to resist the persecution for many years. He said in Chinese, "Falun Dafa is great!" before signing the petition to call for an end to the atrocities. He said, "Thank you for your actions. Nothing can help people understand one another better than kindness and friendship. You are amazing!" He also bowed in "heshi" to practitioners.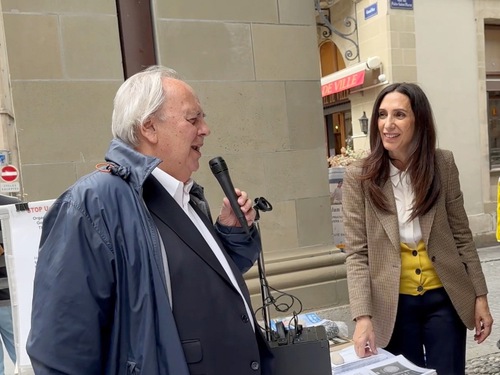 Organ Transplant Doctor: We Should Respect Moral Principles
Phillipe Morel, a member of the State Council of Geneva and an organ transplant doctor told practitioners, "I spend most of my time performing organ transplants at the university hospital in Geneva. I did many organ transplants in Switzerland in the past as well. Obviously, I performed such transplants abiding by acceptable moral standards. These include: organ donors must be respected; international rules, in particular rules set by European parliament members must be respected in every country. These rules benefit organ transplants and fall within the framework of protecting organ donors, of course."
In regards to forced organ harvesting from detained Falun Gong practitioners, he said, "I fervently hope that such acts that are contrary to recommendations by the European Council will end at once. We previously thought such acts were given up but perhaps they were not. It is obvious that these things should be stopped at once. We should respect moral principles and the rules for international organ transplants and organ donations."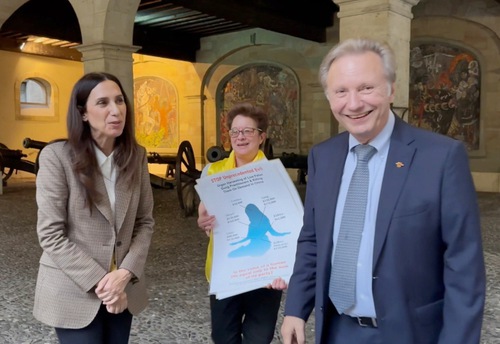 Members of the State Council of Geneva Came to Support the Event
Chevallier a former member of the State Council of Geneva was moved after hearing of the persecution suffered by practitioners in China. He said, "You are doing an absolutely righteous thing." He also asked for two petition forms and said he would take them home so that his friends and relatives could sign them.
Francois Canonica, former president of the Geneva lawyers association has supported practitioners for many years. He condemned the CCP for organ harvesting and said, "I applaud you one hundred percent for your fight!"
Jean Charles Rielle, a member of the State Council of Geneva told practitioners, "I support you in your fight for justice!"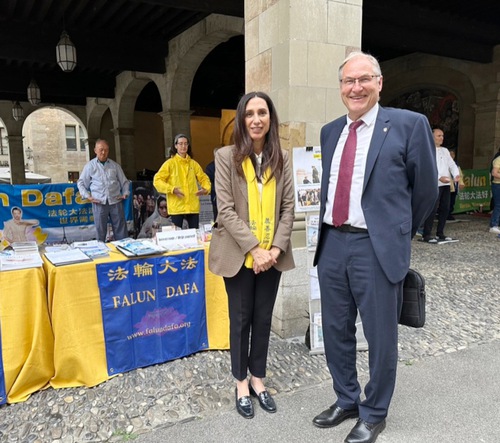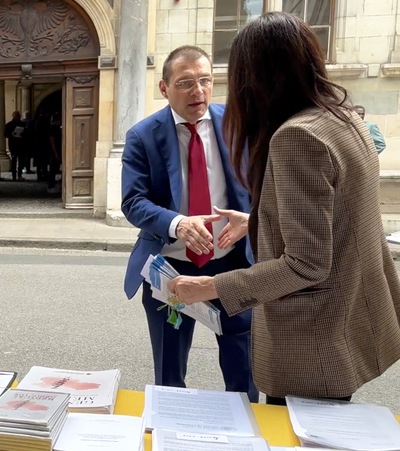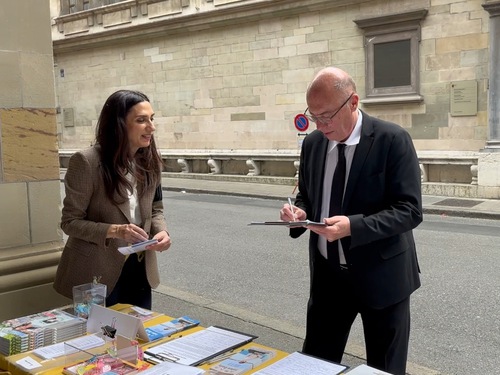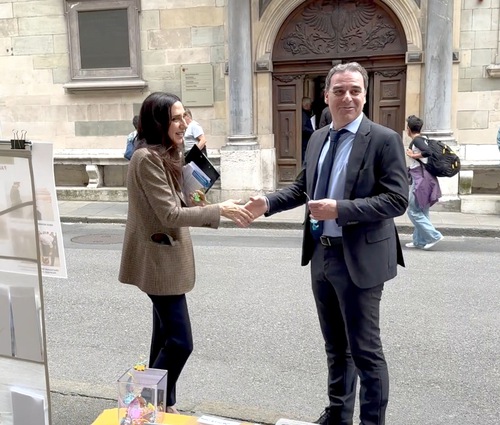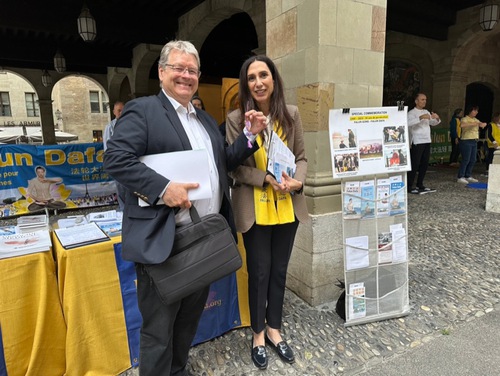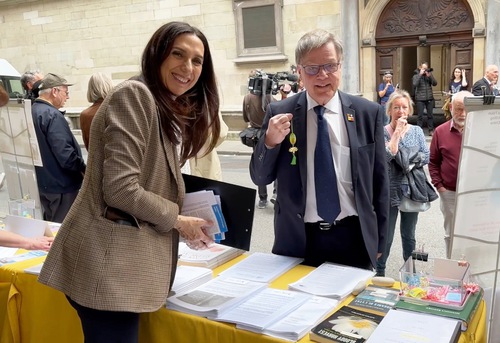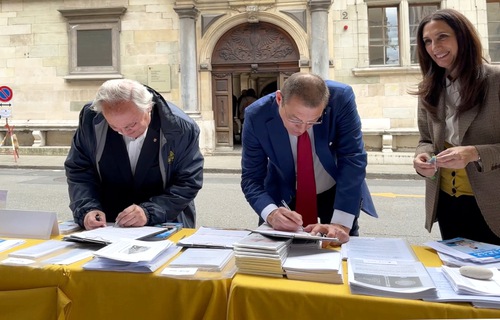 Background: What Is Falun Dafa and Why Is the CCP Persecuting It?
Falun Dafa (also known as Falun Gong) was first introduced to the public by Mr. Li Hongzhi in Changchun, China, in 1992. The spiritual discipline is now practiced in over 100 countries and regions worldwide.
Millions of people who have embraced the teachings, which are based on the principles of Truthfulness, Compassion, and Forbearance, and have learned the five exercises, have experienced improved health and well-being.
Jiang Zemin, former head of the Chinese Communist Party (CCP), perceived the spiritual discipline's growing popularity as a threat to the CCP's atheistic ideology and on July 20, 1999, he issued an order to eradicate the practice.
Under Jiang's personal direction, the CCP established the 610 Office, an extralegal security organisation with the power to override the police and judicial systems and whose sole function is to carry out the persecution of Falun Dafa.
Minghui.org has confirmed the deaths of thousands of practitioners as a result of the persecution over the past 23 years. The actual number is believed to be much higher. Countless practitioners have been imprisoned and tortured for their faith.
There is concrete evidence that the CCP sanctions the harvesting of organs from detained practitioners, who are murdered to supply China's organ transplant industry.
Chinese version available
(Clearwisdom)