(Minghui.org) A Falun Dafa Day flag was raised in front of Milton's town hall in Ontario, Canada on May 1, 2023, to celebrate the upcoming World Falun Dafa Day. That evening, the High Level Bridge in Edmonton, Alberta, was lit to celebrate the special day.
Mayor Gord Krantz hosted the flag raising ceremony in Milton. The Falun Dafa Day flag will fly for 16 days. Every year, Falun Dafa Day is celebrated on May 13, and this year is its 24th anniversary. It is also the 31st anniversary of Falun Dafa's public introduction in China in May 1992. Beginning in 2021, cities in Canada have raised the Falun Dafa flag and displayed colorful lights on landmark buildings to celebrate this special occasion and thank practitioners for their contributions to their local communities. This year it is expected that over 20 cities will hold such celebratory events.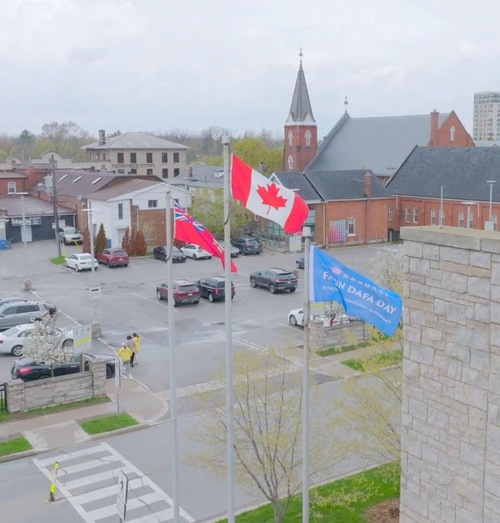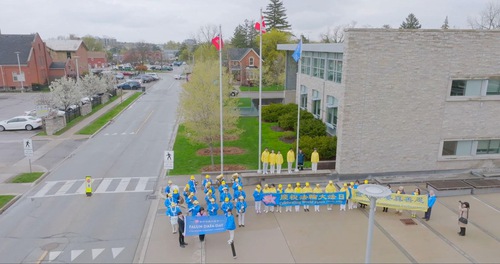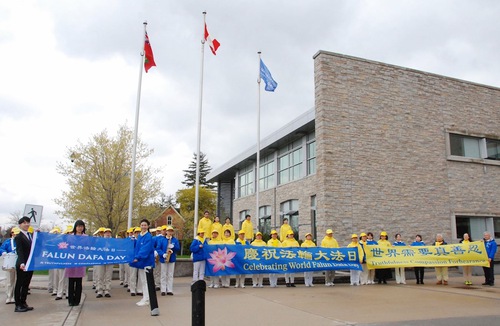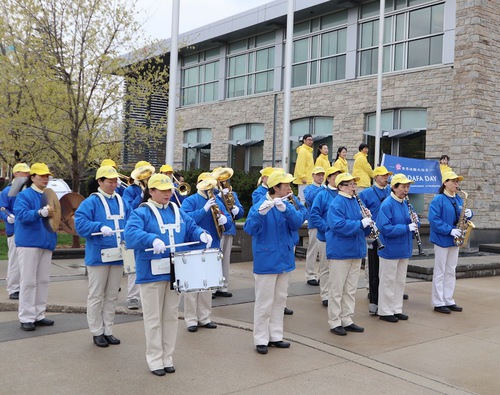 Better Future Will Arrive
The first flag raising ceremony this year was held in Milton in the Halton Region, one of the fastest growing towns in Canada. Mr. Krantz, 85, has been the mayor of Milton for 43 years and is the longest serving mayor in Canada. He met with practitioners soon after the Chinese Communist Party launched the persecution of Falun Dafa in China in 1999. He's issued proclamations for Falun Dafa Day for ten consecutive years.
On the day of the ceremony Mayor Krantz shook hands with practitioners in front of city hall. He told them that he was glad to hold another flag raising ceremony this year and to present another proclamation. Seeing practitioners dressed in yellow, he said that the color yellow represents brightness and signifies that a better future will arrive.
He said that Truthfulness, Compassion, and Tolerance are important, and that when people disagree with others' views, they don't have to impose their ideas on others. Instead, they should be tolerant and try to understand and respect others' ideas and wishes. He said that he supports people's beliefs and lifestyles. His wish is that the people of Milton have a better life.
Mayor Reads Proclamation and Hosts Flag Raising Ceremony
With a smile, Mayor Krantz proclaimed May 2023 Falun Dafa Month.
"Whereas The Town of Milton recognises this month as Falun Dafa month, something that is celebrated across Canada and this year will be the 31st celebration.
"And Whereas Practitioners will rejoice in festivities and celebrations throughout May to mark this wondrous time.
"And Whereas Falun Dafa has received worldwide recognition, including thousands of awards and proclamations for promoting harmony in society through its traditional Chinese self-improvement system that guides people to mental, moral and physical well being."
The mayor invited the practitioners to count down to the moment the flag was raised, "5, 4, 3, 2, 1, raise the flag!" The flag slowly rose accompanied by the music played by the Tian Guo Marching Band. The flag was raised with the Canadian and Ontario flags. Afterward the mayor took photos with practitioners and suggested everyone pose with their thumbs up and say, "Falun Dafa is good!"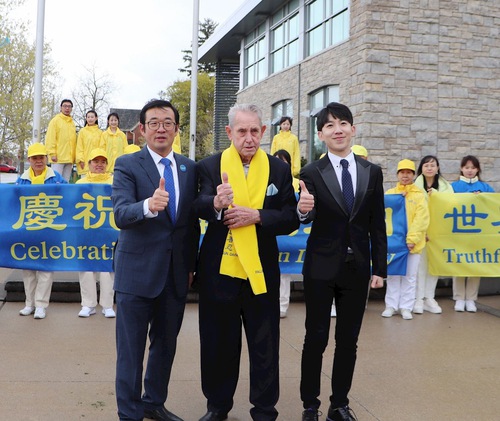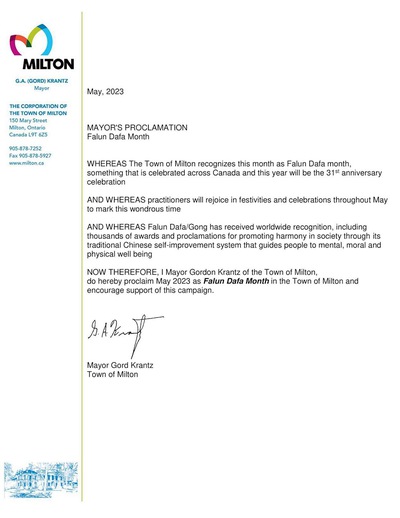 One Day the Falun Dafa Flag Will Be Raised in China
Mr. Zhang Pixing, who organised the ceremony, said that over 20 towns and cities will celebrate the 24th Falun Dafa Day by either raising flags or displaying lights this year.
"Flag raising has had a sacred implication since ancient times. It symbolises victory, success, and acceptance. The flag that celebrates Falun Dafa is put up in the air with the support of local governments, and this in itself is very encouraging," said Mr. Zhang.
He said that after 24 years of persecution in China, "Everyone can see that instead of going away, Falun Dafa is celebrated and practiced worldwide. The trend is unstoppable.
"The persecution makes us more determined, fearless, and diligent. We all know that the persecution will not last long, and the teachings of Falun Dafa will take root in everyone's heart. We expect that soon practitioners in China will celebrate Falun Dafa Day with the practitioners around the world, and the flag will be raised in every corner of China."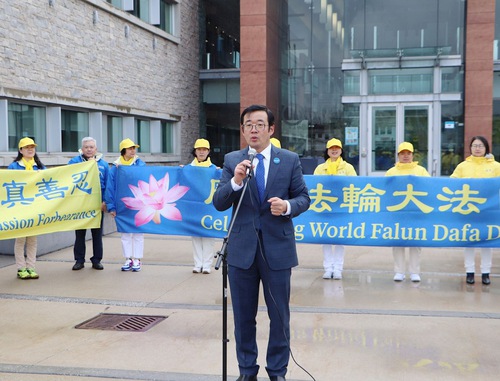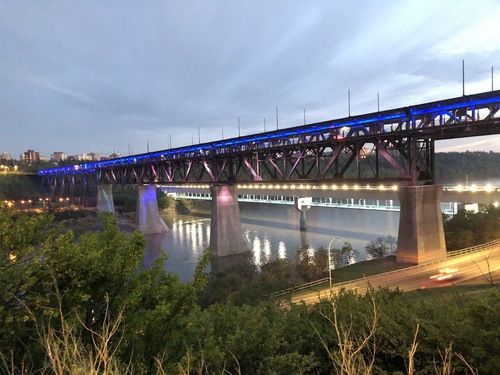 Chinese version available
(Clearwisdom)
Canada: Nearly 20 Cities Will Raise Flags to Celebrate World Falun Dafa Day