(Minghui.org) On May 13, 2023, practitioners nationally held activities to celebrate the 31st anniversary of Falun Dafa's public introduction. They expressed their gratitude to Master Li, the founder of Falun Dafa, and wished him a happy birthday.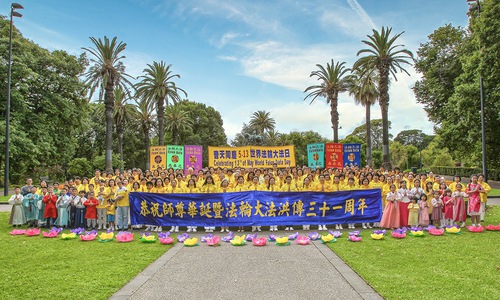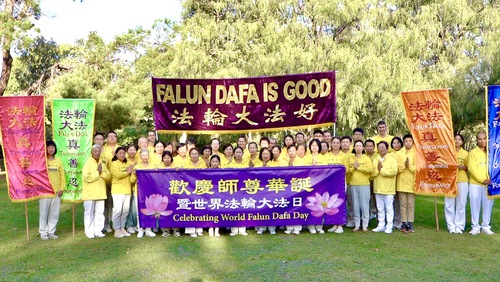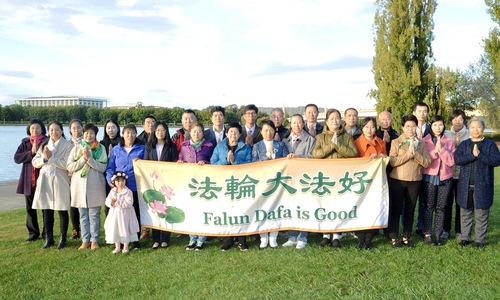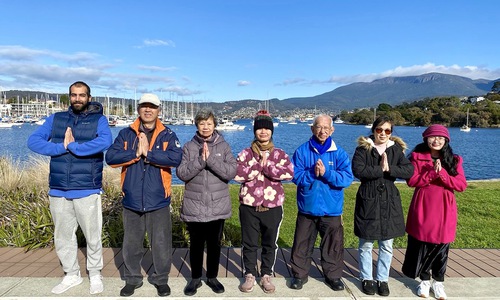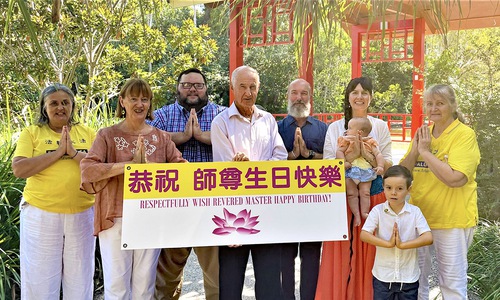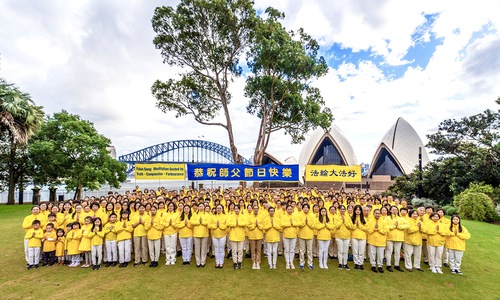 Applying the Principles of Truthfulness-Compassion-Forbearance in Life
Sonya Bryskine, an optometrist in Sydney, began practicing Falun Dafa more than 20 years ago. She found that the more she applied Falun Dafa's principles of Truthfulness-Compassion-Forbearance to her daily life, the smoother her life became. "I felt anxious and nervous when I did not follow Falun Dafa's principles. When I live up to Truthfulness-Compassion-Forbearance, I'm peaceful and calm, and my life is harmonious."
Sonya said daily chores and her two young children tested her patience. She said practicing Falun Dafa made her more patient and gentle, so her husband supported her practice. "I found that when I was in a good cultivation state, I didn't get angry with my children. Rather than blaming others, I always told myself to see if I had done anything wrong. I told my children to do the same, and gradually, when they encountered problems, they began looking at themselves first.
"Falun Dafa has helped me a lot. If I didn't practice, I would probably have a lot of problems in my life. Master saved me and helped me to live an easy and happy life. I am very grateful."
I Worked More Efficiently after Practicing
Nguyen Nhat Thanh, a Vietnamese entrepreneur in Western Australia, learned about Falun Dafa through the Internet five years ago. He was very interested. After watching the video of Mr. Li Hongzhi's teachings for two days, he decided to practice Falun Dafa.
"I didn't miss a single word in the books," he said. "The more I read Master Li's teachings, the more I appreciate his greatness. Falun Dafa is the Way of the Universe. It showed the heavenly principles to me. I felt I was so fortunate to obtain the Fa. I regret that I found Dafa so late."
Not only has his health improved significantly after practicing, "I'm no longer easily tired, like I was before. I improved my efficiency at work because I could clearly see the essence of the issues and problems.
"I knew what my life's purpose was, so I knew what I should do and what I shouldn't. I handled my priorities appropriately. I was no longer confused as I was before. I was able to make decisions easily because I knew what was right and what was wrong. As a result, my business has been expanding. My work has become simpler and simpler, yet more and more efficient."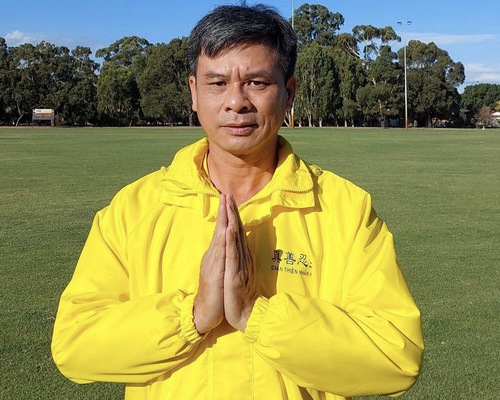 Calm and Peaceful
Tran Thi Phuong Thao, a Vietnamese practitioner in Tasmania, has an MBA degree and majored in accounting.
Since childhood, she has wanted to practice cultivation. One day, someone mentioned Falun Dafa on a Vietnamese community website. She searched online and found it. After reading the main text of Falun Dafa, Zhuan Falun, she said, "The book is so good! Master tells people what cultivation is. He taught people how to cultivate clearly and put it in straightforward terms.
"In the past, I had a rather irritable temper. Sometimes I got angry just because someone said one word. I hung up the phone and slammed it if my parents said anything that annoyed me. One time, my roommate called and asked me to come back. When I went back and found it was a trick, I threw the phone at my friend's head. After practicing, I changed. Cultivation helped me find my true self. I began to measure myself with Falun Dafa's principles. I got along with others well. I had more confidence to communicate with people and contribute to society. People now say that I am a kind and calm person."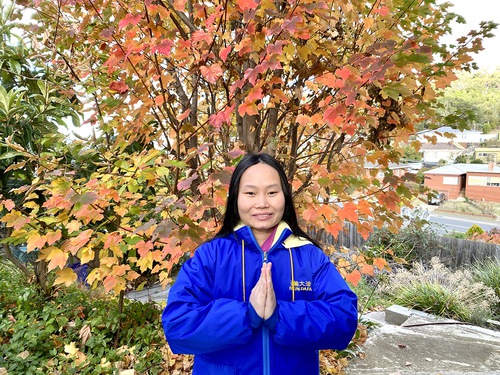 The Benefits of Practicing Are Endless
Dean Steger in Cairns learned about Falun Dafa in late 2003 through a flyer in his mailbox. After reading Zhuan Falun, he understood what cultivation was.
"The practice broadened my heart and taught me what true compassion was. The practice also taught me to look inward in the midst of conflict. With a deeper understanding of the principles of Truthfulness-Compassion-Forbearance, I kept improving myself. I became a person who always thinks of others, and I could get along well with people around me.
"I cherished the opportunity to practice. My changes and the benefits Dafa brought me were numerous. I became healthy, and I learned to improve myself every day.
"Even though I have been practicing for many years, I still have many shortcomings. Falun Dafa is extraordinary. It keeps pushing you to improve and build and strengthen your confidence. It is the process of cultivation!"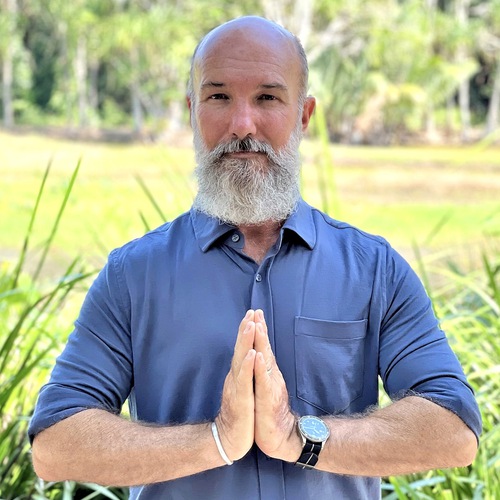 Linda: Falun Dafa Emphasises Self-improvement
Linda Lau, a pharmacist in Sydney, said, "I had searched for a cultivation path since I was a child. I visited many temples and had friends who practiced different spiritual beliefs. When I first read Zhuan Falun, I felt that the book answered all my questions in life. I felt that I discovered the true meaning of life. I realised that this was exactly what I had been searching for since I was a child."
Linda recalled her first visit to an exercise site in 2001, "I felt an incredible peace and kindness—something I never experienced before. Everyone wanted to improve themselves. They shared their experiences in cultivation with others openly. Falun Dafa's principles are so simple, relatable, and profound!. I like that Falun Dafa emphasizes self-improvement rather than religious forms. It teaches people to become better by practicing according to Truthfulness-Compassion-Forbearance, which is appropriate for everyone.
"The most significant change I experienced after practicing Dafa was that my relationship with my mother improved. I used to argue with her frequently. I did not understand her at all. I put my own needs above hers and had a lingering resentment toward her. However, as I continued practicing Dafa, I became more kindhearted, understanding, and patient. Our relationship gradually became harmonious."
Before practicing Falun Dafa, Linda said she suffered from chronic bronchitis and had respiratory infections almost every winter. After practicing, these recurring health issues disappeared.
Linda is grateful for Master's teachings and hopes that she can positively impact those around her.