(Minghui.org) Princes Bridge is a popular tourist spot in downtown Melbourne, visited by many tourists throughout the year. On April 22, 2023, a warm autumn day, there was a new sight among the tourist attractions. It was a "Wall of Courage," made up of banners exposing the brutal persecution of Falun Gong in China.
To commemorate the 24th anniversary of the April 25 peaceful protest, Falun Gong practitioners displayed a dozen banners along one side of the bridge. The messages on the banners exposed the ongoing 24-year-long bloody suppression of Falun Gong by the Chinese Communist Party (CCP). Through these messages, practitioners hope to show people the resilience of Falun Dafa and at the same time raise awareness of the persecution.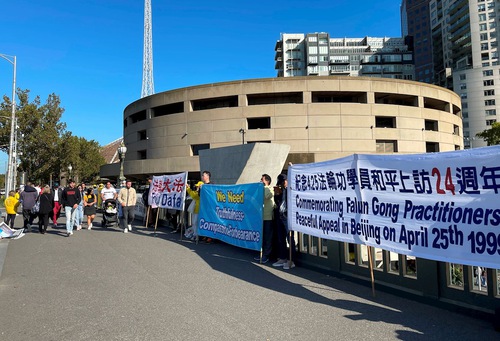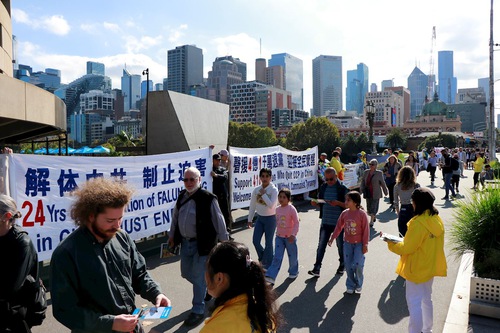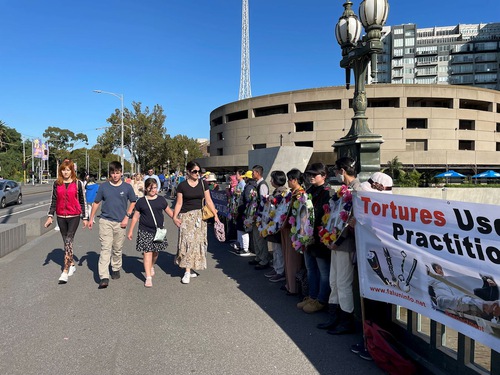 Your Courage and Conviction Are Incredible
Bruce Bainton is a general manager of a storage company in Melbourne. He stopped by the Wall of Courage and remarked, "Seven years ago, I got to know about Falun Gong through a friend. Furthermore, as I worked in the Australian Navy previously and visited many Asian countries, I am well aware of the brutality perpetrated by the CCP's dictatorship."
He added, "The CCP's persecution of Falun Gong is repulsive, it should end at once. The regime has committed serious crimes against humanity all these years. Falun Gong has suffered terribly under its rule."
Mr. Bainton observed, "Falun Gong practitioners in China have incredible courage and conviction to be able to carry out such a protest for years, because the regime has always been merciless towards those who dare to oppose them. Their rule is control, suppression, and victimising its people. They want to enforce their will onto anyone, not only in China but worldwide. Therefore, the CCP is more like a mafia gang. Honestly, they are despicable."
He commended practitioners for their perseverance. "Falun Gong practitioners are the most willing to sacrifice themselves for others among those I have met in my life," Mr. Bainton said. "They are outspoken, firm in their belief and carry out their faith in everyday life. They constantly try to improve themselves and help others change their wellbeing for the better. This has nothing to do with politics. The CCP claims that Falun Gong practitioners intend to subvert the Party. They [the CCP] are evil and their claims are baseless."
Mr. Bainton said that the principles of Truthfulness-Compassion-Forbearance taught by Falun Gong's Master Mr. Li Hongzhi are extremely important. He said that people need to understand what Falun Gong is. "Why is Truthfulness-Compassion-Forbearance so important in the efforts to stop the CCP's infiltration into Western countries? … it has a far reaching effect."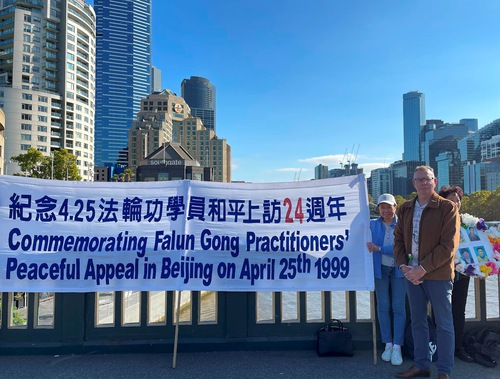 Truthfulness-Compassion-Forbearance Are the Foundation of Society
Anneliese, the marketing director of a not-for-profit organisation, signed the petition calling for an end to the persecution as she passed by Princes Bridge that day.
She said, "I think activities like today are very, very important. It is so crucial to explain to people what is happening, because we are now in the year 2023. Such things should not take place. It is absolutely terrible. This is a large-scale human tragedy."
Anneliese added, "I think the Australian government should strengthen the protection of Falun Gong practitioners' human rights because this is important. The CCP should respect human rights but they don't. It is a shame."
Anneliese also said that [Falun Gong's principle of] Truthfulness-Compassion-Forbearance are universal values crucial for everyone. "They are the foundation of society," she said. "The CCP is going in the opposite direction of peaceful coexistence. Hence it does things like forced organ harvesting [of prisoners of conscience] – this is evil and frightening."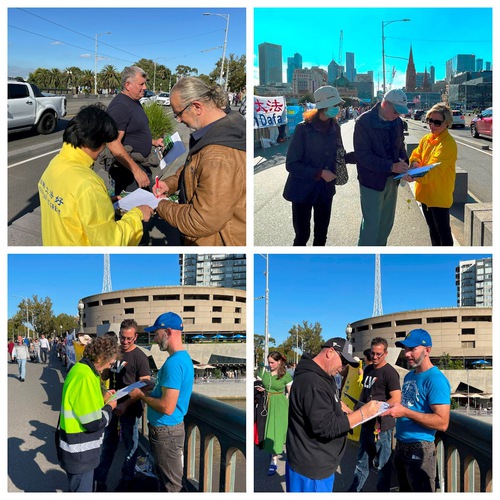 Falun Gong Is a Legend
Ken Andrews, a retired bus driver, took pictures of the day's event with his mobile phone. He said, "For many years, I have been following what is happening in China. The CCP is destroying Chinese people and society."
He expressed his admiration for Falun Gong practitioners: "Falun Gong has done a great job. You are a legend, because you stood up against the evil, corrupt political regime. This regime wants to control everything."
"Truthfulness-Compassion-Forbearance are so important," Mr. Andrews affirmed. "We must follow these principles. Please keep doing such good work. The CCP does not understand these values. They are liars, murderers, thieves – stealing people's lives and basic rights."
Mr. Andrews believes that Falun Gong practitioners are awakening people with their actions. "Falun Gong practitioners have done well," he said. "I like what they are doing, please don't give up. I hope one day that all Australians will support Falun Gong – 26 million people. If we can let all Australians realise what is happening in China, it will be a major turning point."