(Minghui.org) The 31st anniversary of Falun Dafa's public introduction is known to be on May 13, 2023. Celebrations are held in many areas of the world for this special day.
May 13, World Falun Dafa Day, was celebrated in some cities in Turkey. The events held in Istanbul and Mersin attracted great attention, especially since it became known that it makes them feel peaceful.
Istanbul is Turkey's largest city, straddling the Eurasian continent, and is also a world-famous tourist destination and cultural capital. Practitioners held an event in Heydar Aliyev Park to celebrate World Falun Dafa Day. The event got the attention of adults as well as children.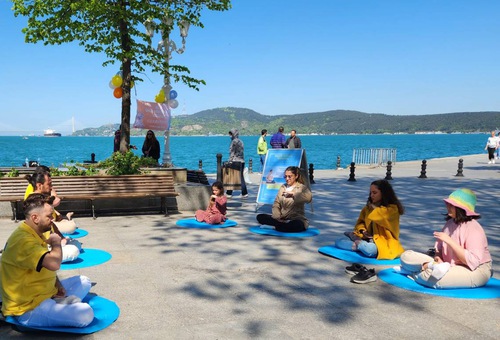 The adults learned the Falun Dafa exercises seriously. The children were also excited and happy when doing the exercises, as well as when listening to the calm music. When asked how she felt after doing the exercises, eight-and-a-half-year-old Betül said, "I felt very relieved." Other children also joined in to learn the exercises.
One of the ladies who learned the Falun Dafa exercises lingered at the venue for a long time. She stated that she recovered from her herniated disc and said that she wanted to continue cultivating Falun Dafa.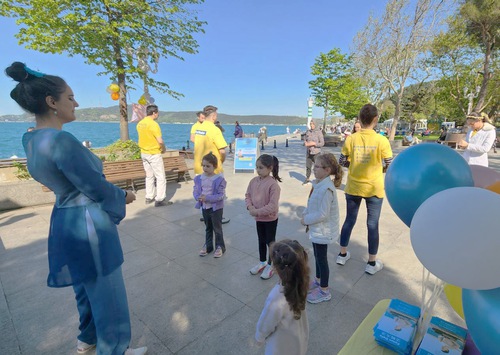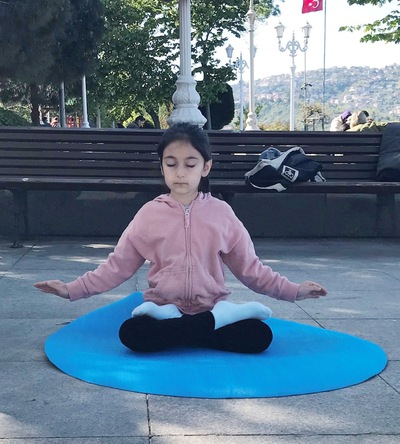 Celebration in Mersin
Falun Dafa practitioners in Mersin held an event at Mersin Sayapark Shopping Centre. In a large central space allotted to them, they introduced Falun Dafa, and taught the exercises and how to fold paper lotus flowers to adults and children.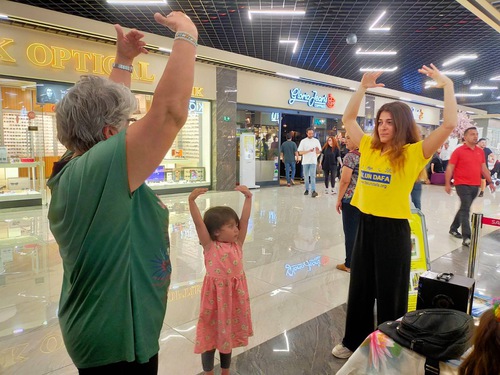 People learned that Falun Dafa is a mind and body cultivation practice. The practice is based on the principles of Truthfulness-Compassion-Forbearance. They said that the practice is what people need most right now. Many people who came to fold the lotus flowers were interested in learning Falun Dafa cultivation and the exercises.
Ms. Pırıl, a doctor in the Emergency Department, learned all the exercises. After learning about lotus flower folding, she wanted to know more about Falun Dafa. She bought Zhuan Falun the main book of Falun Dafa, and Falun Gong, and said that she would definitely come to the exercise site to learn the exercises. She asked for the practitioners' contact information.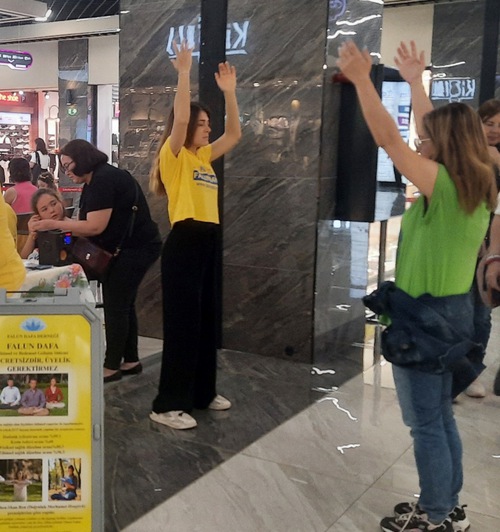 The event drew the attention of many people. Practitioners also informed the people who came to the stand about the persecution of Falun Gong, also called Falun Dafa, which was launched in China in 1999. It entered its 24th year this year. Many people signed the petition calling for an end to the persecution.
The organiser of the mall thanked the practitioners very much and invited the practitioners to hold activities again later.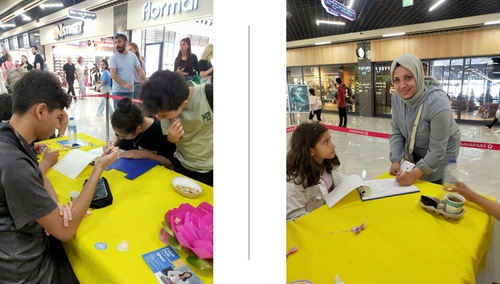 Chinese version available
(Clearwisdom)
Istanbul, Turkey: Practitioners Hold Peaceful Protest to Commemorate the "April 25" Appeal