(Minghui.org) Harmony Day, which is observed annually on March 21 in Australia, celebrates cultural diversity and promotes inclusiveness, respect, and a sense of belonging for everyone. Events showcase performers from all different cultural backgrounds who display their unique talents and traditions through music, dance, and other forms of art.
Falun Dafa practitioners were invited to the Gold Coast Harmony Day Festival organised by the Kusuma Indonesia Community Australia and Broadwater Parklands, on March 18, 2023.
Along with groups from Japan, Vietnam, and elsewhere, Falun Dafa practitioners demonstrated the five exercises on stage and set up a booth to introduce Falun Dafa. Many visitors remarked, "The Falun Dafa practitioners look very composed. Their minds and bodies are in accord, and I sense a strong energy field."
Practitioners were invited to demonstrate Falun Dafa's exercises, play the traditional waist drums, and do a Chinese dragon dance on stage. Young practitioners wore different Chinese ethnic costumes and sang, "Falun Dafa Is Good." People in the audience enjoyed the performances.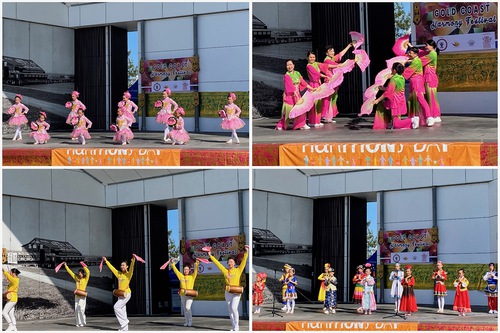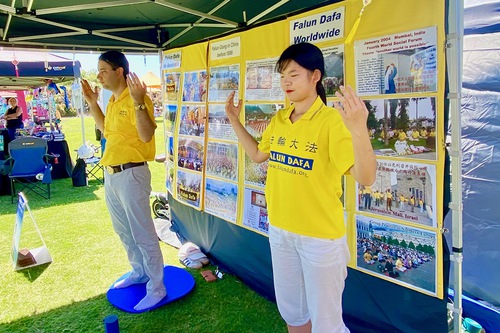 During the event, practitioners also taught people how to fold paper lotus flowers. This activity attracted the attention of many children and parents. Practitioners took this opportunity to tell people about the Chinese Communist Party's (CCP) ongoing persecution of Falun Dafa. They also said, "Falun Dafa spreads positivity and can bring inner peace. It is practiced in over 100 countries. Zhuan Falun, the main text of Falun Dafa, is published in over 40 different languages."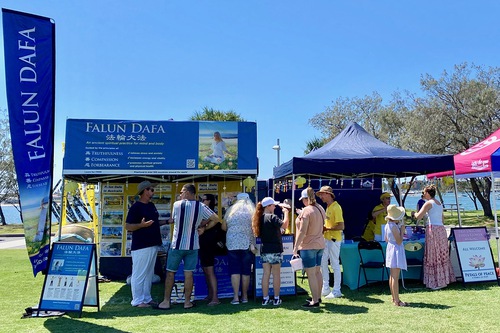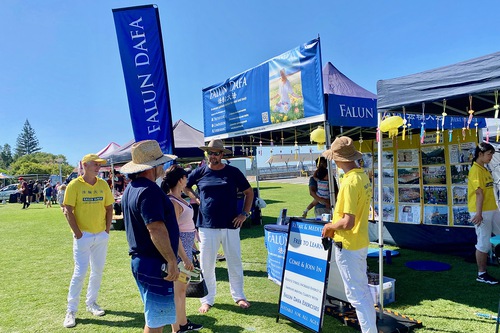 Postgraduate Student: Falun Dafa Is Calming, Focused and Has a Strong Energy Field
Manar Jabar, a postgraduate student majoring in early childhood education, enjoyed Falun Dafa practitioners' exercises demonstrations. Watching the movements and listening to the music, Manar said, "Falun Dafa is calming and focused. It seamlessly blends the mind and body. It has a strong energy field."
Manar said that she was able to experience traditional Chinese culture through the practitioners' performances. She admired Falun Dafa's principles of Truthfulness-Compassion-Forbearance and said, "We have forgotten about these principles in our daily lives. We need to find these principles and find our true selves. This way we can return to our true origin and achieve physical and mental health."
After learning that the CCP has been persecuting Falun Dafa for the past 23 years, she said, "That is terrible! People should have the right to choose their faith. We need to respect their choices and not persecute them."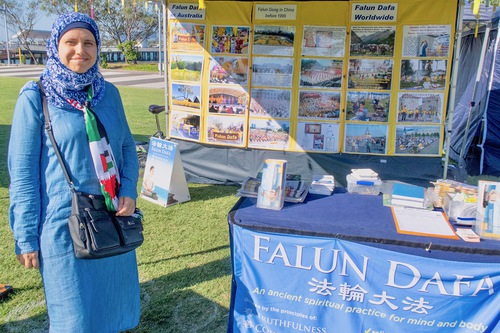 University Student: We Need Truthfulness-Compassion-Forbearance
After being handed a handmade lotus flower, Cin Guevara, who studies art therapy, said, "We can get inspired from these lotuses. Lotus flowers remain untainted even though they emerge from the mud. Falun Dafa is a ray of hope that illuminates us. We need the principles of Truthfulness-Compassion-Forbearance to guide our next generation."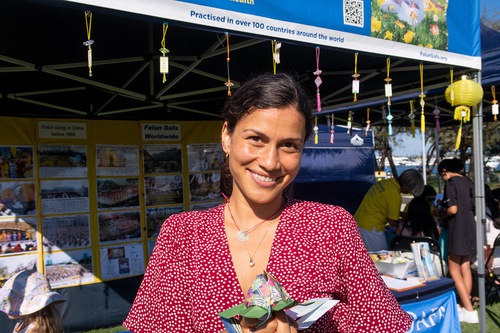 "I Want to Practice Falun Dafa"
Victor Sukkarieh works as a mechanic at a car dealership. He and his wife spoke with practitioners for over an hour. Victor was very interested with Falun Dafa because he suffers from muscle spasms and knee pain. He said, "I want to practice Falun Dafa's exercises at a local practice site."
He said, "Yes, I like Truthfulness-Compassion-Forbearance. Everyone should adhere to these principles in their daily lives. These are definitely the best life values one can ask for."
After hearing about the CCP's ongoing persecution of Falun Dafa, Victor said, "Human beings should live in a world of peace and get along in harmony. We should enjoy the beauty of life. The persecution is definitely not right. This should never happen in any country."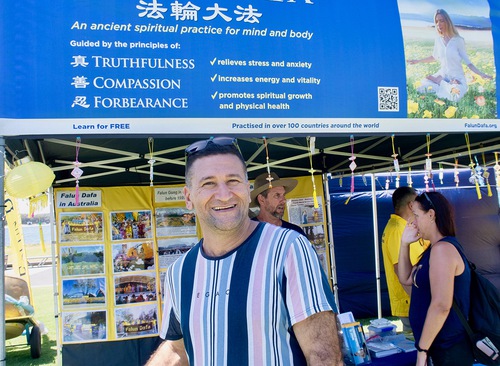 Background: What Is Falun Dafa and Why Is the CCP Persecuting It?
Falun Dafa (also known as Falun Gong) was first introduced to the public by Mr. Li Hongzhi in Changchun, China, in 1992. The spiritual discipline is now practiced in over 100 countries and regions worldwide.
Millions of people who have embraced the teachings, which are based on the principles of Truthfulness, Compassion, and Forbearance, and have learned the five exercises have experienced improved health and well-being.
Jiang Zemin, former head of the Chinese Communist Party (CCP), perceived the spiritual discipline's growing popularity as a threat to the CCP's atheistic ideology, and on July 20, 1999, he issued an order to eradicate the practice.
Under Jiang's personal direction, the CCP established the 610 Office, an extralegal security organisation with the power to override the police and judicial systems and whose sole function is to carry out the persecution of Falun Dafa.
Minghui.org has confirmed the deaths of thousands of practitioners as a result of the persecution over the past 23 years. The actual number is believed to be much higher. Countless practitioners have been imprisoned and tortured for their faith.
There is concrete evidence that the CCP sanctions the harvesting of organs from detained practitioners, who are murdered to supply China's organ transplant industry.
Chinese version available
(Clearwisdom)