(Minghui.org) Many people have heard of the gas chambers in Nazi concentration camps, but they may not know that an untold number of Falun Gong practitioners in China have been subjected to psychiatric abuse and human experimentation since the Chinese Communist Party (CCP) began to persecute Falun Gong in July 1999. Many practitioners were maimed, driven insane, or even killed as a result.
It is important to document the CCP's crimes against Falun Gong practitioners because many people, especially those with a vested interest in the communist regime, have been misled by the CCP and they are unable to recognise its evil nature. When told that the CCP's numerous political campaigns – Land Reform Movement, Anti-Rightist, Cultural Revolution, Tiananmen Square Massacre – has killed 80 million people, some may say that those were already history and that the CCP is getting better. But is it the case? Now let us look at some examples of the CCP's crimes against Falun Gong practitioners.
Drugging of Practitioners: An Invisible Form of Torture 
According to information compiled by Minghui, as of December 2021, at least 865 healthy and law-abiding citizens have been held in mental hospitals as punishment at one point or another over the years for their belief in Falun Gong, a mediation system based on the principles of Truthfulness-Compassion-Forbearance. These practitioners hailed from 29 provinces across China.
But psychiatric abuse is not limited to mental hospitals as it also took place in prisons, labor camps (abolished in 2013), and detention centres. Innocent practitioners with good physical health and clear thinking were drugged, resulting in organ damage and mental disorder. Some of the practitioners were subjected to involuntary drug administration for over 10 years.
The drugs given to practitioners against their will included Dongmianling (chlorpromazine), Dongmian No. 1 (mixture of chlorpromazine, promethazine, meperidine), memory loss medicine, ecstasy, narcotics, aphrodisiacs, clozapine, sulpiride, sodium valproate, buprenorphine, flubutanol, and other unknown substances.
After being administered these nerve-damaging drugs, once-healthy practitioners experienced varying degrees of sleepiness, weakness, sluggish speech and actions, chest tightness, shortness of breath, and rapid decline in memory. Additional symptoms include loss of normal thinking ability, physiological disorders, lethargy, dementia, and mental breakdown. Some drugs directly hurt internal organs, causing such excruciating pain that the victims rolled all over the floor, suffered all-over body cramps, felt as if all of their internal organs were bursting outside of the body, extremely rapid heartbeat, chest and abdomen swelling, or organ failure. Some victims even slammed their heads against the wall due to the extreme pain.
The drugging of Falun Gong practitioners was cruel, vicious, and secretive, as it did not leave physical injuries as corporal punishment would and thus became a commonly used tactic of the CCP to cover up the crimes.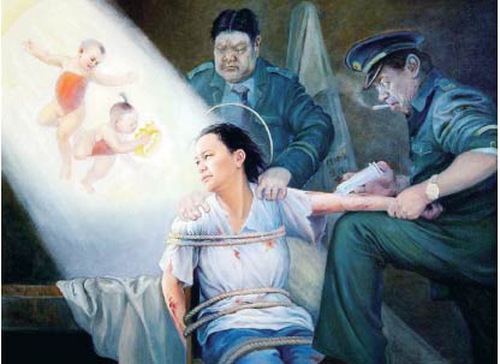 610 Office Agents Watch Women Die
Ms. Ding Zhenfang was a Falun Gong practitioner in Dalian City, Liaoning Province. She was once held in the now-defunct Masanjia Labor Camp and later Liaoning Women's Prison for upholding her belief. In both places, she was subjected to various forms of torture and was on the verge of death several times. To prevent her from exposing the crimes in the labor camp and the prison, officials injected her with an unknown substance right before her prison term expired. As a result, Ms. Ding died in prison.
Ms. Zhang Fuzhen was an employee of Xianhe Park in Pingdu City, Shandong Province. The police arrested her and kept her at a brainwashing centre in the Pingdu 610 Office. She was tied to a bed in a spread-eagle position for a long time. She had to urinate and defecate in bed. According to a witness, guards removed all her clothes, shaved her hair, tortured her, and humiliated her. They then injected unknown substances in her, causing her excruciating pain. She struggled in bed until she died in pain… She was 38. Officials at all levels from the 610 Office watched the entire process.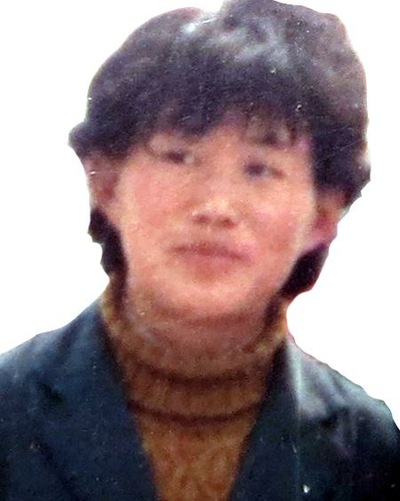 Xinjin Brainwashing Centre
The Xinjin Brainwashing Centre, also known as "Xinjin Legal Education Centre," was located in Huaqiao Town of Xinjin County, Sichuan Province. It used various methods such as mental torture, intimidation, psychological manipulation, violence, and involuntary drug administration to force Falun Gong practitioners to renounce their faith. At least seven practitioners died at the brainwashing centre, and five of the deaths were caused by involuntary drug administration.
Mr. Xie Deqing, 69, was a retired employee of Chengdu Survey and Design Research Institute in Sichuan Province. On the morning of April 29, 2009, Mr. Xie and his wife were arrested in Chengdu and taken to Xinjin Brainwashing Centre.
In just over 20 days, Xie Deqing, who was in good health and had a radiant face, was tortured to the point of being on the verge of death. He was skinny, out of shape, suffered urinary incontinence, had trouble swallowing, and developed severe angina pectoris (chest pain). He was then released.
In the four days since he returned home, he was in a coma most of the time. In the coma, he pressed on his chest, tossing and moaning in pain, as if his internal organs were being torn. He died on the evening of May 27, 2009. His hands turned black, and his body gradually turned black, an indication of drug poisoning.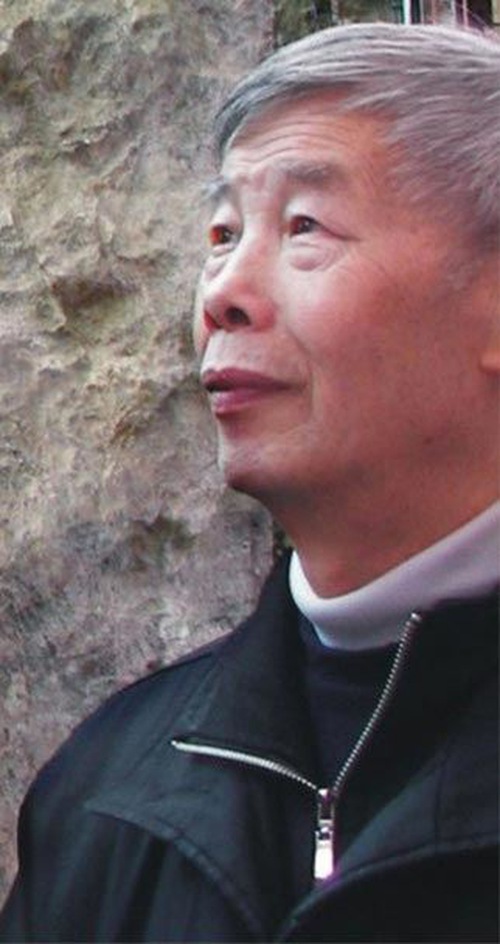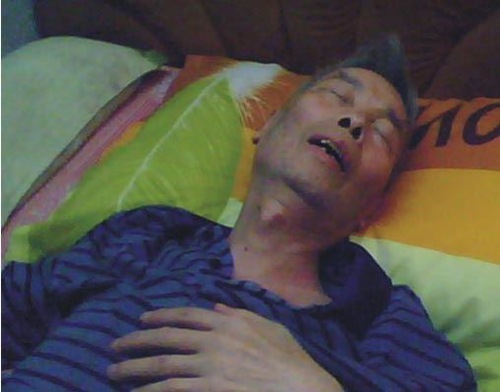 Ms. Liu Shengle, 53, lived in Xindu District, Chengdu City. On April 5, 2003, she was arrested while taking a walk in the afternoon. Fifteen days later, she was taken to the Xinjin Brainwashing Centre. Ms. Liu was released on May 23 that year after her family was forced to pay a 1,000-yuan fine. Upon picking her up, however, her family found her barefoot with a swollen head, a bruised chest, a swollen abdomen, foaming at the mouth, and pain all over. She also pressed on her abdomen with her hands all day long (similar to Mr. Xie Deqing's symptoms). Three days later, Ms. Liu died on the morning of May 26.
Ms. Chen Jinhua, the former deputy mayor of Hesheng Town of Wenjiang District, was arrested on May 28, 2010, and taken to Xinjin Brainwashing Centre. She was in good health at home, but she was given an intravenous injection against her will on the second day in the brainwashing class. Guards forcibly held her down for an injection. Before a bottle of the drug was finished, Ms. Chen became short of breath and wheezing with difficulty breathing.So the infusion stopped for the day. The guards attempted to resume the injection the following day but gave up upon her strong resistance. Still, her breathing difficulty worsened with a dull facial expression. She was unable to take care of herself. These symptoms continued after Ms. Chen returned home.
Ms. Li Guangyan, a resident of Xinjin County, was taken to the Xinjin Brainwashing Centre on the morning of June 21, 2011. Within half an hour after eating lunch later that day, her heart felt flustered with her head swollen as if it was about to explode. "My heart felt like it was on fire, and I had heart-piercing pain, my face was swollen, my lips and face turned black, and my whole body was weak. It felt worse than death," she recalled. Having suffered psychiatric abuse at Xinjin Brainwashing Centre previously, Ms. Li knew this occurred because staff members had put nerve-damaging drugs in her lunch.
Ms. Yin Huafeng was from Huangxu Town, Deyang City. She was arrested while telling others about Falun Gong at a university in Chengdu around 2000. Though over 40 at the time, she looked like someone in her 20s. The Chengdu 610 Office sent her to the Xinjin Brainwashing Centre where she was forcibly injected with unknown drugs. When the guards were not paying attention, Ms. Yin pulled out the connection between the needle and the plastic tube, and stopped the infusion.
Other practitioners who were injected with the unknown drug developed symptoms such as tinnitus, blurred vision, tongue stiffness, limb weakness, and slow reaction. Although Ms. Yin's symptoms came later, after her release, her relatives and friends noticed that her speech was slow, her tongue was stiff, and she could not lift things of just a few kilograms. They suspected the unknown drug was slowly damaging her internal organs. In the end, Ms. Yin died in 2005 of chronic poisoning and complications of the various tortures she suffered over the years.
Ms. Bai Qunfang was from the Wenjiang District of Chengdu City. On September 15, 2010, she was taken to the Xinjin Brainwashing Centre. One month later, a doctor surnamed Gong forcibly injected her with some unknown drugs on October 15, although she was totally healthy. After the infusion of the third drug was finished, Ms. Bai fell down on the bed, unable to talk or move. After she was sent to Xinjin County Hospital for an examination, the doctor there asked what medicine had been given. But the three brainwashing centre staff members who took her there, including Wang Xiuqin, did not answer. By that time, Ms. Bai's face had already been covered with round bruises and her hands had shown symptoms of drug poisoning. Furthermore, she was half paralyzed and in a life-threatening condition. The doctor recommended immediate hospitalisation, but Wang said no. He and the two others then took her home. She could no longer move, half paralyzed and unable to speak.
Another victim was Ms. Zhou Shanhui, a resident of Xiangshui Village in the Junle Town of Pengzhou City. She was taken to Xinjin Brainwashing Centre on July 3, 2008. When she went on a hunger strike on September 9 that year to protest against the mistreatment, she was force-fed poisonous water. She said the water was very salty and quickly felt pain all over. It worsened over time and she rolled in bed the entire night. Seeing that she was dying, officials took her to a hospital the next day. A doctor found both her lungs had been blackened with gallbladder necrosis. As a result, Ms. Zhou could not eat normally, nor was she able to work. She also suffered memory loss and was unable to take care of herself.
Ms. Dong Yuying lived in the Yanjiang District of Ziyang City. On March 16, 2007, she was taken to the Xinjin Brainwashing Centre. At noon the next day, she saw white powder in her leftover vegetable soup. After half an hour, she started experiencing dizziness, severe drowsiness, upset stomach, irritability and tension. Then, several male guards dragged her into a car and took her to the hospital for "treatment." There they forcibly gave her several bags of prepared black liquid medicine through infusion. Soon afterward, she suffered hallucinations, seeing things and hearing voices. She also had severe head pain and felt that all her brain cells had been severely damaged. She had to use all her willpower to prevent a mental breakdown. In addition, she had severe discomfort in her heart and stomach, along with severe mania, fear, and anxiety. The toxicity of this poison lasted a long time and she suffered occasional attacks even several years later. She had memory loss and a dull facial expression. Her family said she was like a different person.
Mr. Yang Jianzhong, the husband of the aforementioned Ms. Bai Qunfang, was a senior engineer of 7111 Factory. He had made great contributions to China's aerospace industry. On August 22, 2008, he was also taken to the Xinjin Brainwashing Centre. Not long afterward, he felt dizzy and drowsy all day. He fell asleep shortly after breakfast. He didn't want to get up even when it was lunchtime. After returning home, he lost his memory and couldn't remember any of the engineering knowledge he had before.
Ms. Li Xihui, an official of the Sichuan Provincial Radio Station, was arrested at the airport in August 2004 when she sent off her older sister, who was to return to the United Kingdom. After being taken to the Xinjin Brainwashing Centre, she was brutally tortured. When her parents and colleagues visited her in 2005, Ms. Li could no longer recognisze them. Her eyes were blank and expressionless. Her family and coworkers suspected that she had probably been injected with toxic drugs.
Ms. Zhao Yuqing is a Falun Gong practitioner from Bajiao Village of Yongning Town in Chengdu City. On April 13, 2004, she was taken to the Xinjin Brainwashing Centre, where she was force-fed unknown drugs specifically designed to hurt her stomach. Staff member Zhou Qin tore off the label and destroyed it. This drug caused Ms. Zhao extreme pain. Zhou said, "I'm going to kill you. Do you know that doctors can kill people without a knife or seeing blood?" Many times Zhou Qin and a doctor surnamed Zhang injected Ms. Zhao with drugs that damaged her central nervous system. After each injection, Ms. Zhao became dizzy and fell asleep. After waking up, she couldn't stand and her whole body was weak.
Ms. Li Wenfeng lives in Chenghua District, Chengdu City, and she was taken to the Xinjin Brainwashing Centre on May 4, 2011. During the detention that lasted over three months, she developed symptoms of drug poisoning: she felt dizzy every day, her body was weak, her eyes were swollen, and her stool was sometimes red and sometimes green.
As a young employee of the Sichuan Cotton Factory, Ms. Tan Shaolan was taken to the Xinjin Brainwashing Centre in September 2003. She was injected with unknown drugs there. When she was released on January 25, 2005, she was incoherent, her eyes were dazed, and her face was expressionless. Not only that, she could not recognize anyone and her hair was messy. A person who knew her said, "How could officials torture a good person who could sing and dance like this? What has the government done to her?!"
Psychiatric Abuse and Human Experiments in Prisons, Labor Camps, and Detention Centres
Born in 1982, Ms. Guo Xuelian is a resident of Guojia Shangtuan Village of Zhangling Town, Weifang City. She was smart, attractive, and doing well in school. Everybody liked her. After seeing her parents benefiting from practicing Falun Gong in 1998, she joined them as well.
In October 2000, Ms. Guo, then 18, went to Beijing to appeal for Falun Gong. At that time, Beijing Dafa practitioner Ms. Zhao Xin was dying after being tortured by police. Ms. Guo and some other practitioners took care of Ms. Zhao. After Ms. Zhao passed away on December 11, 2000, Ms. Guo distributed materials on the streets of Beijing, telling people about the tragedy. Not long after that, Ms. Guo was arrested and taken to the Xin'an Women's Forced Labor Camp in Daxing County, Beijing.
For refusing to watch television programs slandering Falun Gong, Ms. Guo was savagely beaten by Zhao Lei, Bai, and others. They also tied her up and shocked her with four electric batons at the same time. Two spots on the top of her head were injured during that time, and they did not heal until two years later.
Later, guards forcefully injected Guo Xuelian with unknown drugs, and put unknown pills in her food… A few months after the poisoning, Guo Xuelian lost her mind.
When her father was notified to pick her up, he was stunned by the tragic scene in front of him: Ms. Guo was expressionless, her eyes were dull, and her ankles were swollen and thick (probably a result of wearing shackles). On the way home, Ms. Guo stayed silent all the time (she may have had been given diazepam, a drug used to treat anxiety, alcohol withdrawal, and seizures). Just a few hours after returning home, however, she went insane: she shouted loudly and stripped herself naked in public.
For several years, Ms. Guo often ran and jumped around, spoke incoherently, and was often naked. She also beat and cursed at people around her, even her own parents. "How pitiful it is for a good child to be ruined like this by the CCP officials! What kind of world is this?" a neighbor said with a sigh.
33-Year-Old Died Two Days After Release
Mr. Ju Yajun was a farmer in Yuquan Town of Acheng City, Heilongjiang Province. He was very healthy and honest, and was well-respected by the community. For his belief in Truthfulness-Compassion-Forbearance, he was illegally detained in the Harbin Changlinzi Forced Labor Camp. On the afternoon of October 21, 2001, he was taken to the labor camp's health center and forcibly injected with unknown drugs. From then on, Ju Yajun could not lift his head anymore and his mind was no longer clear. Moreover, he often opened his mouth wide, gasped for air, spoke with difficulty, and kept pointing to his arm and saying, "I got an injection, I got an injection…"
To shirk responsibility, the labor camp officials sent him home on October 24, 2001. Two days later, Mr. Ju passed away at age 33.
"I Became Like This Due to Torture"
Ms. Lin Feng lived in Wufeng Town of Nanchong City, Sichuan Province. She was arrested on December 30, 2002, for distributing Falun Gong materials and later sent to Longquanyi Women's Labor Camp in Chengdu. Because of her determination in her faith, she was forcibly injected with unknown drugs, resulting in kidney failure, coma, and swelling all over her body. On May 18, 2005, when she was on the verge of death, the labor camp sent her back home.
Ms. Lin was in a coma most of the time. When occasionally conscious, she would say, "I'm not sick. I became like this due to torture." She also revealed that Longquanyi Women's Forced Labor Camp was very vicious. For practitioners who refused to renounce their belief, guards dragged them around in circles on the concrete ground. As a result, practitioners' clothes including pants were all torn. Some were bleeding profusely, and unconscious. In the end, Ms. Lin passed away on the morning of July 26, 2005, at the age of 36.
Ordeal of a Deputy County Head
Mr. Zhang Fangliang, 47, was former deputy chief of Rongchang County, Chongqing City. As a Falun Gong practitioner who followed the principles of Truthfulness-Compassion-Forbearance, he was always honest and upright. Unlike other officials, he never accepted red envelopes (bribes) or sought reimbursement for eating out. Thus, he was well respected by other officials and the general public.
When distributing Falun Gong materials on October 6, 2001, Mr. Zhang was arrested and detained at the Chongqing Police Department followed by Tongliang County Detention Centre. On July 8, 2002, he was transferred to Tongliang County Hospital, where he was forcibly injected with unknown drugs. When his loved ones rushed to the hospital, he was already delirious and in a trance. He could not even recognise his wife. After returning home, Mr. Zhang's condition deteriorated and he stopped breathing at around 7 a.m. the next day (July 9, 2002).
Human Experiment on 19-Year-Old
When Mr. Guo Baoyang was arrested on April 2, 2010, he was a 19-year-old freshman at Qingdao Vocational and Technical College in Shandong Province. Shuiqinggou Police Station officers sent him to Dashan Detention Centre, where the guards drew his blood against his will, laced his water and food with drugs, and released unknown pungent gas into his cell. In addition, they exposed him to loud noise and dazzling glares. Mr. Guo was detained for seven days and the symptoms began to show after his release. He suffered from a mental disorder, incontinence, confusion, and headaches. In addition, he was often bumping into walls and attempted to jump off buildings several times a day.
It was said that the Qingdao 610 Office had planned the persecution of Mr. Guo in order to frame Falun Gong for his mental disorder and suicide attempts. Officials also invited media reporters to be on standby, ready to tape his "suicide." Furthermore, the officials instigated neighbors to participate in the persecution by monitoring him. They also sent his elementary school classmates to visit him and encourage him to commit suicide. This repeated several times and every time Mr. Guo was rescued by his mother.
According to Mr. Guo's recollection after he became well, the Dashan Detention Centre seemed to be a human laboratory, where the guards conducted experiments on detainees by administering drugs, releasing unknown gas, and other means. They then observed the reaction of the victims. When the drugs took effect, the victim felt controlled by an inescapable command.
Beijing Third Detention Centre
Mr. Liu Lisheng, a retired government employee in Hebei Province, was arrested by officers from the Boxing Road Police Station in Beijing on June 23, 2011. After failing to get a mental hospital to admit him, the police sent him to Beijing Third Detention Centre, where the guards forced him to take a pink sugar-coated tablet.
Half an hour later, Mr. Liu had a fever, experienced dizziness, and felt lightheaded and unsteady when standing up. A guard surnamed Fang made detailed records of his symptoms on a computer. Various signs indicated that the pink tablet damaged Mr. Liu's central nervous system. This was essentially a human experiment.
Poisonous Injection and Disability
Ms. Song Huilan, a Falun Gong practitioner from Xinhua Farm in Hegang City, Heilongjiang Province, was arrested by police from the Hengtoushan Police Station in December 2010. She was taken to the Tangyuan County Detention Centre, where she was given poisonous injections.
As a result, Ms. Song was in extreme pain and she rolled all over the floor. She could not speak or control her body. Over time her right leg became blackened and festered with necrosis.
After returning home, Ms. Song found her heart was still very uncomfortable, her body was stiff, her eyes were dazed, and she couldn't speak. Furthermore, her hands and legs were so straight and stiff that she could not bend them back. She ended up losing her right foot and becoming permanently disabled.
Sleeping for Three Days After Each Injection 
On December 21, 2015, Chengdu practitioner Ms. Ding Hui was arrested and sent to the Xindu District Detention Centre. Besides severe beating, she was also handcuffed with her feet chained to a bed while being given poisonous injections. Every injection would cause her to sleep for three days.
Ms. Ding was illegally sentenced to three years in the Chengdu Women's Prison in December 2016. She was held in solitary confinement and became emaciated. Nonetheless, she was still abused and bullied by inmates and was forced to take unknown drugs every day. As a result, she had a mental disorder.
"Please Do Not Use This Drug Since She Is Still Young"
Ms. Yin Jinmei is a resident of Lianhua Town in Jiujiang City, Jiangxi Province. On March 24, 2009, she was sent to Nanchang Women's Forced Labor Camp to serve a term of one and a half years. The main perpetrators included Tian Ruhong and others from the Lushan District Domestic Security Office.
After she refused to give up her faith, guards in the labor camp often secretly mixed unknown drugs into Ms. Yin's food. Once the drug was more than the "normal" amount, so Ms. Yin noticed it and questioned the guards on the spot. But the guards refused to admit it. They later even grabbed her hands and feet, and force-fed her drugs twice. One guard tried to stop them and said, "Please do not use this drug since she is still young." But no one listened.
Forced-Injection Every Day
Ms. Ma Guizhen, in her 60s, lives in Changyi City, Shandong Province. On the afternoon of January 17, 2005, she was cooking at home when Chen Xiaodong, head of the local 610 Office, and several officers from the local police station broke in and arrested her. They took her to the Wangcun Forced Labor Camp. In the next three days, the labor camp guards repeatedly forced her to attend brainwashing sessions. On the fourth day, they forcibly injected her with unknown drugs since she still held firm to her faith. After a few days of injections, she gradually lost her strength, her body became weaker and weaker, she began to lose feeling in her hands and feet, her lower limbs were paralyzed, and she couldn't take care of herself.
The locals commented one after another: "Falun Gong practitioners have long said that the (CCP) government persecuted them inhumanely, and we didn't believe it; now Ma Guizhen was sent to a labor camp, and she is like this in a few days. It is cruel and inhumane. The government fails to punish bad people and only knows to persecute good people!"
Officials from the 610 Office once declared blatantly, "When necessary, drugs can be used to intervene, and medical methods and clinical experiment guidelines can be used to achieve the goal of scientific transformation (that is, forcing practitioners to renounce their faith)."
Staff members at Sichuan Prison Hospital in Chongqing also said, "We conduct human experimentation. So what? This is allowed by the national policy, and it is an instruction from above."
Abuses in Mental Hospitals
There are many cases of Falun Gong practitioners being subjected to psychiatric abuse at mental hospitals, sometimes for extended periods of time.
Select Cases
Ms. Wang Dongmei was a teacher in Wuyi County, Hebei Province. She was detained at a brainwashing centre in 2001 before being transferred to the fifth brigade of the Shijiazhuang Forced Labor Camp. There she was tortured both physically and mentally. Guards tied her up with a rope, shocked her with an electric baton, deprived her of sleep, and kept her in solitary confinement.
To force her to renounce her belief in Falun Gong, the labor camp officials sent her to a mental hospital, where she was given unknown drugs against her will. When Ms. Wang was finally released on medical parole, she was in a trance, demented, and slow-moving. She also suffered memory loss. She fell into a pond on March 12, 2004, and died. She was in her 30s.
Ms. Lin Tiemei, 33, was a graduate student in Guangxi Province. On December 8, 2005, she was killed by the Guangxi Women's Forced Labor Camp and the Veterans Hospital (mental hospital). About two weeks before her death, her family had gone to the mental hospital on November 25, but their request to visit her was declined. After Ms. Lin died in the hospital, the hospital issued a death certificate claiming she died a "sudden death" without indicating the cause of death. Ms. Lin's family refused to sign the paperwork for her cremation. When a reporter asked for more details, the hospital authorities refused to answer.
Mr. Su Gang, 32, was a computer engineer from Qilu Petrochemical Company in Shandong Province. On May 23, 2000, he was sent to Weifang Changle Psychiatric Hospital by local police and his employer, although he did not have any mental problems. The medical staff forcibly injected him with a large amount of drugs every day that damaged the central nervous system. After being drugged for nine days in the mental hospital, Mr. Su was handed over to his father. At that time, his eyes were dull and expressionless, his reaction was slow, his limbs were stiff, his face was pale, and he became extremely weak. Eight days later, he passed away on June 10 due to heart failure.
Ms. Guo Min, 38, was an employee of the Xima Town Branch of the Xishui Taxation Bureau, Hubei Province. In March 2000, she was found carrying Falun Gong books at Hangzhou Railway Station in Zhejiang Province and arrested by the Hangzhou police. Over 20 days later, Tang Yuanhong, chairman of the labor union of the Xishui Taxation Bureau, came to Hangzhou to take Ms. Guo back to Hubei. Tang sent Ms. Guo directly to Kangtai Psychiatric Hospital in Huanggang City, where she was treated as a mentally ill patient. Tang and her sister Tang Yuanming (a government official) transferred Ms. Guo to Xishui County Psychiatric Hospital in 2002 and had her detained there for eight years. Ms. Guo was given drugs that damaged the central nervous system, which caused her to suffer from amenorrhea (absence of menstruation) for six years, and her stomach to swell so much that she looked like a heavily pregnant woman. After being kept at the two mental hospitals for 10 years, Ms. Guo died on August 4, 2011.
In early July 2016, four police officers from Jianshe Street Police Station of Qinhuangdao City in Hebei Province raided Mr. Quan Wuzhou's home. They then took him to Qinhuangdao Mental Hospital, where he was injected with toxic drugs, forced to take nerve-damaging drugs orally, and shocked with electric batons every day. When his family visited him about 10 days later, they noticed his memory had declined and his eyes were dull. Seeing him unable to remember basic things in his life, his family was in tears.
Ms. Zhu Weiying was the deputy general manager of Meishan Hotel in Hefei City, Anhui Province. Because of her belief, local police sent her to the Hefei Fourth Hospital (also known as Anhui Mental Hospital) in December 1999, although she was healthy. During over 60 days of detention in the hospital, Ms. Zhu was forced to take a large amount of unknown drugs. As a result, her lips trembled and she could not stand steadily. In addition, her whole body was swollen, her face was sallow, and her response and movements were slow. When she refused to be drugged later on, doctors forcibly gave her electro-acupuncture or injections of drugs. After each injection, Ms. Zhu would lose consciousness.
Mr. Shao Shixiang was a practitioner in his 60s from Baiyin Fluoride Salt Factory of Baiyin Company in Gansu Province. When he told people about Falun Gong in early February 2012, he was arrested and sent to the psychiatric department of the Baiyin Company Hospital, where he was given eight injections of unknown drugs. When he was sent home later in the month, he was unconscious and unable to move. He passed away in the early morning of February 22, 2012.
The Mental Abuse Continues Today
Psychiatric abuse against Falun Gong practitioners has continued to this day.
Ms. Hu Hongmei, a 75-year-old practitioner from Jinzhai County, Anhui Province, was sent to Baiyun Psychiatric Hospital on February 25, 2022. She was kept there for more than eight months and her blood was drawn once a month. When Ms. Hu refused to take the psychiatric drugs, the nurses grabbed her by the neck while trying to force her to take them, and even tied her up with a rope. She shared a room with eight other people, including human rights activists. The management was basically a prison model and they were not given enough food to eat.
Five Falun Gong practitioners in Jiangxia District of Wuhan City, Hubei Province were arrested on June 16, 2022. They were Ms. Chen Jun, Ms. Tian Huazhen, Ms. Li Chunlian, Ms. Qiu Yongzhi, and Ms. Zhang Jiao'e. Ms. Tian, Ms. Qiu, and Ms. Zhang, all seniors, were sent to a detention center, while Ms. Chen and Ms. Li Chunlian were sent to Wuhan Wanji Mental Hospital. When Ms. Li's family visited her in early October, they found she was emaciated and unable to recognise them. Her loved ones strongly demanded her release, but the hospital referred them to the police, who in turn referred them back to the hospital.
Ms. Zhang Caixia is a Falun Gong practitioner in Wuxing Village of Baoji City, Shaanxi Province. She was arrested on August 26, 2021, while working at Weibin Hospital. The police sent her to Baoji Psychiatric Hospital, where she was ordered to write statements to renounce her belief in Falun Gong. When her husband went to visit her, they also threatened him to force Ms. Zhang to write those statements; otherwise, they would arrest him too.
Harmful Effects
According to a report on Minghui on June 8, 2001, several Falun Gong practitioners in Suining County of Jiangsu Province were detained in a psychiatric hospital for more than three months. They were tied to beds and given injections and pills against their will. They passed out immediately. The hospital workers did not loosen the ropes until they came to. According to the practitioners, when the effects of the drugs kicked in, they suffered heart-piercing pain, rolled on the ground, screamed, and hit their heads on the wall violently.
One hospital worker said, "You won't die because of these drugs, but it'll be very painful. If you promise to not practice Falun Gong, we will stop drugging you. You must not run out of the hospital yourself. This is because if we do not slowly reduce the dose of the medicines and you escape from here, you will go insane and people will send you back here. The pain caused by the drug reaction is unimaginable, very terrible, and the consequences are unthinkable."
Some of these practitioners were later transferred to Judong Women's Forced Labor Camp. Because the dosage was too high and the drugs were not stopped gradually, one practitioner went nearly insane. She kept running wildly and even two people could not hold her still. Her whole body trembled violently with her head down and eyes dull. She was tormented day and night and could not fall asleep since the pain was unbearable. Another practitioner had cramps all over and curled up into a ball. She could not stand up and walk. In the middle of the night, she suffered from heartburn and vomited blood. These practitioners struggled in pain for nearly 50 days before the effects gradually subsided.
Judong Labor Camp once sent one of the practitioners to the Zhenjiang City Hospital for a psychiatric forensic evaluation. "Her brain nerves are normal, and the severe disorder is indeed a drug reaction after strong medication," wrote the evaluation report.
Due to the CCP's continued censorship, the above are only a small number of cases, and just the tip of the iceberg of the horrors that a large number of innocent practitioners have suffered. We hope more people will have the courage to step forward to expose the CCP's brutality and help end the inhuman persecution in China.
Chinese version available
(Clearwisdom)
46 total views