(Minghui.org) During the week of February 14–19, 2023, Shen Yun Performing Arts presented 34 performances in Paris, France; Mülheim an der Ruhr, Germany; and Texas, California, Arizona, Wisconsin, Missouri, and Idaho in the U.S.
"A Performance That Truly Displayed Deep Divinity"
Stefan Gaßmann, the spokesperson of the scientific research centre of Germany's Catholic Society, saw Shen Yun in Mülheim an der Ruhr, Germany, on February 18.
"As a person of faith, I experienced a performance that truly displayed deep divinity. The energetic and expressive dance moves clearly expressed deeper meaning(s). That is a strong expression of deeper meaning that can touch people the most. This was so unforgettable for me!" Mr. Gaßmann said.
"I think this is useful in all religions, which are about the Creator and salvation. Where do we come from and where are we going? What shaped our minds and bodies? As a living being with limitations, what are the ways to build connections with eternal beings?
"We Westerners are used to delivering messages verbally and not through expressive dance or gorgeous colors. [Shen Yun] uses a more direct method, which is easier to understand, especially for people who grew up in Western culture and have deviated a bit from faith in the divine. Everyone can strongly feel this and is deeply moved.
"Shen Yun is also suitable for people who received a Western scientific education and have had hardly any chance to be in touch with people with spiritual faith. It can encourage them to open their hearts, wake up their sleeping selves, and maybe they will consider religious faiths," he said.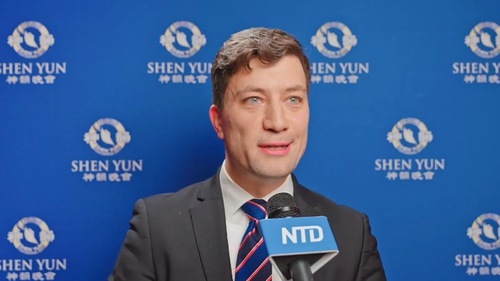 "Transcendent and Otherworldly"
Gérard Gleizes, president of the World Trade Organisation's (WTO) charity association (association caritative), saw Shen Yun in Paris, France, on February 18.
"Transcendent and otherworldly. Truly an extraordinary performance. So excellent. The perfect combination of Eastern and Western instruments was truly a great success. Very beautiful, very graceful. Really beautiful and very harmonious. It's a kind of spiritual value. This spiritual value pushed us very high… The performance will bring benefits," Mr. Gleizes said.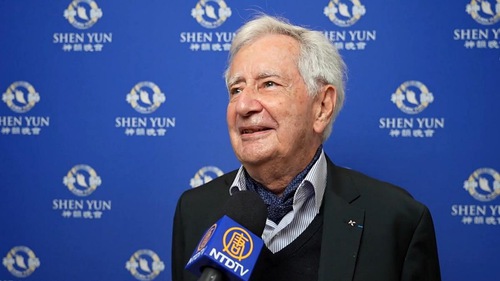 "Thank You for Taking Me to God"
Alejandrina Terrazas, a violinist, and her husband saw Shen Yun in San Antonio, Texas, on February 19.
"You elevated my spirit. You had real musicians there. You didn't have recordings. It's a live orchestra. That's a beauty in itself," said Ms. Terrazas, the former second-chair violinist with the El Paso Symphony Orchestra.
"I am a violinist so I know what a lot of hard work it takes to do that. I feel that all of you are playing your souls out. I think it's probably because those people carry their belief in the music. They speak through their music. They say, 'This is what we love. This is what we believe in.' You bring it out in your music and your dance. It's just elevating. Oh my gosh, thank you for this gift," she said.
Ms. Terrazas stressed the importance of keeping tradition. "You want to keep the tradition alive. As Catholics, the traditional Latin is being obliterated, just like they want to obliterate you and your faith, and your customs, and your clothes, and your culture, and everything. So I am blessed that I was able to come and see what you are going through."
She said that when she heard the music, "My tears just flowed because it's sublime. It's divine. It's what God wants. We don't have that now, in a world where we are all into materialistic things, into what can I gain by stepping on someone else," she said.
She said of many in today's world, "They don't follow their faith. God said we are going to be fooled by what we see and what we hear… If you don't know the faith that you have, you are going to be blinded by everything around you, because you won't recognise that you are being fooled.
"Through the music, through the dance, through the colors… [Shen Yun artists were] speaking to me and telling me that you have your faith."
The dancers also impressed her. "I was just telling this young lady here how [the dancers] were all just graceful and modest. You don't see that anymore. I'm so glad I came," she said.
Although retired as a musician, Shen Yun inspired her to pick up her music again. "You all inspired me to go home and get that violin out. Really, because I need to do that. I need to speak to people with my music. Like you spoke to us with your music.
"My mom taught me to play music only. She would say, 'When are you going to play from within you? From within you? Without music in front of you?' It used to bother me, but I started doing that. I play by ear now and I can speak to you. If I have my violin right now, I will play something for you. In gratitude," she said.
Ms. Terrazas praised Shen Yun's Artistic Director, "You are blessed with this man that kept this tradition going. He kept the traditional dance going. What grace, what love he has. He spoke to us with his music. He shared with us what's going on over there. That's what he did."
"I would say, 'Thank you for your gift, for your gift of beauty, of grace. Thank you for taking me to God. Thank you for taking me away from this difficulty that we're living through right now. And I will be praying for you because I know you have families in China that are being persecuted, and it breaks my heart. This is happening everywhere. So we need to get together in our art.' That's what I would say," she said.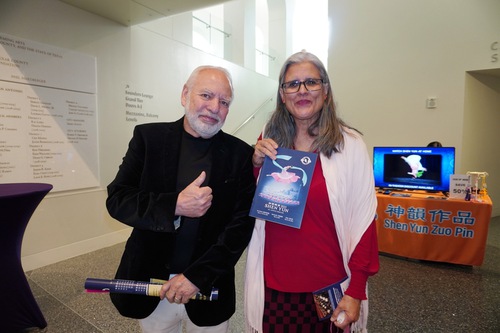 "It Was Meaningful and Beautiful for Us"
Four-time Grammy award-winning singer Cassandra Ewer, her mother, and her husband Richard, a composer, saw Shen Yun in Mesa, Arizona, on February 16.
The family had wanted to see Shen Yun for years and they chose a very special night for it. Exactly one year ago, Ms. Ewer's stepfather was in an accident that eventually took his life—it was also his birthday.
"We went to dinner together to celebrate his birthday and to miss him. Then (my mom) bought tickets for us to come to [Shen Yun]," Ms. Ewer recounted.
"What I really loved—because we've lost two of our children as well—were those moments where angels would come from the heavens. Missing a loved one and seeing them again—that was really moving. It was meaningful and beautiful for us," she said.
As a fellow singer, Ms. Ewer was impressed by the talent of Shen Yun's vocalist. "He not only had great stage presence, but he also had very strong and good support to carry his high notes—a very nice range and smoothness all the way from the bottom to the top," she said.
"[The music] was very beautifully synchronised with everything that was happening. The dancing and the special effects were so perfectly put together. Very impressive!" Ms. Ewer exclaimed.
From a composer's standpoint, Mr. Ewer added that he enjoyed Shen Yun's blend of ancient Chinese instruments with a full Western orchestra. "It was beautiful music. A nice combination and very impressive that everything is new every year," he said.
The Ewer family loved the spiritual message that the performance delivered.
"The idea that we're immortal beings, that we have a divine purpose—that was beautiful… There was a thread through all of it—of people trying to do good and to fight evil. We should knock down bullies and rescue those who need help. That was very lovely," Ms. Ewer said.
For Mr. Ewer, his biggest takeaway from Shen Yun was the "hope to keep striving to achieve my own kind of perfection in the arts, in life, and also spiritually."
"[I have] a renewed determination to go on and improve—to do good and do better," he said.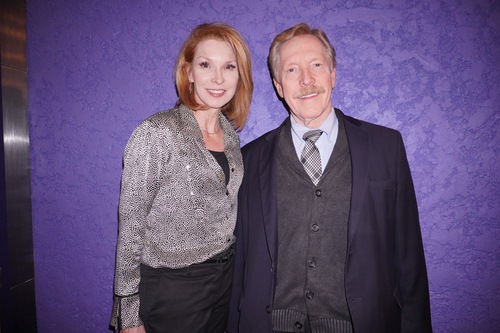 "A Powerfully Moving Show That Resonates With My Very Soul"
Ralph May, executive director of St. Vincent de Paul Southwest Idaho, a non-profit organisation dedicated to preventing homelessness, saw Shen Yun in Boise, Idaho, on February 18.
"I've never seen this show before, and it's absolutely spectacular… Just the passion and the power of the movements, and the story. Just the beauty and the movement was absolutely wonderful," Mr. May said.
"The performers were wonderful. I had no idea people could move like that and be able to stand up afterward. It was a truly exciting performance.
"I thought it was amazing; I learned a lot. I felt very, very connected to the Chinese culture through that performance," he said.
He wasn't previously familiar with Shen Yun or that it could not perform in China. "Honestly, it was very fascinating to learn about the whole show. I didn't know a lot about Shen Yun before coming to the show and so it was powerful to learn about the whole story behind the persecution and the exodus from China," he said.
Mr. May said Shen Yun was exposing communism and that it was good "to try to show the power of that to the rest of the world, to show what communist China has closed down and is discouraging—persecuting. 'Discouraging' isn't a strong enough word."
The presentation of faith resonated with Mr. May and touched him deeply. "The idea of the divine and art, pursuit of the divine, and getting back to the divine, resonates very deeply with me. It was powerful," he said.
"It stirred me very deeply. It captured me down to my soul in many ways. Just the power of the movement, back and forth, and the powerful story that was being told in each one of the segments.
"I think that the piece where the cellphones were out was a very powerful signal and caused people to stop and think, because you could see yourself in that very piece. You could see the detachment we have from the divine through our own devices and all of the distractions that exist in our modern world.
"So for me, of course, it's very powerful to have something that draws us back to—and reminds us of—the divine. A piece like that can lead us back to and remind us where we belong: with the Divine.
"[It's] a powerfully moving show that resonates with my very soul," Mr. May said.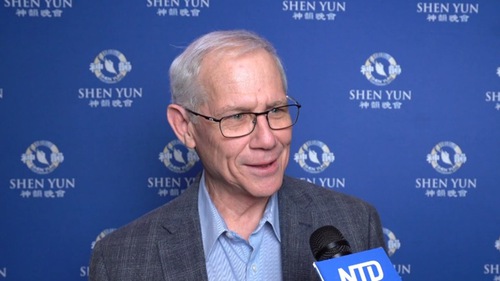 "That's What We Need in Today's Society"
BJ Atkins, the president of Environmental HELP, Inc., saw Shen Yun in Escondido, California, on February 14.
"I was really appreciative of all the talent. Just the whole show and the message. It was sound, it was positive, it was uplifting, and I thank you," Mr. Atkins said.
"What an amazing athletic performance! Most of the dancers were accomplished gymnasts as well. They're limber, flexible, athletic—really admirable in what they're able to do on stage. They made it look so easy.
"I don't think the CCP would appreciate some of the things that were said and stated, but I truly believe in the doctrine that was presented. It was powerful and it is something that's needed in today's society, and I appreciate what's been said by Shen Yun.
"Because this world is lost, and we need guidance. We need to steer away from evolution, steer away from modern theologies. It's just something that the classics will take you back to. That's what we need in today's society," he said.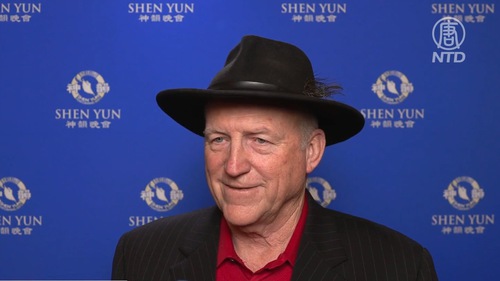 "An Amazing Display of China Before Communism"
Ron Thornton, a retired Air Force Lieutenant Colonel, and his daughter saw Shen Yun in San Antonio, Texas, on February 18.
"I thought it was an amazing display of China before communism, and the beauty in the art and the music that came to the audience was just nothing short of outstanding… You have nothing from me but positive feedback on this experience today," Mr. Thornton said.
Mr. Thornton said that Shen Yun's performance was, "nothing short of an amazing experience," and that he was glad he was able to share the experience with his daughter.
"I want to show her now as she's getting older that there are some beautiful cultures out there yet to be experienced," he said.
He added that he had waited five years to see Shen Yun and waited for his daughter to be old enough to appreciate the performance. "Now she can appreciate it and understand that there's this big, beautiful world out there, 5,000 years of culture from China that we need to understand," he said.
Mr. Thornton said that, as Christians, he and his daughter were able to see the similarities between Shen Yun's portrayal of the divine and the Christian faith. He shared that he currently teaches 11th and 12th grade students at his church and that many of the values he teaches can be seen in Shen Yun's performances.
"We need to have a sound faith in our lives and know that there's a Creator waiting to bring us to Him when our days are done on the Earth," he said.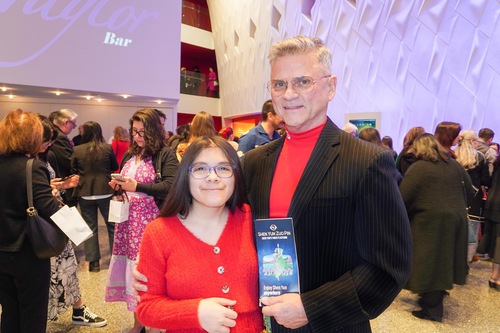 "It Was an Unbelievable Show"
Damian Creamer, the founder and CEO of StrongMind, a company that provides digital educational services and solutions, saw Shen Yun in Phoenix, Arizona, on February 19.
"The choreography, the dancers, the music, the orchestra—everything was unprecedented and beautiful! I would like to see more of it because it was magnificent," Mr. Creamer exclaimed.
"All of that was amazing but there was definitely a message behind the music… It was trying to convey to the audience the traditional values. It is making sure that we return to who we are and not be led around by what's going on in the world at this point in time.
"We've lost our way and treat each other pretty poorly… It's incumbent upon all of us to seek out the truth and be compassionate, truthful, and tolerant—these are virtues that we as human beings need to remember.
"[Shen Yun presents] a beautiful message about how to reset and where to go to find the truth. It's beautiful to contemplate a different world—a world that is more serene. It was an unbelievable show," he said.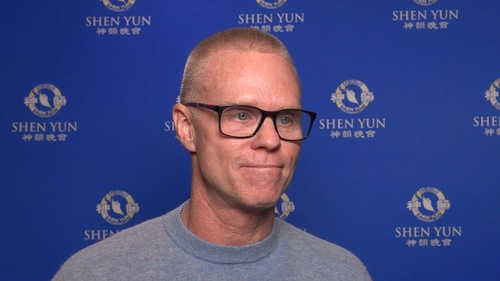 *****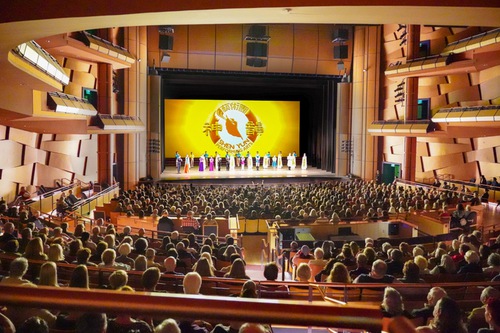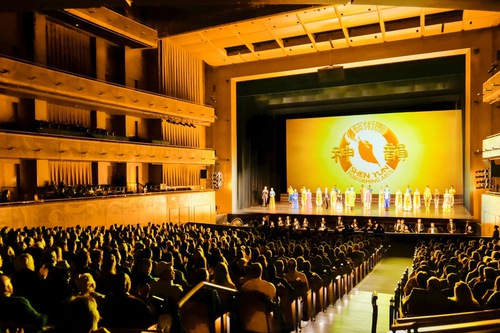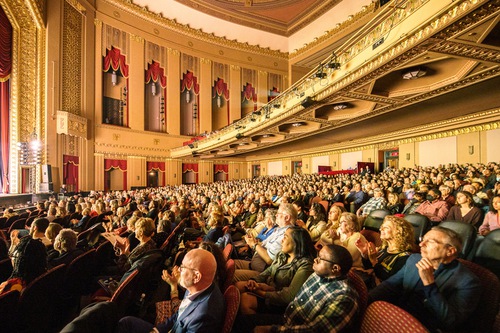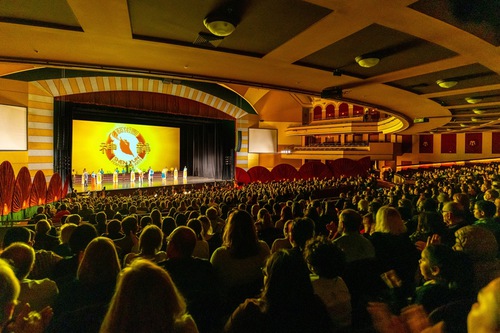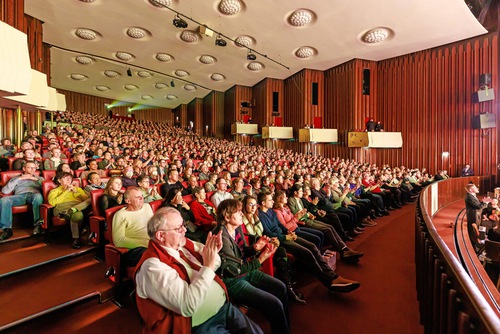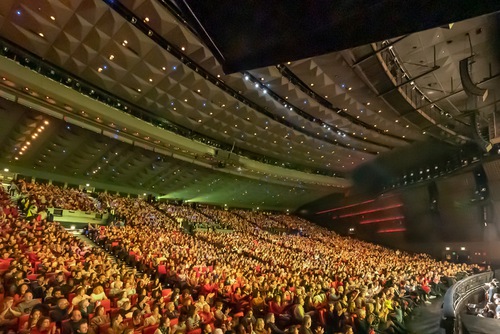 Upcoming Performances
Shen Yun continues its 2023 tour with upcoming performances in:
Salt Lake City, Utah, February 24–25
Las Vegas, Nevada, February 24–26
Minneapolis, Minnesota, February 24–26
Dallas, Texas, February 24–26
Ludwigsburg, Germany, February 24–25
Aix-En-Provence, France, February 24–March 1
Miaoli County, Taiwan, February 24–26
Chinese version available
(Clearwisdom)
85 total views