(Minghui.org) July 20, 2022, marked the 23rd anniversary since the Chinese Communist Party (CCP) launched a nationwide campaign against Falun Gong in 1999. After more than two decades, the CCP remains relentless in targeting Falun Gong practitioners who remain firm in their faith.
According to data collected by Minghui.org, a total of 7,331 persecution cases were confirmed in 2022, including 3,488 arrests and 3,843 harassment cases. Among the arrests, 351 (10.1%) took place in 2020 and 2021 and 3,137 (89.9%) happened in 2022. As for the incidents of harassment, 286 (7.4%) were in 2021 and 3,557 (92.6%) in 2022. Due to strict information censorship in China, these incidents often are not reported in a timely manner, nor is further information readily available.
Due to police brutality and torture, some practitioners died hours or days after their arrests. One woman died two hours after her arrest and another 14 hours later. A third woman died three days after being arrested and another one eight days. Several more practitioners were traumatised by the latest harassment and passed away shortly after. (A summary report of the persecution death cases reported in 2022 can be read here.)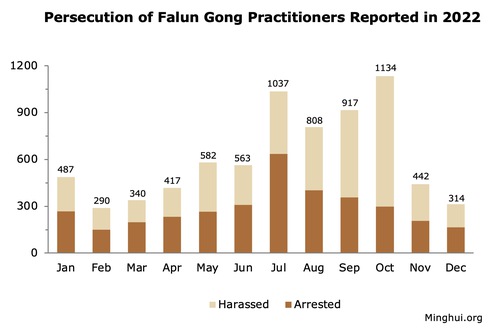 Weeks ahead of the Beijing Winter Olympics in February 2022, the authorities arrested and harassed practitioners in Beijing and Zhangjiakou City, Hebei Province, two of the three zones to host Olympic snow sports events, under the pretext of preventing them from speaking out about Falun Gong during the games.
The persecution cases began to escalate again in July, months before the CCP's 20th Party Congress held between October 16 and 22, 2022. Compared to the combined 563 arrest and harassment cases in June 2022, the total recorded cases in July 2022 (1,037) almost doubled. Between July and October, a total of 2,202 harassment cases were confirmed, which was 1.75 times the number of 1,256 incidents reported in the first half of the year.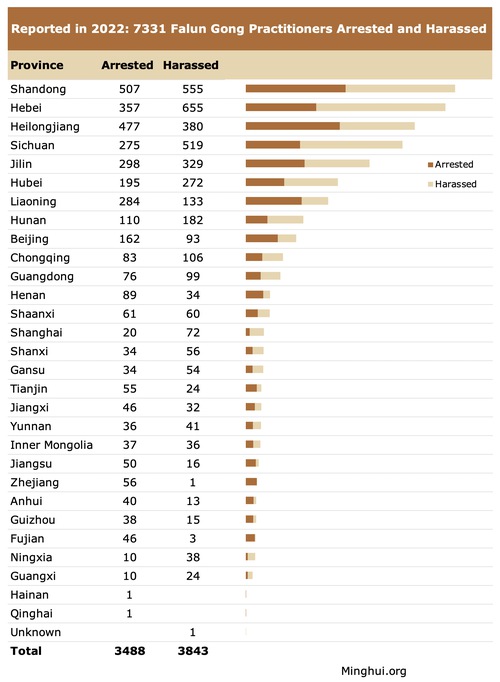 The targeted practitioners hailed from 29 provinces and municipalities. Shandong had the highest tally of 1,062 arrest and harassment incidents. Hebei and Heilongjiang ranked the second and third with 1,012 and 857 cases, respectively. Ten other regions also reported triple-digit cases and fourteen provinces had double-digit cases. Hainan and Qinghai each had one arrest case and the location of one harassment case wasn't known.
Among the total 7,331 targeted practitioners, 971 (13.2%) were 60 or older (at the time of the arrests or harassments), including 327 practitioners in their 60s, 438 in their 70s, 197 in their 80s and 9 in their 90s. A 92-year-old woman was harassed by a prosecutor in May and threatened that she was facing trial for not renouncing her faith. Another 98-year-old woman was among the victims targeted in a group arrest in Heilongjiang Province in July.
In addition to elderly practitioners, young children weren't spared from the persecution either. A two-year-old boy was interrogated and a nine-year-old girl witnessed the police raid her home only to be interrogated herself following her grandmother's arrest.
While the police raided the practitioners' homes, they didn't only confiscate their Falun Gong books and informational materials, but also seized their other personal belongings, including cash they kept at home. A total of 233 practitioners had a total of 2,962,249 yuan seized by police. In particular, a woman in Heilongjiang Province had 370,000 yuan that she set aside for her child to buy a house taken away. Two other practitioners, one in Jiangxi and another in Shandong, had 210,000 yuan and 200,000 yuan confiscated from them respectively.
Following the arbitrary arrests, the practitioners faced sexual assault, torture and involuntary drug administration while in detention, resulting in mental trauma, physical injuries, and/or memory loss. Even after some practitioners had already become incapacitated due to the persecution, the police still harassed them on a regular basis in an attempt to force them to renounce Falun Gong.
The authorities also disrupted the practitioners' daily lives, including breaking into a female practitioner's bedroom in the middle of the night to arrest her, covering some practitioners' peepholes on the doors and their security cameras, as well as cutting off power and Internet to their homes. Some practitioners reported that the authorities set up surveillance cameras around their homes to monitor them.
In some cases, the authorities used the pandemic as an excuse to arrest or harass the practitioners, claiming they needed to check their coronavirus test results or give them vaccinations. While arresting six practitioners in Hebei Province for reading Falun Gong books together, the police said, "We're in a pandemic, and you are violating the law by having an illegal gathering."
A woman in Qingdao City, Shandong Province, was detained for 38 days for refusing to give up her faith in Falun Gong before being released on bail. During her detention, she was frequently interrogated and held at several quarantine centers, including a former German prison still open to visitors. When the visitors asked about the people detained there, the guards said they were actors.
Examples of the various kinds of cases of persecution reported in 2022 are presented below:
Arrests Ahead of the Winter Olympics
Weeks ahead of the Beijing Winter Olympics in February 2022, the authorities in Zhangjiakou City, Hebei Province, one of the three zones to host snow sports events, arrested five local Falun Gong practitioners under the pretext of preventing them from speaking out about Falun Gong during the games.
The five practitioners, from Chongli District, where the ski resorts are located, were arrested on January 20 and 21, 2022. The authorities claimed that they would detain the practitioners until February 6, two days after the opening of the Winter Olympics.
Under the directive of Zheng Jianguo, of the Chongli District Domestic Security Office, the police arrested Ms. Bai Mei at her daughter's home at 9 p.m. on January 20. Her cell phone and other personal belongings were confiscated.
Around the same time, the police also broke into the home of Ms. Bai's brother, Mr. Bai Tao, and confiscated his Falun Gong books, a photo of Falun Gong's founder, a speaker, and a tablet. As Mr. Bai wasn't home when the police came, they returned the next day and arrested him.
At midnight on January 21, the police arrested three more practitioners, Ms. Kang Cuiqing, Director of Pediatrics for the Chongli District Hospital; Ms. Qin Yulan, a teacher at the Chongli Education Bureau; and Ms. Wei Jiansheng, a teacher at Chongli No. 1 Middle School.
The three practitioners were held at the local police station and then transferred to the Zhangjiakou City Lockup for 15 days.
In addition to Falun Gong practitioners, the local residents faced extreme restrictions on their daily life, as part of the authorities' effort to ensure a successful international sports event.
Harassment Prior to the Chinese Communist Party's 20th Congress
From northern provinces such as Liaoning, Jilin, and Hebei, to municipalities including Beijing, Shanghai, and Chongqing, as well as southwestern provinces including Sichuan and Yunnan, the authorities harassed Falun Gong practitioners by ordering them to stay home, ordering them to sign statements to renounce their faith, or taking them to brainwashing centres in the months leading up to the 20th Party Congress.
During most of the harassment incidents, the police took photos of the practitioners against their will. If the targeted practitioners weren't home, the police took photos of their family members instead, as well as the exterior of their homes.
Some officers tore down Falun Gong decorations at the practitioners' homes. Some deceived the practitioners by saying that they came to check their Health Code (an e-passport type of application that tracked one's travel history and potential exposure to COVID-19), but left without checking those of family members.
When practitioners refused to comply, the officers would forcibly hold their hands and press their fingerprints onto the documents. Many practitioners reported bruised arms and hands as a result of the violent force. The officers threatened to retaliate against them if the practitioners reported the harassment to Minghui.org. Some practitioners' family members were also forced to join the officers to persuade their loved ones.
In addition, the authorities also threatened to take away practitioners' jobs and pensions and to thwart their children's and grandchildren's educational opportunities. This brought tremendous mental distress to their families and caused much discord.
In some cases, the officers deceived practitioners into writing things good about Falun Gong. They then photoshopped the documents and moved the practitioners' signatures to a renouncing statement. Sometimes they showed the doctored statements to other practitioners to shake their will, saying "So-and-so has signed it, why don't you?"
When an official harassed Ms. Chen Qihua, a farmer in Chengdu City, Sichuan Province, on August 2, she said to her, "If you practice Falun Gong, you are an enemy of mine and I will use coercive measures on you on behalf of the government."
In Shanghai, the authorities arranged for officers to stay outside practitioners' homes to monitor their daily activities beginning in late September.
Between late September and October 25, the police in Dongying City, Shandong Province followed Ms. Wang Fan wherever she went. Ms. Wang used to work at the Shengli Oil Field Management Bureau as a Russian translator but was fired in 2000 due to the persecution. Since 2017, the company has arranged for people to monitor her during major political conferences.
Three officers in Dalian City, Liaoning Province, found Ms. Fang Caixia on September 30 and told her, "We are here to 'safeguard' the 20th Party Congress. Even if we have to dig three feet down to find you, we'll do it. Before the 20th Party Congress, we have to meet with you once a week."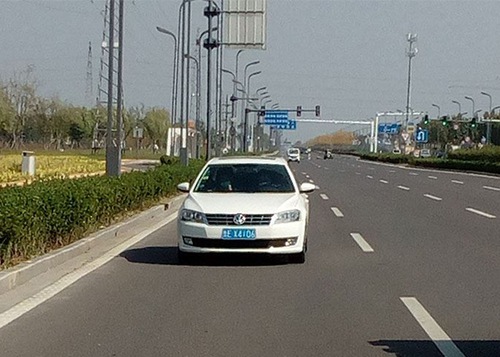 Group Arrests
Several group arrests took place in Heilongjiang Province throughout the year, especially in the city of Daqing, after Song Hongyuan became chief of the Daqing City Police Department in March 2022.
Song coordinated the Heilongjiang Province Public Security Bureau, Daqing 610 Office, and Daqing Political and Legal Affairs Committee to conduct at least three group arrests between April and July 2022. At least 189 practitioners were arrested and another 107 were harassed, including those in their 80s and a three-year-old. At least 211 had their homes ransacked.
In one group arrest on April 20, at least 25 Falun Gong practitioners were taken away from their homes between the early morning and afternoon. Some police officers were wearing protective gear during the arrests, and they deceived the practitioners into opening their doors by claiming they were there to investigate if the homeowners had close contact with people who had tested positive for COVID-19.
On July 12, eight days before the 23rd anniversary of the persecution, over 100 practitioners were arrested. According to a police officer, the authorities had begun to follow and videotape the practitioners as early as nine months before the operation. The arrest date was not announced until a week prior. The officers did not give out their names, precincts, or their contact information while making the arrests, claiming that such information was a state secret.
Most of the arrests were made early in the morning between 5 and 7 a.m. when the practitioners were home. Many of their personal belongings were confiscated, particularly Falun Gong books, photos of Falun Gong founder, laptops, cell phones, and fliers that the practitioners used to raise awareness about the persecution. These items would be used as prosecution evidence for the police to pursue prison sentences against them.
Most of the arrested practitioners are women. Among the over 20 practitioners who are 70 or older, more than 10 are in their 80s and one is 98.
About 100 miles northwest of Daqing, the authorities in Qiqihar City had a "Net Closing In Operation" in April to target local practitioners.
Chen Dong, the deputy mayor of Qiqihar and head of the Qiqihar City Police Department, held a meeting with all local police forces in seven districts and nine counties in early 2022. He ordered the police to follow, monitor, and harass local practitioners, especially those who persisted in raising awareness about the persecution during the pandemic.
The operation gained support from Guo Xiaofeng, the head of the Qiqihar City Political and Legal Affairs Committee (PLAC), an extra-judiciary agency overseeing the public security and judiciary branches and also orchestrating the persecution policy of Falun Gong.
The police fabricated evidence against the practitioners, alleging that one of the targeted practitioners, Mr. Zhang Wanjie, was the ringleader of a criminal organisation in which all the other practitioners were active members. Some practitioners noticed that the police already had the interrogation record ready before ever asking them questions.
Modern Day Surveillance
Shortly after the COVID-19 pandemic broke out in early 2020, the Chinese Communist Party launched the cellphone app "Health Code," claiming it was to track the spread of the disease, but many human rights experts expressed concerns that the app would be used as a surveillance tool for the authorities to target dissidents and faith groups.
In one recent case, a Falun Gong practitioner in Shuangliu County, Sichuan Province, reported that she was harassed by the police, who arbitrarily turned her "Health Code" from green to yellow and forced her to sign a statement promising not to be against the Party.
Ms. Li Caiqiong, 59, went to visit a friend at her tailor shop on the afternoon of September 28, 2022. Not long after, someone called her name from outside and said, "Your health code is now yellow. The government requires you to have a COVID-19 DNA test. If you don't, your code will turn red."
Ms. Li came out and saw it was Luo Long, the director of the local residential community. She suspected that Luo had found her with the location tracking function of the "Health Code" app.
While Ms. Li refused to go with Luo, they pushed her into their car and took her to the hospital. After the test, Luo brought Ms. Li to the Dongsheng Police Station. Three officials of the Chengdu City Political and Legal Affairs Committee attempted to force her to sign a document, promising that she can't oppose the Communist Party or communism, nor read books such as the Nine Commentaries on the Communist Party or Disintegrating the Communists Party Culture, as well as not participate in any Falun Gong activities.
When Ms. Li insisted that she wouldn't sign, the officers grabbed her hands and pressed her fingerprints onto their paperwork. They next seized her keys from her purse and confiscated her Falun Gong books, a photo of Falun Gong's founder, and other related materials from her home.
In addition to the surveillance of the practitioners through the "Health Code," the police also installed three cameras at an 81-year-old woman's home to monitor her. Another woman in Sichuan Province found a GPS-enabled camera near the battery of her tricycle.
Police Violence
When trying to force the practitioners to renounce Falun Gong, the police resorted to various means, including physical torture and sexual assault. A teacher and his cousin in Shandong both had their blood samples forcibly taken in the police station, while the police talked about the price of selling organs to the hospitals for transplants.
Former College Lecturer Sexually Assaulted by a Torture Expert with a "Toolbox"
Ms. Jiang Yongqin, a 53-year-old former university lecturer in Jilin City, Jilin Province, was arrested at home on June 12. After a month of detention, she was brought to a secret facility with her head covered and ears plugged around July 7.
Four men handcuffed Ms. Jiang and demanded to know the password to her hard drive. She refused to answer. The police then force-fed wasabi water into her nose and inserted lit cigarettes into her nose. As they were inserting the cigarette, it broke. The police left half of the cigarette in her nasal cavity, which she eventually coughed out.
After the first round of torture, the police then began to sexually assault her. They lifted her shirt. A so-called torture expert that the police brought in then ordered the police to touch her chest.
After the police did it, the expert then used a special massager to stimulate her chest. Next, the expert forced Ms. Jiang to take off her pants. When her pants were halfway down, the police found she was menstruating. The expert claimed that the torture had the best effect during menstruation and ordered the police to continue. Ms. Jiang almost collapsed and was in deep despair. She gave in and was forced to cooperate with the police in the interrogation.
Before the expert left, he threatened that if Ms. Jiang didn't cooperate with them, he would go through things in his "torture toolbox" every day, which had toothpicks, strange instruments, drug bottles, and electrical wires. He added that he was usually conservative in torturing regular suspects with the "toolbox," but when it came to Falun Gong practitioners, he was given free rein.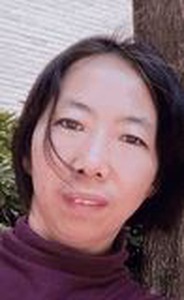 Police Arrest Falun Gong Practitioner and His Cousin, Draw Their Blood for Organ Matching Database
The police in Jinan City, Shandong Province, seized a Falun Gong practitioner and his cousin on October 4, 2022. According to his cousin, who was released a few days later, the officers handcuffed Mr. Xu Wenlong, 36, and put heavy shackles on him. They drew a sample of his blood and threatened to kill him. Mr. Xu was later given six months of house arrest to be served in Laosilijie Police Station. He has since been denied family visits.
Three officers went into Mr. Xu's home on the afternoon of October 4. They held Mr. Xu and his cousin on the floor and one officer sat on Mr. Xu. On their way to the station, an officer beat and verbally abused Mr. Xu, who was handcuffed behind his back in the police vehicle. Mr. Xu's shirt was ripped and he had pain in his ear.
The officers ordered Mr. Xu's cousin to sit in an iron chair that had locks and belts to restrain her. They accused her of obstructing the police at Mr. Xu's home. Even though she doesn't practice Falun Gong, the police ordered her to curse the founder of the practice and said they would release her if she did. She refused to comply. When she warned the police that there would be legal consequences for their participation in the persecution, they said that they were just robots doing what they were told to do. The police left her in the room overnight.
The next morning, Mr. Xu's cousin heard the sound of shackles hitting the ground. It turned out that Mr. Xu had just been brought back after being forced to have a physical exam in the hospital. They put him in a room next to hers. She overheard two officers talking about a kidney selling for 400,000 yuan. She asked them if they were talking about harvesting organs from Falun Gong practitioners. They remained silent.
She kept hearing the sound of shackles hitting the floor from the next room and thought it sounded like the officers were pushing Mr. Xu around or hitting him. Someone later went out to get rubbing alcohol and cotton balls. She then heard Mr. Xu scream. Two officers carried him to the men's room. She asked to use the restroom, and as soon as she got there, she heard Mr. Xu scream in the men's room. She also heard an officer swear at him and threaten to kill him.
She shouted from outside for the officers to stop beating Mr. Xu. Several of them came out, denied he was being beaten, and forbid her from using the restroom. As they put Mr. Xu back in his cell, one of them laughed at him, "Why doesn't your belief protect you?"
The officers joked that arresting Mr. Xu and his cousin together seemed like "Buy one, get one free."
Before releasing her, six officers took her to a well-equipped room, saying that every detainee had to give their fingerprints and a blood sample. She remembered that the Chinese authorities collected and analysed the blood samples of Falun Gong practitioners and put the information in an organ-matching database so that they could target the practitioners for their organs in the future. None of the officers denied her suspicion that they were collecting blood samples for organ harvesting.
One officer held her down and bent her fingers backward while another ran out to get alcohol and cotton balls. They stabbed a needle into her hand and she screamed in pain. She then recalled hearing Mr. Xu's screaming in this room and realised that was likely when the police were drawing his blood.
Beaten by Police, Woman in Her 70s Sustains Multiple Fractures
Ms. Zhang Xiufen, a Beijing resident in her 70s, was arrested on July 5, 2022, after being reported for talking to people about Falun Gong. The police beat her at Qingta Police Station, causing fractures to her thoracic spine and ribs, as well as a lumbar vertebral compression fracture. She was denied admission by the local detention centre due to her injury.
While Ms. Zhang was in the police station, one 610 Office agent snatched her key and broke into her home. Her Falun Gong books, materials, photo of Falun Gong's founder, and 1,500 yuan in cash were confiscated.
Chengdu Man Beaten at a Hotel-turned Detention Site, Incurred Injuries in His Leg and Gallbladder
Mr. Liu Jia, a 53-year-old man in Chengdu City, Sichuan Province, was arrested on January 6, 2022. He was brought to the fourth floor of "Urban Cloud Hotel" in Pengzhou and put on residence surveillance. There was a surveillance camera in the room. All of the windows were covered and no light came in. Several people took turns monitoring him.
As Mr. Liu refused to tell the police the password to his cellphones, the guards took him to a room without a surveillance camera and beat him, causing a fracture of his left leg and inflammation of his gallbladder. He was then taken to the hospital to have his gallbladder removed.
Mr. Liu was kept in the hotel for 18 days and transferred to the Pengzhou City Detention Centre on January 24. Both of his legs were severely swollen and there was also swelling on his right knee. He was unable to stand or walk on his own.
Elderly Practitioners Targeted
Hundreds of elderly practitioners were targeted for their faith in 2022. Some were arrested after being monitored by the police for years, some were forced to live away from home to hide from the police, and some faced prison sentences for upholding their faith.
Police Arrest 80-year-old Woman After Monitoring Her for Two Years
A residential committee in Lianjiang City, Guangdong Province, summoned a local resident Ms. Li Qunzhen, 80, in early August 2022 and ordered her to sign a statement to renounce her faith in Falun Gong.
Ms. Li refused to comply and instead told the residential committee members how she had benefitted from practicing Falun Gong and that she could still take care of her incapacitated husband despite her age.
Days later, on August 21, Ms. Li's husband fell into critical condition and was hospitalised. When Ms. Li rode her tricycle to the hospital to visit him on August 25, the residential committee secretary, who was driving a car, hit her front wheel. In no time, officers and residential committee staff members surrounded her and dragged her to a police car. At the station, the officers interrogated her and collected her fingerprints.
Later in the day, a dozen officers ransacked Ms. Li's home, including the rooms of her daughter, her son, his wife, and their son, who were living in the same apartment unit. Even her tenants' rooms upstairs weren't spared.
The police claimed that they had been monitoring her daily for two years. She was discovered mailing letters about Falun Gong, and they intercepted most of them. She was also recorded by surveillance cameras distributing informational materials about Falun Gong near the park and the hospital in 2021.
Ms. Li has been released on bail to take care of her husband. Neither she nor her daughter, who agreed to be her guarantor, are allowed to leave town and must report to the police anytime they are summoned.
73-year-old Nearly Blind Woman Forced to Live Away from Home to Avoid Persecution
Ms. Miao Shuqing, a Fushun City, Liaoning Province, resident, was arrested on June 15, 2022, for talking to people about Falun Gong. While she was released shortly after, the police gave her family a bail release notice in mid-August and charged her daughter a 5,000 yuan bail bond. To avoid further persecution, the 73-year-old woman has had little choice but to live away from home ever since.
Prior to her latest ordeal, Ms. Miao served two prison terms for a total of eight years. She was often shocked with electric batons for long hours, resulting in incontinence and severe damage to her body. Even now, she would become incontinent if she was under pressure. Her left eye has become blind and her right eye has very little vision left. Her family is very worried about her health as she is on the run to hide from the police.
77-year-old Woman Facing Prison Sentence Detained Incommunicado 1,000 Miles Away From Home
Ms. Lei Changrong, 77 and former employee of Grain and Oil Machinery Factory in Chongqing, was arrested at home on August 31, 2022, by police from Suzhou City, Jiangsu Province, about 1,000 miles away. She stood trial on September 5 and has since been detained incommunicado.
Ms. Lei's ordeal dated back to June 2, 2021, when she was stopped on the street by eight officers, including both local police and their counterparts from Suzhou City, Jiangsu Province. The Suzhou police questioned her as to whether she mailed a letter to Zhang Neng, a prosecutor at the Wujiang District Procuratorate in Suzhou, urging him not to persecute Falun Gong. The police ransacked Ms. Lei's home and released her on bail the same day.
Ms. Lei was arrested again on October 15, 2021, and taken to Suzhou for interrogation. She was released after five days. The Wujiang District Court in Suzhou later informed her that she was scheduled to appear in court, but Ms. Lei maintained that she hadn't violated any law in mailing the letter and refused to go.
Two officers in Chongqing went to Ms. Lei's home in late May 2022 and attempted to connect her to a virtual hearing. As Ms. Lei refused to cooperate, it eventually prompted the police to travel from Suzhou to arrest her on August 31.
Falun Gong Practitioners in Their 80s Harassed
Two Falun Gong practitioners in Maoming City, Guangdong Province in their 80s were harassed between June and September 2022 for their faith.
A group of officers broke into the home of 84-year-old Ms. Liao Yuying on June 9, 2022. As she wasn't home, the police installed a new lock on her front door, kept two keys for themselves, and handed the other two to her neighbor to pass on to Ms. Liao.
To avoid further persecution, Ms. Liao lived away from home. When she returned in early July, the police came to harass her again and threatened to tie her up and arrest her. She was forced to live away from home one more time.
In late August, Mr. Ding Jiaxi, 88, noticed a tall man in his 40s standing outside of his apartment building and looking at everyone coming out of the entrance. A neighbor told Mr. Ding that the man had been there for half an hour and that he had never seen the man in the neighborhood before.
A similar incident happened again on the afternoon of September 2, when a tall man wearing black stood outside of Mr. Ding's apartment building and looked at everyone coming out.
Young Children Interrogated
In addition to the adult practitioners, some of their young children or grandchildren weren't spared in the persecution either.
Two-year-old Boy Interrogated for Grandmother's Spiritual Belief
Ms. Wang Yanhua, a 55-year-old native of Hulunbuir City, Inner Mongolia, has been living with her daughter in Sanhe City, Hebei Province, in recent years. Because her ID has been flagged for practicing Falun Gong, she has been subjected to constant harassment while traveling. The police in Hulunbuir even instructed their counterparts in Sanhe to harass Ms. Wang at her daughter's home. During the harassment, her grandchildren, aged 2 and 3, weren't spared.
Ms. Wang and her husband boarded a train back to Hulunbuir from Sanhe with their two-year-old grandson on the evening of September 30, 2021. As she swiped her ID while exiting the train station the next morning, four security guards stopped her and took her to a room for a body search.
When Ms. Wang refused to answer their question about whether she still practiced Falun Gong, one officer pulled her two-year-old grandson aside and asked him, "Is your grandma still practicing Falun Gong? Where does she practice it? Where does she keep her Falun Gong stuff?"
The little boy was so scared that he froze and couldn't utter a word. His face was pale. Only when Ms. Wang threatened to take legal action against the police, did the officers stop terrifying the boy.
Almost a year later, at 8 p.m. on July 4, 2022, two masked officers broke into the home of Ms. Wang's daughter in Sanhe.
While taking Ms. Wang's photo, an officer also turned the camera to her three-year-old granddaughter. The little girl was trembling with fear. "Are they good cops? Grandma, didn't you tell us that the police are protecting us?"
Ms. Wang tried to comfort her, "We should feel sorry for them. They are following the wrong orders."
The little girl was traumatised after the incident. She cried and later said to anyone she saw, "The police came to our home. I don't dare to return home now."
9-year-old Girl Witnesses Police Raid and Interrogated Following Grandmother's Arrest
Ms. Fan Jinqing's 9-year-old granddaughter was home alone when a group of police officers opened the door with a key at 9 p.m. on July 26, 2022.
Hours earlier, Ms. Fan, a Harbin City, Heilongjiang Province resident in her 70s, had been arrested at a bus station for talking to a person about the persecution of Falun Gong, unaware that he was a plainclothes officer.
After Ms. Fan was taken to the police station, the police found her address through her bus pass. They snatched her keys and went to raid her home in front of her granddaughter.
The police returned at 11 p.m. They woke up the girl who had gone to bed and claimed that they were taking her to the police station to see her grandmother. The girl went with them. But instead of allowing her to see Ms. Fan, the police took her photo and recorded a video of her. They questioned her, asking if she also practiced Falun Gong and threatened to expel her from school if she was also a practitioner. The police interrogated the girl until 12 a.m. and then told her older sister to take her home.
Ms. Fan was held at the police station until 8 p.m. on July 28. During those two days, the police only provided her with a very small amount of food and kept her handcuffed behind her back.
Police Interrogate 13-Year-Old with a Learning Disability in Attempt to Frame His Stepmother
In order to collect information to frame Ms. Liu Huiping, the police interrogated her 13-year-old stepson, who has a learning disability, when no guardian was present.
A group of plainclothes officers knocked on Ms. Liu's door on September 26, 2022. The Jiujiang City, Jiangxi Province resident refused to open the door so the police climbed into her home through the window. The printer she used to print study materials for her stepson and her cell phone were confiscated.
The police accused Ms. Liu of teaching her stepson to practice Falun Gong. The police later went to her son's school, asked him many questions, and videotaped him.
Ms. Liu, a native of Changde City, Hunan Province, married Mr. Zhong Qingmiao, a Jiujiang City resident who also practices Falun Gong, in 2021. She moved to Jiujiang in May 2022.
Ms. Liu's stepson, a six-grader, didn't learn how to say "dad" and "mom" until he was almost six years old. It turned out he had a learning disability and his intelligence at six was equivalent to that of a three-year-old.
Families' Ordeals
When many family members took up Falun Gong, they were often arrested and detained together. In some cases, the elderly parents passed away due to the mental and physical devastation. Some practitioners' arrests and detention also deprived their loved ones of care or left them facing dire financial constraints.
After 23 Years of Repeated Arrests and Torture, Family of Three Targeted for Their Faith Again
A family of three in Yantai City, Shandong Province, has been arrested and put in forced labor camps and brainwashing centres many times over the past 23 years.
At one point Mr. Jiang Qianguo and his wife Ms. Fu Chunhua had to leave home to avoid further persecution. Their daughter Ms. Jiang Jing was expelled from her university for refusing to renounce her faith. The persecution has caused Mr. Jiang, now 70; Ms. Fu, 68; and Ms. Jiang, 42, a great deal of suffering and financial loss.
The police arrested all three of them again and ransacked their home on July 16, 2022. They took them to Binzhou Medical School for physical exams the next day. Ms. Jiang was released because of her poor health, although the police continued to monitor her at home. Mr. Jiang and Ms. Fu remain detained even though Ms. Fu's blood pressure was high.
The family's ordeal started right after the onset of the persecution in 1999. Mr. Jiang was the first to be arrested when going to Beijing to protest the persecution in November 2000. The detention centre guards instigated the detainees to strip him and pour cold water on him in the cold weather. They also deprived him of sleep and sawed a toothbrush back and forth between his fingers until the skin split and his hands were covered in blood.
Shortly after, the daughter, then a college student, was also arrested and given one year in a labor camp. She was forced to sit on a small stool surrounded by a group of inmates and deprived of sleep for days. She nearly had a mental breakdown.
She reunited with her parents a year later, after she was released. Before long, the police arrested her father and put him in a forced labor camp. Soon after, the police took her mother to a brainwashing centre. She had to live on her own.
The family of three was arrested again in May 2014 and charged with "illegal assembly." The police ransacked their home and confiscated almost everything they had, leaving a few clothes scattered on the floor. They were all detained for a month and tortured.
Former Tax Bureau Director Falls into Coma Due to Hunger Strike, Detained Incommunicado for Months
Mr. Zhou Chunbao, 48, the deputy tax bureau director in Guan County, Shandong Province, was arrested on May 15, 2022. Many of his Falun Gong materials and his private car were confiscated. He was interrogated and deprived of sleep for three days. He held a hunger strike and fell into a coma. Although the authorities took him to the hospital for treatment, they denied his family from visiting him.
Mr. Zhou's arrest dealt a heavy blow to his daughter, and she almost dropped out of college as a result. His four-year-old son also cries every day and asks for his dad. His wife, a teacher, struggled to balance her job and care for the family. She also faces constant harassment by the police and lives under tremendous pressure.
The police claimed that Mr. Zhou's case was major and reported it to the Public Security Bureau. A special task force was formed to handle his case.
On June 11, one month after Mr. Zhou's arrest, the police went to the neighboring Liaoning Province to arrest his mother Ms. Xu Jimei and sister Ms. Zhou Chunling. Ms. Zhou later escaped from custody and has been forced to live away from home. Ms. Xu, on the other hand, has been sentenced to 15 months.
The family's ordeal provided a glimpse into the lives of countless other practitioners in the past three decades, from how they benefited from practicing Falun Gong to how they were persecuted for upholding their faith.
The family's patriarch, Mr. Zhou Ziming, was a well-known doctor of Chinese medicine in town. He and Ms. Xu had two sons and a daughter. Despite being a doctor himself, Mr. Zhou couldn't cure his severe heart condition, myocardial infarction, swelling in the leg, and varicose veins.
In the spring of 1995, the couple was introduced to Falun Gong. In a few days, their ailments disappeared. Mr. Zhou's gray hair turned black. The swelling in his legs was gone, and he was no longer out of breath while walking. Ms. Xu was filled with energy and she no longer had to take breaks while climbing the stairs to their home on the fourth floor. Their changes prompted their son Mr. Zhou Chunbao and daughter Ms. Zhou Chunling to take up the practice as well.
After the younger Mr. Zhou graduated from college, he began to work in the government. For all the years he was employed at the Guan County Tax Bureau, he was given many awards for his excellent performance.
But after the communist regime ordered the persecution in 1999, the family's peaceful life was shattered. The elderly parents suffered over twenty home raids. They were fined by the police six times and also faced constant harassment.
The elder Mr. Zhou fell ill again, after eight detentions at a brainwashing center and two incarcerations at a detention centre. He passed away from a severe heart problem in 2005. He was 63.
For raising awareness about the persecution, Ms. Xu was arrested four times and given both forced labor camp and prison terms.
The younger Mr. Zhou wasn't spared in the persecution, either. The police ransacked his home in 2010, shortly after arresting his mother. His laptop, a portable drive, and some Falun Gong books were confiscated. He was fired by the tax bureau shortly after his latest arrest.
Two Decades of Persecution
In the now 23-year-long persecution, some practitioners have never lived one day in peace. Some were expelled from school, some were fired from their jobs, and some still face constant harassment even after they became incapacitated due to the persecution.
Authorities Installed 12 Surveillance Cameras to Monitor Mr. Zhou Xiangyang
By the time Mr. Zhou Xiangyang finished serving seven years in prison, he had become so weak that he couldn't get out of a car on his own. The Tianjin resident now lives with his parents in Matuo Village, Changli County, Hebei Province, yet the authorities still won't leave him alone.
To continue to monitor him, they installed 12 surveillance cameras, including around the homes of his parents, his brother, and his brother's parents-in-law, who all live in the same village. Cars coming in and going out of the village every day were also questioned.
Mr. Zhou, a former modern cost engineer, was widely known for his years-long hunger strike that started on the day of his arrest on March 2, 2015, and continued until he was released on March 1, 2022. At one point his organs failed, but he survived and returned home alive.
In Binhai Prison in Tianjin, the guards shocked Mr. Zhou with electric batons and sprayed his eyes with chili pepper water. The guards instigated inmates to torture him, including pinching his nipples, squeezing his genitals, fingering his anus, plucking his eyelashes, jamming his fingernails, pushing in his rib cage, prying out his teeth, and force-feeding him urine.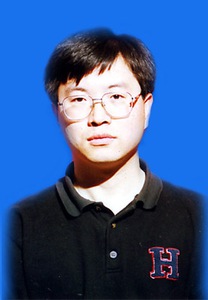 Forced to Drop Out of School at 17, Self-taught Interior Designer Arrested
When Mr. Zhao Yubo's mother called him to inform him of the death of her mother, she was devastated to learn that he had been arrested earlier that day for practicing Falun Gong. Unable to cope, she fell ill and became bedridden.
Mr. Zhao's parents have been divorced for a long time. The 39-year-old interior designer lives in Anshan City, Liaoning Province, with his father. A plainclothes officer knocked on their door on the afternoon of September 21, claiming to be looking for an elderly woman. After his father opened the door, the officers barged in and arrested Mr. Zhao and his father. While his father has been released and placed on residential surveillance, Mr. Zhao is still being held.
Mr. Zhao's work computer, a broken printer, Falun Gong books, ID, cellphone, 6,400 US dollars, 18,000 yuan, and other personal belongings were confiscated. His family went to the police station several times to demand a list of the confiscated items, but the police ignored them. The police did give Mr. Zhao a list to sign, but the number of Falun Gong items taken from him was exaggerated and he refused to sign it.
Mr. Zhao began to practice Falun Gong in July 1997 when he was 14. He went from being an introverted, passive, and rebellious person to one who was outgoing, warm, and ready to help. His academic performance also improved quickly and he was well-regarded by his classmates.
Just as people around him were impressed with his amazing changes, the persecution started in 1999. Because he went to the local government in 2000 to appeal, the 17-year-old faced constant harassment at home and at school. His teacher and school leaders threatened to expel him if he didn't renounce Falun Gong. With no other choice, he quit school and studied on his own. Yet the police still regularly harassed him.
Despite the hardship and pressure due to the persecution, Mr. Zhao grew into a resilient and strong person, who also has a big heart and is positive and optimistic. He eventually became an interior designer by teaching himself, and his designs were widely acclaimed.
Incapacitated Man Faces Non-stop Harassment for His Faith
Mr. Wu Zhanting, a Chaoyang City, Liaoning Province resident who has become incapacitated due to a stroke, still faces constant harassment for his faith in Falun Gong.
Shortly after the Chinese New Year in February 2022, Wu Dali, a police officer and also a relative of Mr. Wu, came to take his photos, pretending to show concern for him.
Two staff members from the local justice bureau came a few days later and also took Mr. Wu's photos. They ordered his family to sign a case document on his behalf, but the family refused. The officials then put the pen in Mr. Wu's hand, who couldn't talk anymore, only to find that he could no longer hold the pen either.
Mr. Wu used to be a very handy man. He was capable of doing carpentry, masonry work, and painting. But as a result of the torture while serving a 4.5-year term between 2002 and 2006, he suffered a stroke and lost the ability to talk or walk.
The police arrested him three more times in 2017, in the sweeping "Knocking on the door" harassment campaign targeting Falun Gong practitioners across China. He suffered severe memory loss from the trauma. Despite his condition, the police still held him at the detention centre and submitted his case to the procuratorate. When his family questioned the detention centre guards why they still accepted him, the guards replied, "We must accept him; we must obey our rules."
When the police released Mr. Wu on bail fifteen days later, officials from the local Political and Legal Affairs Committee (PLAC) attempted to force him to sign statements to renounce Falun Gong.
The detention and harassment caused Mr. Wu's condition to quickly deteriorate. Yet the PLAC officials and prosecutor still came to harass him, causing even more mental distress to him. Mr. Wu became withdrawn and suffered frequent incontinence.
Not long after, over 20 officials from the local procuratorate and court put Mr. Wu on trial. Many of Mr. Wu's neighbors were shocked to see how government officials treated such an incapacitated person.
The judge later sentenced Mr. Wu to three years with four years probation, on charges of "undermining law enforcement." His family asked how a person who couldn't even take care of himself undermine law enforcement.
Since then, the local justice bureau staff member has continued to harass Mr. Wu and his family. When Mr. Wu was hospitalised, they called the hospital, looking for him. Due to his ever-worsening condition, his wife had to quit her job and stay home to care for him, leaving the family with no source of income.
Persecution in the Brainwashing Centres
In the persecution of Falun Gong, brainwashing centres are often used to detain the practitioners as black jails, where they are subject to intensive brainwashing, physical torture and involuntary drug administration.
Hubei Woman Administered Toxic Drug in Brainwashing Centre
Ms. Huang Ciying was forced to take nerve-damaging drugs while being held in a brainwashing centre for practicing Falun Gong. The resident of Xiaogan City, Hubei Province, still sometimes became delirious and suffered other physical discomforts after being released.
Ms. Huang was arrested on September 22, 2022, and taken to the Lulinyuan Brainwashing Centre, where she was given the toxic drug. She continues to be monitored by the police ever since her release on October 28.
The Lulinyuan Brainwashing Centre is located in Xiaohe Township, Xiaochang County. It has recently received 600,000 yuan in funding to "handle" Falun Gong practitioners.
In addition to Ms. Huang, several other practitioners, including Li Youlin, Yan Zhenxiang, and Luo Guilan (also known as Luo Qixiu), have recently been persecuted in the brainwashing centre.
When a practitioner is first admitted to the brainwashing centre, the staff members pretend to be friendly in order to persuade them to give up their faith. If the practitioner remains firm, the staff members start to beat them, verbally abuse them, deprive them of sleep, deny them use of the restroom, and limited their access to food and water.
The brainwashing centre played propaganda videos every day. If any practitioner refused to renounce Falun Gong after two weeks, the staff forced them to take a green pill, claiming that it was to treat the practitioner's high blood pressure, even though they didn't have the condition. The staff would beat the practitioners if they refused to take it. They also checked the practitioners' mouths to make sure they had indeed swallowed it.
After taking the drug for a few days, the practitioners became confused. The staff would then exploit their affection for their family and threatened them with the loss of their jobs or lengthy prison sentences to get them to renounce Falun Gong or to report on other practitioners.
Since Sui Chunlong took office in early 2022 as the deputy secretary of the Party Committee and secretary of the PLAC in Xiaogan City, he has allocated more funding to local brainwashing centres to target Falun Gong practitioners.
Dozens of practitioners in nearby cities and counties under the jurisdiction of Xiaogan, including Yingcheng City, Anlu City, Xiaochang County, Yunmeng County, and Hanchuan County, have been arrested and held in the brainwashing centres. In some regions, the authorities arrested the practitioners based on a quota.
Police Officer Held in Brainwashing Centre and Forced to Retire Due to His Faith in Falun Gong
A police officer was held in a brainwashing centre for three months. After he was released, he was forced to retire early and placed under strict surveillance, all because of his faith in Falun Gong.
Mr. Yan Ji, an Anlu City, Hubei Province, resident in his 50s, was arrested at work on May 24, 2022. The police drove him 30 miles away to a facility owned by the Beifan Township Village Committee. The door plate read "Care Centre," a new name for many brainwashing centres across China. All of the windows and doors had security bars and the windows were covered with a film that keeps those on the outside from seeing in.
There was no lock on the door to the room where Mr. Yan was held, so the authorities could come in at any time to check on him. He wasn't allowed to close the door when he took a shower or turn off the light to sleep.
Because Mr. Yan was arrested at work, he didn't have a change of clothes. It was hot at the time, and his clothes soon started to smell. He had to ask his family to send in clothes for him.
Mr. Yan's cell phone, house keys, and belt were confiscated. Although the authorities promised that they wouldn't unlock his phone, officer Yang of the 610 Office later told him that they spent 20,000 yuan to hire an expert to tap into his phone and gain access to his personal information.
The authorities used his keys to search his office and home, including his closets, fridge, and under the bed. The police took his computer and have not yet returned it.
The brainwashing centre had strict requirements for how Mr. Yan was to stand and sit. Even when he left the room to get food or water, he was verbally abused. He wasn't allowed to get a haircut and had to stay in the room at all times. During the three months he was there, he was not allowed outside for even a minute.
The officers often said to him, "You have to do what the Party tells you to and you can't do anything that the Party doesn't approve of." Zhang Guihong, a brainwashing centre staff member, said, "Killing you is as easy as crushing an ant."
Before Mr. Yan was released, he received a notice from his employer that he would be retiring early. An officer with the Domestic Security Office told him that no matter how they proceeded with his case, the only prerequisite was that he renounce Falun Gong.
When Mr. Yan returned home on August 24, he saw a big surveillance camera with a bright light installed facing his door. Whenever he opened his door, the light turned on.
Mr. Yan also noticed extra noise whenever he made calls on his cell phone. The photos he received in text messages had extremely poor resolution. Sometimes the calls he made or received were dropped suddenly. It was the same for his computer: Files he downloaded one minute would disappear the next or the web page he was browsing would suddenly close.
Mr. Yan said that when he was working in the police department, he was discriminated against because of his faith in Falun Gong. The authorities refused to give him the necessary access to his computer or database, which made it very difficult for him to get his job done. He was also passed up for any and all promotions. After he was forced to retire, his pension was significantly lower than others with the same years of service.
More Summary Reports about the Persecution Reported in 2022:
Reported in 2022: 172 Falun Gong Practitioners Die in the Persecution of Their Faith
Chinese version available
(Clearwisdom)