(Minghui.org) The deaths of 172 Falun Gong practitioners as a result of the persecution of their faith were reported in 2022, including 30 deaths (17%) that occurred between 2007 and 2020, 41 (24%) in 2021 and 101 (59%) in 2022.
Falun Gong, also known as Falun Dafa, is a mind-body practice based on the principles of Truthfulness, Compassion, and Forbearance. Since its introduction to the public in 1992, countless people have been drawn to its profound principles and health benefits. Fearing its ever-growing popularity, the Chinese communist regime launched a nationwide campaign in July 1999, attempting to stamp out the practice.
Hundreds of thousands of practitioners have since been harassed, arrested, detained, imprisoned, and tortured. A total of 4,894 deaths have been documented by Minghui.org as of January 5, 2023. Due to the strict censorship of information in China, however, the actual number is likely much higher.
The 172 deceased practitioners hailed from 23 provinces and municipalities. Liaoning reported most deaths of 32, followed by 22 cases in Heilongjiang and 16 cases in Sichuan. Hebei, Hunan and Hubei registered 14, 10 and 10 deaths, respectively. The remaining 17 regions had between 1 and 8 deaths. Many of the deceased practitioners were professionals, including government employees, engineers, professors, journalists, teachers, accountant and financial managers.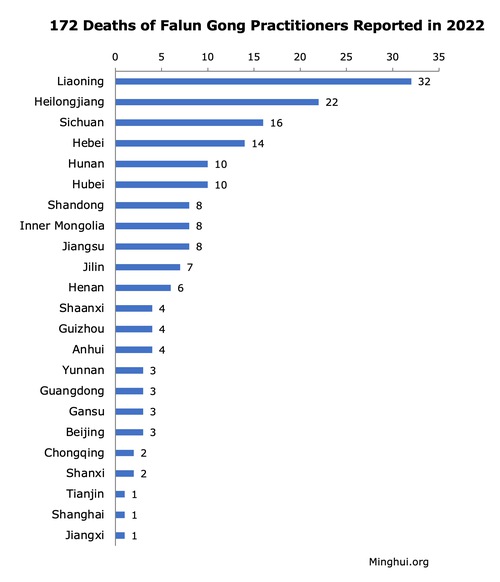 The 172 practitioners, including 98 (57%) females, aged between 39 and 89. A total of 107 (62%) practitioners were aged above 60, including 51 in their 70s and 19 in their 80s. One 88-year-old woman in Heilongjiang died hours after she was arrested. A 70-year-old man died the day after his arrest. Two practitioners, including an 83-year-old man and a 64-year-old woman, died shortly after being given toxic drugs while in custody.
In the case of a 74-year-old Liaoning resident, the police arrested him on August 28, 2021, claiming to take him for a COVID-19 vaccine. When his family was notified on April 24, 2022, that he had died, they noticed he was still alive after rushing to the hospital. Although the doctor tried to resuscitate him, he indeed died moments later.
Even after the 81-year-old man died, local community workers still came to harass him and attempted to verify his death by checking out his place of burial.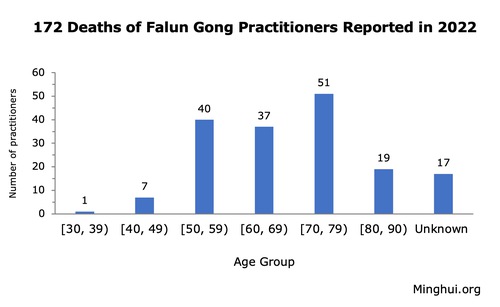 A total of 26 practitioners died from torture in custody, including 17 in prisons, eight in detention centres, and one in police station. In addition to the torture deaths, several practitioners passed away after developing serious conditions in custody and being denied medical parole for not renouncing Falun Gong. Others died after decades of incarceration.
Several deceased practitioners were prime-aged men, who would have otherwise enjoyed successful careers and happy family lives, had they not succumbed to the long-term incarceration and mental distress from the persecution. They included a man who died one year after serving 19 years for tapping into the TV signal to broadcast programs that debunked the Chinese Communist Party's hate propaganda against Falun Gong, and a math tutor who never regained consciousness after being sentenced to two years when he was still in a coma.
The persecution also caused many families to fall apart, after several married couples died one after another, as well as the passing of two parents and their son.
Below are select death cases in 2022. The full list of the 172 deceased practitioners can be downloaded here (PDF).
Deaths Hours or Days Following Arrests
Police Withhold Death Certificate of 88-year-old Woman Who Dies Two Hours Following Arrest
An 88-year-old woman in Harbin City, Heilongjiang Province died two hours following her arrest on April 13, 2022. The police prevented her family from ordering an independent autopsy and withheld the death certificate. Her body is being held in a funeral home.
Ms. Cui Jinshi was reading a Falun Gong book at home on April 13, 2022, when several officers broke in and arrested her. While two young officers held her on the sofa, others searched her home and took her Falun Gong books, a photo of Falun Gong's founder, and an unknown amount of cash.
Ms. Cui tried to stop the police from taking her belongings. In despair, she fell. She kept saying to the police, "Don't take my books away! Don't take Master's photo!"
Two officers dragged Ms. Cui from her apartment on the second floor to the ground floor. Then they suddenly let go of their grip, causing her to fall to the ground.
At 5:45 p.m., Ms. Cui's second son, Mr. Piao Hu, got a call from the police telling him that his mother had been taken to the hospital's emergency room. He rushed to the hospital. While the police were still ordering him to pay for his mother's medical expenses, the doctor came over and pronounced Ms. Cui dead. Mr. Piao went into the operating room and saw her body. Her face was pale, her throat was cut open, and she was only wearing one shoe.
When Mr. Piao was calling the family about Ms. Cui's death, the police ordered a local funeral home to take her body away. Although her family arrived before the hearse left, the driver refused to let them take a close look at Ms. Cui's body. Ms. Cui's family followed it to the funeral home, only to be stopped at the door and not allowed to see the body. Not until two days later on April 15, were the family allowed to see her body, with close monitoring by the police.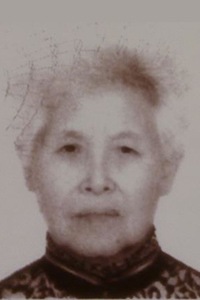 Retired HR Director Dies the Day after Being Arrested for Practicing Falun Gong
Mr. Li Guoxun, a retired human resources director in Zhoukou City, Henan Province, died one day after he was arrested for practicing Falun Gong. He was 70 years old.
Mr. Li was arrested at home at 11 a.m. on July 18, 2022. The police claimed that he and his wife, Ms. Yu Xiuying, had been reported for distributing Falun Gong materials. To prevent the couple from "disrupting social stability" prior to the 20th National Congress of the Chinese Communist Party that opened on October 16, 2022, the police took them to the police station.
The next evening, the police told Ms. Yu that Mr. Li was seriously ill (even though he was already dead). They released her and ordered her to stay at home.
Ms. Yu was devastated to learn of Mr. Li's death when her son said that the police had called and told him his father had died of a stroke. They said they'd taken the body to the local funeral home. The police had the body cremated, without allowing Ms. Yu or her son to see Mr. Li one last time.
Deaths in Custody
English Teacher Imprisoned for His Faith Dies in Custody, Foul Play Suspected
Mr. Shi Jianwei died at Yunnan Province No. 1 Prison on September 26, 2021. While the prison claimed that he died of liver cancer, his family suspects that he was tortured to death, given the bruises on his back and the normal level of tumor marker protein. His body has been cremated against his family's will.
Mr. Shi, a former English teacher in Binchuan County, Yunnan Province, was arrested on September 7, 2015 and later sentenced to 6.5 years at the Yunnan Province No.1 Prison. Beginning in 2019, the prison denied Mr. Shi any family visitation. Two years later, on August 25, 2021, his family received a call from the prison that Mr. Shi was suspected of having liver cancer and had been taken to the prison hospital.
The guards said Mr. Shi had lost more than 20 pounds in recent months and was in critical condition, yet they still refused to release him on medical parole, allow his family to visit him, or to review his medical record, citing the pandemic and Mr. Shi's refusal to renounce Falun Gong.
A month later, on September 26, a prison guard called Mr. Shi's family saying that he was on the verge of death and was being resuscitated. His family asked to visit him, but they were refused again.
Three hours later, the same guard informed the family that Mr. Shi had passed away and demanded they come to the prison to sign his cremation paperwork.
When the family saw Mr. Shi's body at the funeral home, they noticed that he had bruises on his back and fluid accumulation in his abdomen. Suspecting he was tortured, the family refused to sign the cremation agreement and demanded to see his medical record.
A week later, the prison provided three of Mr. Shi's blood test results. In all three tests, the levels of alpha-fetoprotein, an important indicator of liver cancer, were normal.
Mr. Shi's family requested an autopsy, but the prison guards replied that they would have to prepay 100,000 yuan to cover the cost. The guards also said that if the family didn't agree with their assessment of the cause of death, they could file a complaint against the prison with the procuratorate, but it wouldn't change the result whatsoever.
Mr. Shi's family demanded to take his medical record and blood test results with them, but the guards refused to release the documents, claiming that the family were only allowed to take a look at them. Shortly after, the guards cremated Mr. Shi's body against his family's will.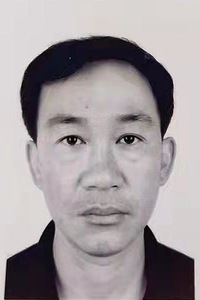 Cancer-stricken Man Dies Days After Being Denied Medical Parole, Still Shackled in His Final Moment
A Shenyang City, Liaoning Province, man with late-stage colon cancer and liver cancer passed away days after he was denied medical parole, simply because he refused to renounce his faith in Falun Gong. He was 67.
Mr. Teng Yuguo's wife couldn't fall asleep for days and often burst into tears over his death. She said as soon as she closed her eyes, she saw the scene of her emaciated and dying husband, still shackled in the heavily guarded hospital bed.
Mr. Teng was arrested on October 13, 2020, while harvesting pumpkins with his wife in their yard. He was sentenced to five years by the Yuhong District Court around February 2021. After he was taken to the Dongling Prison, the prison denied his family from visiting him and also limited the amount of cash they could deposit for him to 100 yuan every month, with the excuse that he didn't renounce Falun Gong. Mr. Teng didn't have much left to buy extra food when the food provided by the prison was very poor and scarce.
When an inmate was released in early November 2022, Mr. Teng asked for his help to inform his family of his developing colon cancer and incontinence about six months ago.
The family rushed to the prison and was finally allowed to see him, with four guards present. They were devastated to see the emaciated man sitting in a wheelchair. His legs were severely swollen. He was also wearing a diaper.
The guard said to the family that they could either send Mr. Teng to the elderly ward, so he didn't have to do the forced labor; or they could take him to the hospital for treatment.
The family questioned the guards why they kept telling them that Mr. Teng was doing great in the prison, without mentioning a word about his condition and causing him to miss the best time of treatment.
At his family's insistence, Mr. Teng was taken to the Shenyang No.4 Hospital. The doctor opened him up, only to see that tumors had filled his intestines and were obstructing his bowels. The tumors had also spread to his liver. The doctor said there was nothing more he could do. He estimated that he only had a few months left.
By then, Mr. Teng couldn't eat and relied on IVs to sustain his life. He was so weak that he didn't even have the strength to sit up. He didn't have bowel movements, either.
When Mr. Teng was kept in the intensive care unit in the hospital, the prison guards watched him around the clock. His daughter and wife took turns caring for him. The prison ordered the family to pay his medical expenses, which ran about 3,000 yuan a day. The family turned in the only 6,000 yuan they had. His wife, who had lung surgery last year and was still recovering, had a hard time borrowing money for him.
Mr. Teng's family applied for medical parole for him. The prison originally approved it, but later took back the decision, with the excuse that he refused to renounce Falun Gong.
As the family couldn't afford to keep Mr. Teng in the hospital, the prison transferred him back to the prison on November 30. Only a day later, he was on the verge of death. Not wanting him to die in the prison, the prison called an ambulance on December 1 and took him to the hospital for resuscitation.
The prison informed Mr. Teng's family of his condition the next afternoon. His wife, children, and other relatives rushed to the hospital heavily guarded by the police.
Mr. Teng, who was on life support, was still conscious but was unable to speak. The prison guards prohibited his family from getting close to him. With his wife's strong protest, she was allowed to come over to him, with several officers standing nearby watching closely.
During their final farewell, Mr. Teng's wife was devastated to see that he was still shackled. She shouted at the guards to remove them, and they finally did.
At 11:51 p.m. on December 2, Mr. Teng passed away, under tight surveillance. The guards still didn't allow his family to get close to his body or dress him up. Instead, they hired a company to handle his makeup. Also under tight surveillance, Mr. Teng's body was taken to a funeral home and cremated on December 4.
74-year-old Man Dies While Detained for Practicing Falun Gong
Mr. Liu Qingfei's family received a call from the local detention centre at 8:25 p.m. on April 24, 2022, and was told that the 74-year-old Shenyang City, Liaoning Province resident had come down with a sudden, acute condition and had died despite efforts to resuscitate him in the hospital.
When the family rushed to the hospital, Mr. Liu's eyes and mouth were open. His eyes were still bright and didn't look like the eyes of a dead person. His family touched his body and realised that it was still warm. They asked the detention centre guards standing on the side, "Why did the doctor stop trying to resuscitate him when he is still alive?"
The guards claimed that Mr. Liu suffered an acute condition at 6:39 p.m. They called the hospital and the ambulance came 20 minutes later. Mr. Liu was pronounced dead at 7:08 p.m. It's not clear if he was in the hospital by 7:08 p.m. It's also not clear who pronounced him dead and why the detention center guards waited until 8:25 p.m. to inform his family.
At the family's insistence, the doctor tried again to resuscitate Mr. Liu, but he died moments later.
Mr. Liu was arrested at home on August 28, 2021. The police broke into his place claiming they were there to give him a COVID-19 vaccine. He was interrogated while in custody and suffered a heart attack on the second day of his arrest. He was awaiting trial by the Liaozhong District Court when he died.
Woman Dies in Custody Eight Days After Being Arrested and Denied Medical Treatment
Ms. Zhang Siqin, a 69-year-old woman in Dalian City, Liaoning Province, died at the Yaojia Detention Centre on January 26, 2022, eight days after she was arrested for practicing Falun Gong.
Ms. Zhang was first arrested on November 12, 2019 while giving out calendars with information about Falun Gong near a farmers market. She was later released on December 10, 2019 due to a medical condition. The Jinzhou District Court approved her arrest on October 14, 2020, and sentenced her to two years with a 5,000-yuan fine on August 27, 2021.
Ms. Zhang was taken back into custody on January 19, 2022 to serve her prison term. She was terrified and was struck with a wave of nausea. Even though the doctor advised against her detention due to her medical condition, the police insisted that she was fine and took her to the Yaojia Detention Centre.
On the first evening at the detention centre, Ms. Zhang was unable to walk on her own or fall asleep. The guards refused to provide her with any food. The next morning, she was so weak that she wasn't able to dress herself and had to rely on her roommate's help.
For the next few days, Ms. Zhang was unable to keep any food down and vomited everything she ate. The food the guards provided was only congee and steamed buns. She remained too weak to stand on her own.
When Ms. Zhang was admitted to the detention centre, the guards took away her dentures. She asked several times to have them back, but the guards refused to return them, which made it even more difficult for her to eat.
Despite her medical issues, the guards didn't take Ms. Zhang to see a doctor and instead gave her some unknown drugs, which caused her condition to further deteriorate.
On January 25, the sixth day of her detention, Ms. Zhang began to shake uncontrollably and was unable to sit up on her own. Her roommate reported it to the guards, who insisted on giving her an unknown drug, again with no medical assessment. When Ms. Zhang was unable to take the drug, the guards ordered five inmates to hold her and force-feed her the drug. She became incapacitated and lost the strength to sit up afterward.
At 2:20 a.m. on January 26, Ms. Zhang again began to shake uncontrollably. The inmates in the room were all awake, yet the guards still ignored her. At 9 a.m., she was taken out in a wheelchair but was brought back just ten minutes later. The guards continued to forcibly administer the unknown drug.
Ms. Zhang began to run a fever around midnight. By 2:40 a.m. she was in critical condition. The guards still refused to take her to a hospital and ordered the other inmates in her room to keep monitoring her.
By the morning, Ms. Zhang was unable to sit up even with her cellmate's help. Although the inmates reported her situation at 7:07 a.m., the doctor hadn't shown up by 7:25 a.m. Her roommate kept calling the guards, but no one showed up.
By the time the doctor arrived at 7:30 a.m., Ms. Zhang had stopped breathing and had no pulse. The doctor tried to resuscitate her, but she didn't respond. The doctor called the guards at 7:34 a.m., but they didn't answer until the doctor called the third time. Ms. Zhang was pronounced dead at 7:35 a.m. and removed from the cell.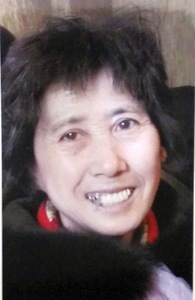 "If I Die, It Will Be the Result of Torture"
Ms. Ji Yunzhi, a resident of Lindong Town, Bairin Left Banner, Chiefeng City, Inner Mongolia, and mother of Simon Zhang, a U.S. resident, died at Bairin Hospital on March 21, 2022, seven weeks after she was arrested on Chinese New Year's Day (February 1). She was 66.
While in detention, she was brutally beaten by guards and inmates until she was on the verge of death. "If I die, it will be the result of torture," Ms. Ji once said to her cellmates.
Ms. Ji was arrested at home on February 1, 2022. Despite the fact that she was experiencing convulsions and was vomiting, the police had her sit on the cold tile floor for a long time, taunting her by saying she was faking her symptoms.
Ms. Ji went on a hunger strike at the Bairin Left Banner Detention Centre and was force-fed through a nasal tube. The detention centre doctor slapped her in the face many times.
On the morning of March 20, 2022, Ms. Ji's husband received a call from the Bairin police notifying him to go to the hospital. Upon arriving there, he was told that doctors had started to resuscitate Ms. Ji, but the prognosis was not good. A plan was made to transfer her from Bairin Hospital to Chifeng City Hospital. But an expert from the city hospital, who had come to Bairin to examine Ms. Ji, said it was too late and there was no need to transfer her. Her husband repeatedly requested her release, but the officer in charge (Xu Jianfeng) refused to do so, saying he needed approval from his superiors.
The family was notified of Ms. Ji's death the next day. They asked to see her one last time in the hospital room, but the police stopped them. Through the window, her family saw that her esophagus had been cut open. There was also blood on her face and shoulder. Many police officers were standing in the hallway. They drove Ms. Ji's family from that level of the building and closed the elevator to that level so that no one could access the area.
After her family left that floor, the police called the Bairin Crematorium, which soon dispatched a vehicle to pick up Ms. Ji's body for storage. When Ms. Ji's family arrived at the crematorium, the forensic investigator did not allow them in. They begged the police and were eventually allowed to go in one at a time and take a quick look at her body. Over 40 police officers had been dispatched to guard the body.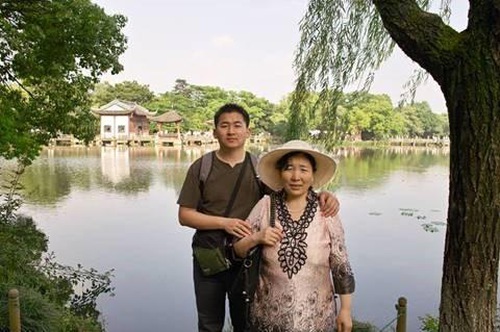 Critically Ill Man, 77, Denied Medical Parole While Serving 8.5 Years, Dies Months Later
The Jidong No. 5 Prison in Hebei Province notified Mr. Han Junde's family on April 14, 2022, that the Baoding City, Hebei Province man had passed away at 10:35 a.m. that day.
Mr. Han died less than three years after he was admitted to the prison to serve an 8.5-year term for making gourd crafts carved with "Truthfulness-Compassion-Forbearance" carved on them
After Mr. Han was taken to the prison, the guards repeatedly ordered him to plead guilty and renounce Falun Gong. Because he refused to comply, they stripped his rights to see, call, or write to his family.
Mr. Han's family later learned that he had developed severe anemia due to the abuse in prison. He became blind in one eye and had to be wheeled around in a wheelchair in prison. The family had applied for medical parole for him, but the Jingxiu District Justice Bureau denied their application, even after the doctor determined that he qualified.
Mr. Han was hospitalized around early 2022 after becoming critically ill. He was wearing a drainage tube after he was discharged. He was taken to the hospital again on April 5, 2022. He was unable to breathe on his own and was put on a ventilator. He passed away nine days later.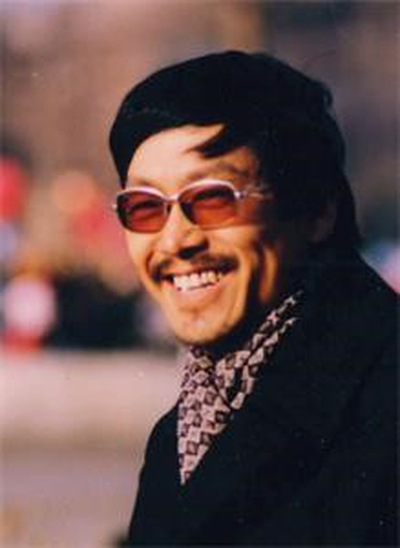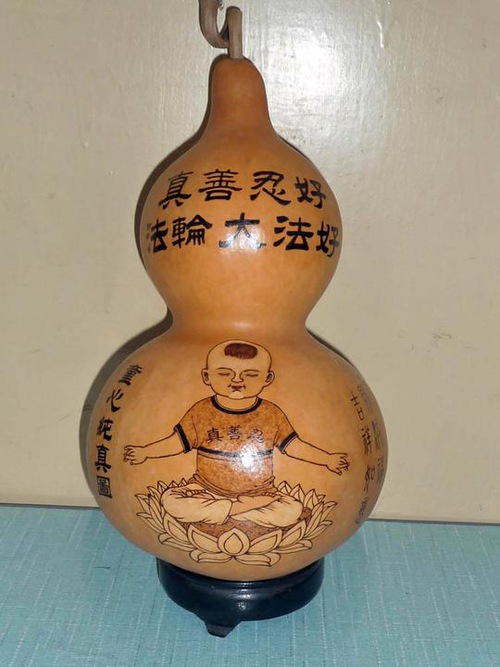 Wrongfully Convicted Woman Dies Days After Being Denied Medical Parole
Ms. Liu Hongxia, a 47-year-old Falun Gong practitioner, was denied medical parole despite her critical condition and died on November 8, 2022.
Ms. Liu of Dalian City, Liaoning Province, was arrested on October 28, 2021, for putting up posters about Falun Gong. She started a hunger strike on February 14, 2022, to protest the persecution.
When her lawyer went to visit her on February 28, 2022, he was told that she had been moved to Xinhua Hospital, which is associated with the Dalian City Detention Centre and local prisons.
In the hospital, Ms. Liu was tied to a bed, force-fed, and injected with unknown drugs. She was denied all visits, including by her lawyer and family.
Judge Guo Danhua of the Ganjingzi District Court tried Ms. Liu virtually and sentenced her to four years on July 13, six days after she was taken back to the detention centre. No one in her family was allowed to attend the hearing. Her lawyer's request to postpone the proceedings was also denied. Ms. Liu was so weak and emaciated that she couldn't even sit up and slumped in her chair during the entire proceedings.
When her lawyer was finally given a pass to visit her after the trial, she couldn't remember her hospital stay but did know that she was force-fed and given the injection. Her lawyer appealed the case for her, but the higher court ruled in October to uphold the original verdict.
Ms. Liu was admitted to Xinhua Hospital again in late August and was moved to an intensive care unit in late October. The doctors issued a critical condition notice for her. Her family applied for medical parole for her on October 25, but the court and the detention centre denied it.
Ms. Liu was extremely weak when her family was allowed to visit her on October 29. She began to bleed from her mouth and nose on November 4. Thinking that she would die in a few days, the doctor asked her family to bring her child to see her for the last time. The visit was monitored by a police officer. Ms. Liu passed away on the morning of November 8.
Elderly Practitioners Succumbed to the Persecution
89-year-old Man Dies Following Latest Harassment
Mr. Liu Yongcun, of Shulan City, Jilin Province, was reported for talking to people about Falun Gong and distributing calendars bearing information about Falun Gong in the winter of 2020. The police ransacked his home and forced him to sign a statement to renounce Falun Gong. Deeply terrified, he suffered a stroke and became bedridden since.
The police returned again on May 12, 2021 to ransack his home. Many of his personal belongings were taken away. The police attempted to arrest him, but relented upon seeing his physical condition.
Struggling with declining health, Mr. Liu passed away on September 10, 2021. He was 89.
Retired Engineer Dies after Being Blinded with Drugs and Suffering Broken Legs
Ms. Wang Liuzhen passed away on January 1, 2022, capping decades of suffering persecution for her faith in Falun Gong. She was in her 80s.
Ms. Wang was a retired metallurgical engineer in the Chang'an No. 2 Factory in Chongqing. After the communist regime ordered the persecution in 1999, she was given two labor camp terms and held in a psychiatric hospital three times. She was fed and injected with toxic drugs, which damaged her internal organs and caused her to become blind.
The residential committee and the Jiangbei District 610 Office forced her husband to divorce her, threatening to suspend his pension if he didn't. Her children were also forced to sign agreements not to visit their mother or they would lose their jobs.
To monitor Ms. Wang, the authorities built a sentry box outside her home and monitored her around the clock for over ten years. The people monitoring her often beat and verbally abused her, breaking her nose with a wooden stool at one point. They shouted at her, "I'm going to beat you to death tonight!"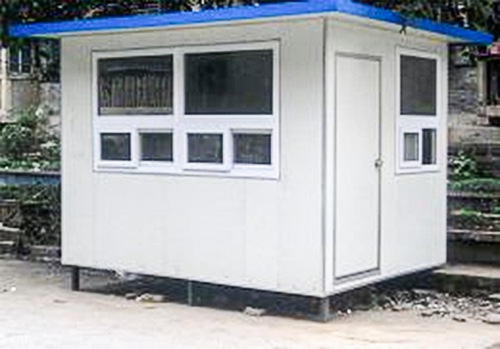 When Ms. Wang refused to stay silent and still tried to seek justice even after she became blind, they retaliated by taking her to a remote location, where they beat her so badly that they broke her legs on August 14, 2011.
According to local practitioners who saw Ms. Wang in the hospital, her knees were wrapped in bandages. The doctor kept a nasal feeding tube in her, despite the fact that she had no problem eating. She could hear and understand what they said, but she couldn't talk to them due to a mouth opener placed by the doctor and kept crying.
Several practitioners visited her again days later. They said to her, "If you fell on your own, don't move. But if they harmed you, you can hold my hand." She then held the practitioner's hand. They repeated the same question several times and she had the same response.
One practitioner asked her again, "How many people harmed you? You can shake my hand to indicate the number." She then held her hand twice.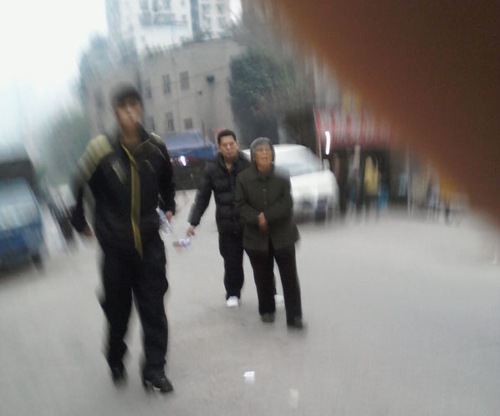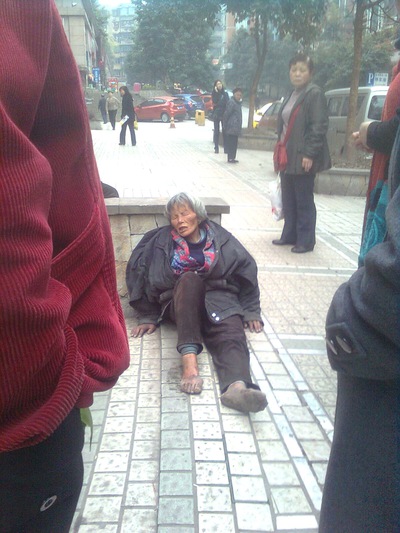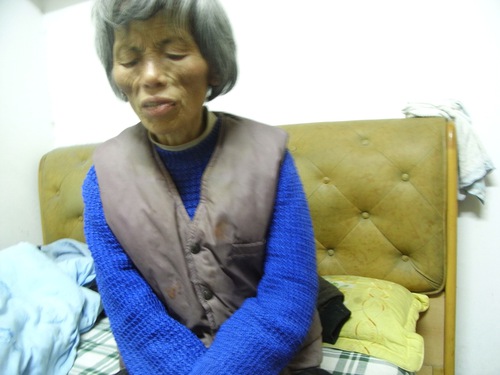 81-year-old Man Dies One Year After Serving Third Prison Term
Mr. Liao Songlin struggled with poor health after he was released on July 13, 2021, having served a three-year term for practicing Falun Gong. The 81-year-old Chenzhou City, Hunan Province, man passed away on October 14, 2022. Even after his passing, local community workers still came to harass him and even attempted to verify his death by checking out his place of burial.
Mr. Liao, a veteran retired from the Military Reception Centre, was arrested at home on July 19, 2018. After days at the local detention center, the then-77-year-old man was diagnosed with high blood pressure, heart disease, a minor stroke, and tuberculosis. Instead of releasing him, officials sent him to a military hospital. His wife demanded his release, but to no avail.
The Beihu District Court heard Mr. Liao's case in the hospital on September 27. He was handcuffed and shackled and not allowed to defend himself. The judge sentenced him to three years on October 22, 2018. His pension was suspended during his term.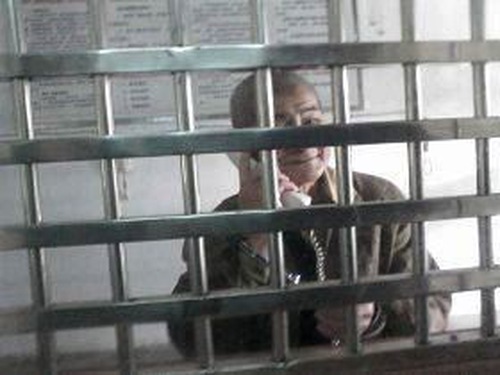 83-year-old Man Injected with Toxic Drug While in Prison, Dies 20 Days After Release
Mr. Bai Xingguo was injected with a toxic drug six months before his term for practicing Falun Gong ended. His health kept deteriorating, and he was constantly in a delirious state. When the prison asked his family to pick him up in January 2022, he was already incapacitated and on the verge of death. He passed away 20 days later.
Mr. Bai, of Chengde City, Hebei Province, was arrested on January 4, 2018, when he went with several other practitioners to put up banners reading "Falun Dafa is good." He stood trial on April 18, 2018 and was sentenced to three years in June 2018.
On December 15, 2018, Mr. Bai, who had been released on bail, was taken back into custody at Tucheng Detention Centre and later transferred to the Tangshan Prison, where he was given the deadly shot.
After Two Prison Terms and Relentless Harassment, 87-year-old Displaced Former Government Official Dies Weeks after Returning Home
Mr. Luo Zhenggui and his wife were forced to live away from their home after he was put on residential surveillance following a brief detention on November 5, 2021. The Gulin County, Sichuan Province, resident suffered declining health while he was displaced. He returned home in critical condition and passed away two weeks later, on July 6, 2022, six days after the passing of his mother-in-law. He was 87 years old.
Mr. Luo, a former Shibao Township Government official, had been repeatedly arrested, harassed, and detained for refusing to give up his faith in the past two decades.
Mr. Luo served three and a half years between 2004 and 2007. Although he escaped another arrest in 2009, the authorities confiscated his apartment and suspended his pension. He was forced to move from one place to another until he was arrested again in 2012 and given a second prison sentence of four years.
Mr. Luo's last arrest was on November 5, 2021, when he was on his way home after visiting a bank. The police smashed the lock on his rental apartment and raided the place. Mr. Luo's wife, Ms. Zhang Ziqin, was at home caring for her mother when the police broke in.
Upon entering, the police held Ms. Zhang's arms and didn't allow her to move. They took photos of her and recorded her voice, all against her will. Only when her mother insisted that she be allowed to change her diaper did the police loosen their grip.
After taking Mr. Luo to the Gulin County Police Department for interrogation, the police measured his height and weight and collected his fingerprints and footprints. They also took his photo and recorded his voice. They then took him to the hospital for a physical exam before taking him home at around 11:30 p.m.
The police also attempted to arrest Ms. Zhang and carry her away. But because she shouted for help and struggled, the police gave up and interrogated her at home.
When the police took Mr. Luo home, they announced that the couple would be placed under residential surveillance. To avoid further persecution, Ms. Zhang entrusted others to help take care of her mother and lived away from home with Mr. Luo.
When Mr. Luo's health started to decline while on the run, they decided to return home. But shortly after that, Ms. Zhang was dealt a heavy blow with the death of her mother and Mr. Luo six days apart.
Deaths of Professionals
Author and Educator Dies Six Days After Being Admitted to Prison
Mr. Wang Xueming, a well-known author and educator in Chengdu City, Sichuan Province, was arrested on November 20, 2020, while he was in Baotou City, Inner Mongolia to give lectures on traditional Chinese culture. An insider revealed that he had been reported by a student's parent for talking to him about Falun Gong. He was later sentenced to a four-year prison term.
Mr. Wang's family was informed of his death on September 21, 2022, only six days after he was taken to the Hohhot No. 1 Prison in Inner Mongolia. While the prison refused to reveal any details, his family suspects that he died from torture, as he had always been healthy before being arrested.
Mr. Wang, who used the pen names of Yun Xiao and Tang Ming in his writings, held a bachelor's degree in Chinese language and literature from Sichuan Normal University and a master's degree in education from Southwest Normal University. He was a member of the Sichuan Writers Association and a director of the Longquan Writers Association. He was also awarded "Top Ten Outstanding Writers on Sohu.com in 2007."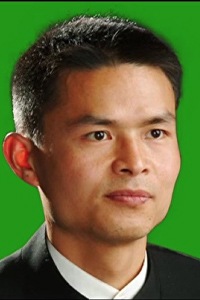 Former Journalist Dies in Prison Hospital 16 Months after Being Jailed for His Faith
Sixteen months after a Baoding City, Hebei Province man was transferred to the Jidong No. 5 Prison to serve a seven-year term for practicing Falun Gong, he passed away on August 10, 2022, in the hospital affiliated with the prison. Mr. Yang Zhixiong was 58 years old.
According to Mr. Yang's family, when they saw his body at the Tangshan Union Hospital, he was emaciated and his eyes and mouth were wide open.
Mr. Yang had fallen into a coma due to myeloma (cancer of the plasma cells) on June 30, 2022, but the guards waited for two days before taking him to the hospital. Prior to that, he had often struggled with pain in his back and legs.
Mr. Yang was kept in the intensive care unit for nearly 40 days, between July 2 and August 10, and his family visitation was restricted. The guards also kept him handcuffed and shackled. A prison guard told his family after his passing that if Mr. Yang had renounced Falun Gong, they wouldn't have treated him this way.
Mr. Yang was arrested on September 26, 2019, and sentenced to 6.5 years in prison on December 1, 2020. His appeal was rejected and he was taken to the Jidong No. 5 Prison around April 2021.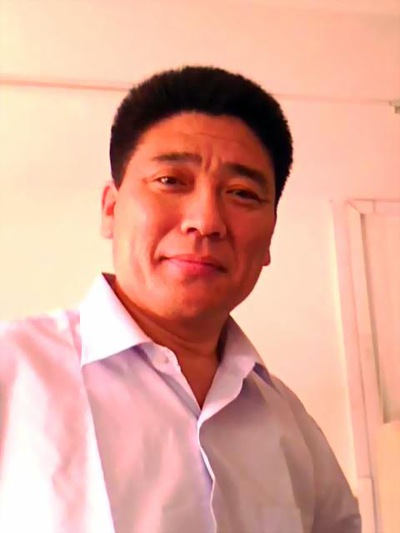 Sentenced to Prison While Still in a Coma, Math Tutor Passes Away
Mr. Ding Guochen was still in a coma when he was sentenced to two years for practicing Falun Gong. The math tutor from Dalian City, Liaoning Province passed away two months later, on April 30, 2022. He was 51 years old.
Mr. Ding and his wife Ms. Yan Qinghua were arrested during a police sweep across the province on July 11, 2019. The group arrest came as part of the Chinese Communist Party's effort to "maintain stability" ahead of its 70th anniversary since taking power in 1949.
Ms. Yan was released later that day, but Mr. Ding was taken to the Jinzhou Detention Centre in the evening. He held a four-week-long hunger strike to protest the arbitrary detention and was force-fed. He lost his hearing and had a stroke as a result of the abuse. He was then released on bail on October 19, 2019.
Mr. Ding resumed practicing Falun Gong upon returning home. He regained some of his mobility, but still had issues with his hearing.
While Mr. Ding was still detained, Ms. Yan went to the local police station to demand his release. Officer Li once grabbed her neck and pushed her into a room for interrogation. When she returned on September 10, 2019, the same officer pulled her hair and pushed her around. Much of her hair fell out as a result. The police also threatened to arrest her two children when they reached 18 years of age.
Mr. Ding had another stroke on January 27, 2021, and fell into a coma. He never regained consciousness and remained in a vegetative state. Despite his condition, the Jinzhou District Court delivered the couple's wrongful convictions on February 23. Mr. Ding was sentenced to two years in prison and fined 5,000 yuan. Ms. Yan was given three and a half years and fined 8,000 yuan.
At one point, three staff members of the Jinzhou District Court went to the couple's home to verify Mr. Ding's health. Ms. Yan pointed to the man, who was in a coma and on oxygen, and said, "He has ended up like this due to the persecution. See for yourself. We can't afford to have him treated in the hospital so I have to take care of him at home."
Seeing the dire situation of the family, the court staff members said to her, "You can stay home to take care of him."
Ms. Yan spent all of the family's savings on Mr. Ding's medical treatment and borrowed more from their relatives and friends. Now living in a destitute situation, she also struggles to cope with the void left by Mr. Ding's passing and care for their two children.
Decades of Persecution and Family Tragedies
Heilongjiang Man Dies One Year After Serving a 19-year Prison Term for Speaking Up about His Persecuted Faith
When Mr. Zhang Yaoming was released after serving 19 years for intercepting TV signals to broadcast programs that debunked the propaganda against Falun Gong, he was very weak and emaciated. The Hegang City, Heilongjiang Province resident passed away a year later, at the age of 59. He is survived by his wife Ms. Fan Fengzhen and their child.
When the Chinese Communist Party announced to persecute Falun Gong on July 20, 1999, all state-controlled media was filled with propaganda programs demonizing Falun Gong. Overnight, the 100 millions practitioners of the peaceful mind-body discipline became the top enemy of the state.
To clarify the facts about Falun Gong, Mr. Zhang, a middle school math teacher, and four other practitioners risked their lives tapping into the local TV signal on April 20, 2002, and played a 20-minute video refuting the Tiananmen Self-immolation hoax that defamed Falun Gong. Zhang Xingfu, the Party secretary of Hegang City, was infuriated. He gave the order to arrest the practitioners involved, claiming, "Even if you arrest 1,000 wrong people, you can't miss a single one who did it!"
In a few days, over 500 local Falun Gong practitioners in Hegang City were arrested. Mr. Zhang and Ms. Fan were arrested at a relative's home in the middle of the night on April 24. Three other practitioners were also arrested shortly after.
The Gongnong District Court handed down heavy terms to the four practitioners in October 2002: Mr. Zhang got the longest term of 19 years and the other three were given 13 to 18 years. The fifth practitioner who escaped the arrest back then was arrested on September 7, 2005, and sentenced to 17 years in 2006.
Mr. Zhang was first held at the Harbin No.3 Prison and then transferred to the Tailai Prison on June 30, 2014. The prison authorities promised a 2,000-yuan reward to the head of each ward and a 1,000-yuan reward to each of the guards if any ward was able to successfully force all the practitioners in the ward to renounce Falun Gong. Any warden or guard that failed to achieve the 100% transformation rate would face pay deduction, demotion or even job termination. The guards were allowed to use whatever torture methods it may take to break the practitioners' will. If there were not enough torture tools, they could make their own.
The practitioners were often hung up by their handcuffs or tied up to a stretching torture instrument. They weren't allowed to sleep at night. When they dozed off, the guards would pour cold water over them. Sometimes they were hung up and placed under the scorching sun (when the temperature reached over 104 °F). Some were placed in a three-foot-deep pit for days, with their limbs tied up. In another torture, the guards put two steel balls underneath a practitioner's buttocks for seven days. In addition to the torture, the practitioners were also forced to do intensive hard labor without pay.
Mr. Zhang developed severe anemia, skin disease, and hemorrhoids as a result of the torture. Although he was released on medical parole at one point, he was taken back to prison on August 17, 2015, and finished serving his term.
When his term ended on April 23, 2021, instead of informing his family to pick him up, the prison authorities handed him to officials of the Hegang City Political and Legal Affairs Committee, 610 Office and Hongjun Police Station. They took him to the Hongjun Police Station and forced his family to write a statement to renounce Falun Gong on his behalf, before allowing him to go home.
Due to the severe damage to his health after the lengthy prison term and non-stop torture, Mr. Zhang never recovered and passed away in early April 2022.
Liaoning Woman Dies After 16 Years of Mental Disorder Due to Involuntary Drug Administration in Prison
Ms. Hu Yanbo suffered a mental disorder when she was released from Liaoning Province Women's Prison in 2006, after serving four years for practicing Falun Gong. As she was unable to care for herself, her father sent her to a psychiatric hospital. After struggling for 16 years, she passed away in January 2022. She was 50.
Ms. Fu, of Fushun City, Liaoning Province, was arrested four times between 1999 and 2002, including one arrest in 2000 for going to Beijing to appeal for the right to practice Falun Gong.
She was sentenced to four years following her last arrest in October 2002. She was held at the Masanjia Forced Labor Camp for three years and then transferred to the Liaoning Province Women's Prison.
The prison guards used all kinds of torture trying to force her to renounce Falun Gong, including beatings, up to one month of sleep deprivation, and tying her to a metal rack in the bathroom in a squat position. One practitioner who was also imprisoned there once recounted that the guards forced Ms. Hu to stand in the bathroom in order to transform her. The standing started from 10 p.m. and no one knew how long it lasted every night.
Ms. Hu later fell ill. The guards ordered the inmates to add unknown drugs to her food, which caused her to be dizzy-headed and unable to get out of bed. She almost died from the torture and drug administration.
Ms. Hu was in a delirious state when she was released. She was also fired by her employer. As her mother had passed away a long time ago, her father sent her to a psychiatric hospital, as he still had to work to support the family.
In the first week of 2022, her father received a call from the hospital and was informed that she had just passed away. The nurse caring for her said she refused to eat meat and only ate pickles. The elderly father was devastated to see her emaciated body.
Wife and Husband Die One Year Apart
Less than one year after Ms. Guan Fengxia passed away due to years of harassment for practicing Falun Gong, her husband, Mr. Dai Zhidong, also died, one month following his last arrest for their shared faith.
Mr. Dai, a former submersible pump company employee under the Daqing Petroleum Administration in Heilongjiang Province, was arrested on January 8, 2022, after he and another practitioner were reported for giving out a pamphlet with information about Falun Gong at a gas station. The police ransacked his home and charged him a 10,000-yuan bond, before releasing him on bail.
Mr. Dai was under tremendous pressure with the newest round of financial persecution, as he was still struggling to pay off Ms. Guan's medical bills. With the police confiscating his only 5,000 yuan in cash savings, and his son paying the 10,000 yuan bond for him, he worried when he would be able to pay off all the debts. Meanwhile, the police threatened Mr. Dai not to report the persecution to the Minghui.org website. The mental pressure took a toll on his health and he passed away on February 11, 2022. He was 60 years old.
Since the onset of the persecution, Mr. Dai and Ms. Guan were repeatedly arrested for speaking up for Falun Gong. Ms. Guan was given two years of forced labor and Mr. Dai was sentenced to seven years. Both of them were subjected to beatings, sleep deprivation and other torture for not renouncing their faith.
Even after they were released, the authorities kept harassing the couple, leaving them under tremendous mental distress. The ongoing persecution took a toll on Ms. Guan's health. She developed uterine fibroids and had irregular bleeding. She was unable to eat and became emaciated. She passed away on March 5, 2021, at just 60 years old.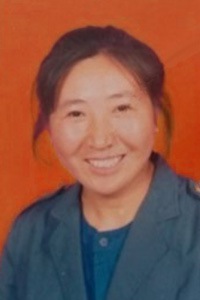 Premature Death of 44-year-old Man After a Two-year Labor Camp Detention, Forced Divorce and Non-stop Harassment
Mr. Guan Yunzhi, a resident of Tieling City, Liaoning Province, was subjected to inhumane torture while serving a two-year labor camp term between 2002 and 2004 for practicing Falun Gong. His wife divorced him due to the pressure of the persecution. He was also fired by his workplace and subjected to non-stop harassment from the authorities. The mental suffering took a toll on his health. He passed away on March 1, 2022, at the age of 44.
Mr. Guan was first arrested on December 24, 2001, while working at the Qinghe District Power Company. The police threatened to sentence him to prison, to set a precedent [of convicting innocent Falun Gong practitioners] in the Qinghe District.
As Mr. Guan refused to renounce Falun Gong during the interrogation, the police slapped him in the face, stepped on his toes, yanked his neck, pulled his body hair and burnt his fingers with cigarettes.
Mr. Guan was given two years at the Tieling Forced Labor Camp in late January 2002. When he wrote how he benefitted from practicing Falun Gong in the required "thought report," the guards whipped his back with a spiked rubber stick with a metal core. As Mr. Guan remained firm in his faith, the guards shocked him with electric batons on his head, chest and then all over his body.
The police continued to harass Mr. Guan after he was released. Upon learning about a potential arrest in March 2007, he lived away from home to avoid the police and was fired by his workplace. By then, his wife had been pregnant for a few months. Suspecting that she also practiced Falun Gong, the police arrested and threatened her. Not wanting to continue living in fear, she divorced him.
Mr. Guan was stopped and questioned by the police while walking on the street on July 30, 2014. After a police officer found out that he practiced Falun Gong, he arrested him and interrogated him overnight. Mr. Guan was released on bail after over 40 days of detention.
As a result of the relentless persecution, Mr. Guan began to suffer medical problems. His health kept deteriorating over the years and he eventually died on March 1, 2022.
Chinese version available
(Clearwisdom)