(Minghui.org) During the Christmas holiday break, from December 25 to December 31, 2022, 15 Falun Gong practitioners from New Zealand went to New Caledonia to introduce the spiritual practice to the local people. They also raised awareness of the Chinese Communist Party's (CCP) persecution of the practice in China.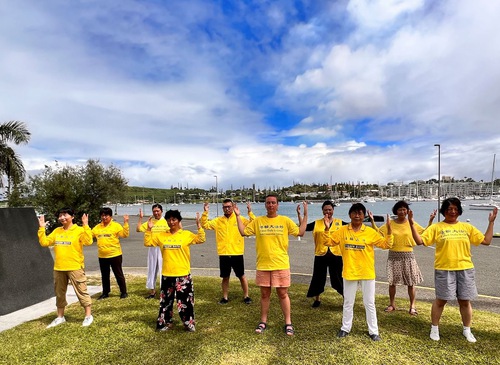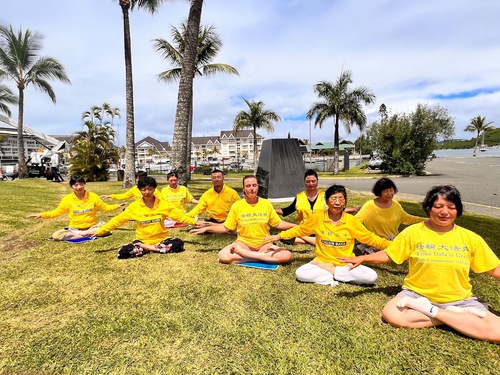 New Caledonia has a population of 300,000 and is located in the South Pacific Ocean. The island has beautiful scenery. In December, the temperatures can reach as high as 100 degrees Fahrenheit (38 degrees Celsius). Sometimes it is cloudy and rainy, and sometimes the sunshine is scorching and the weather is hot.
Falun Gong practitioners distributed leaflets in shopping malls, clarified the truth to government departments and the media, and taught the exercises in a downtown park and a kindergarten. Many people learned about Falun Gong during their activities.
A local radio station broadcast news about Falun Gong and encouraged people to go to event sites to learn it. The people of New Caledonia are friendly and kind. They agree with the principles of Truthfulness-Compassion-Forbearance, and were grateful for the opportunity to learn Falun Gong, also know as Falun Dafa.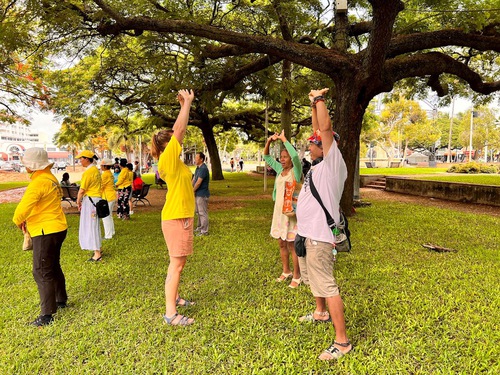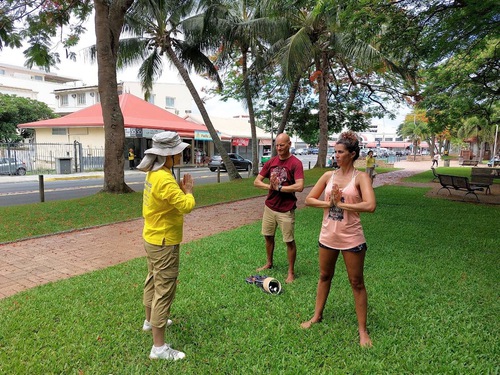 A Chinese Resident Admires Falun Gong
Mr. Lin is from Shandong Province in China and immigrated to New Caledonia three years ago. He came across practitioners during their events on the island.
"The CCP ignores human rights. Under its brutal rule, China's 5,000-year civilisation has been destroyed. The CCP is corrupt and the system is bad. It makes it difficult for good people to survive. Facing this pandemic, they have no respect for life. The indifference of the CCP is vividly displayed. The CCP's media are all talking nonsense, and I don't even read it," he said.
He went on to say, "The CCP harvests organs from living Falun Gong practitioners. It is so evil. They also try to confuse the concept of the Party and the country. Overseas Chinese are patriotic and nostalgic for their hometowns. The CCP tries to promote that they represent China, but in fact they usurp power and are traitors. During the war against the Japanese invaders in World War II, millions of officers and soldiers of the Kuomintang died in the battle, but the CCP army did not resist the Japanese and took the opportunity to expand itself. The CCP is very evil, and started as bandits. Overseas Chinese read WeChat [a Chinese social media], and the CCP uses it to brainwash the Chinese."
"I admire Falun Gong," he said sincerely. "When I was in China, I tried my best to help practitioners. Many of them are department-level and bureau-level officials. They are firm in their belief and never compromise or give up."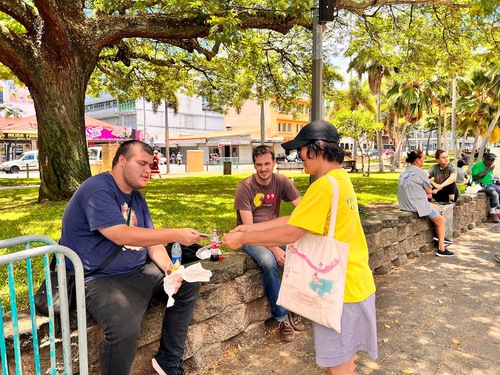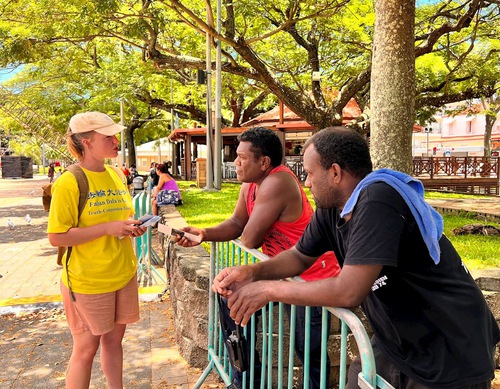 Immigrant Agrees with Truthfulness-Compassion-Forbearance 
Mr. Feng is from Beihai in Guangxi Province, China, and has lived in New Caledonia for more than 20 years. He saw Falun Gong practitioners doing the exercises in a park, and the words "Falun Dafa is good" in Chinese on the yellow T-shirt caught his eyes. He stopped his bicycle and greeted the practitioners warmly.
He said, "I come from China, and I know the CCP's dictatorship very well. I don't believe in the CCP. I have a cousin who was persecuted because he learned Falun Gong, so I know what's happened. I also like Truthfulness-Compassion-Forbearance."
"My hometown is beautiful, but I don't like the CCP," he said. "The CCP is authoritarian and [the common people] have no human rights."
Mr. Feng decided to quit the Communist Young Pioneers he joined when he was younger.
Truthfulness-Compassion-Forbearance is Good
Ram and Adar are a couple from Israel who were traveling in New Caledonia. Adar said, "I got the leaflet yesterday and came to know we could learn Falun Gong in the park downtown today. We come here especially for this. I always think too much and want to relax. This exercise makes me feel relaxed. Truthfulness-Compassion-Forbearance is very good. If you want to have a healthy body, you must first have correct thinking, because everything is internally connected. Learning Falun Gong gives me a feeling of returning to myself," Adar said.
Ram said, "I know that in China, the CCP suppresses Falun Gong practitioners, puts them in prison, and persecutes them. It is bad and crazy. China is not a free country. The CCP does whatever it wants without democracy."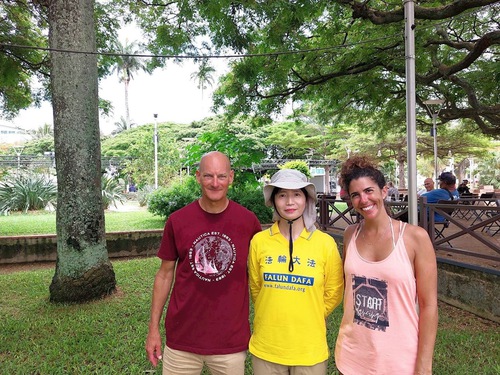 Falun Gong Lets Me Heal and Relax
Violette's husband passed away not long ago due to the pandemic. She was sad and depressed. She had been looking forward to learning to meditate to relax her mind. Learning Falun Gong is free and the practice has a strong energy field. When she knew she could learn the exercises in the local kindergarten, she walked three hours to the kindergarten and back to learn the exercises.
"This set of exercise has a healing effect and is relaxing," she said. "I will learn more [Falun Dafa] in the future to make myself better and healthier. Values such as Truthfulness-Compassion-Forbearance are important to me. It is very good and just what I need. I am grateful for this opportunity to learn Falun Gong, and I really hope we can have a practice site here."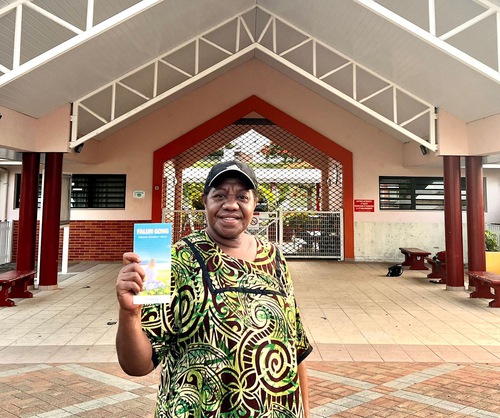 Truthfulness-Compassion-Forbearance Is What I Have Sought in My Whole Life
Philippe Bak and his aunt Roselle Guedin met Falun Gong practitioners who were distributing leaflets in a shopping mall. They expressed their wish to learn. After finding out where the practitioners were staying, they arrived at the hotel to learn to practice Falun Gong in the evening.
"Because I work in finance, I feel a lot of pressure every day," Bak said. "My doctor advised me to practice qigong and other exercises that can relax my body and mind. I just learned Falun Gong, and I feel very relaxed. Thank you so much for teaching us such a good practice."
He continued, "I experienced a lot of setbacks when I was young. My aunt was kind-hearted and helped me a lot. Otherwise, it would be very difficult for me to get to where I am today. We are so lucky to learn Falun Gong today. Tolerance is such a beautiful concept that everyone should follow."
His aunt, Roselle Guedin, nodded and said, "Yes, Truthfulness-Compassion-Forbearance is the concept I have been pursuing all my life. When I was learning the exercises just now, I felt that my mind was completely integrated into the exercises without any distracting thoughts. It is comfortable and peaceful. We are very grateful to the practitioners who came to New Caledonia to spread Falun Gong."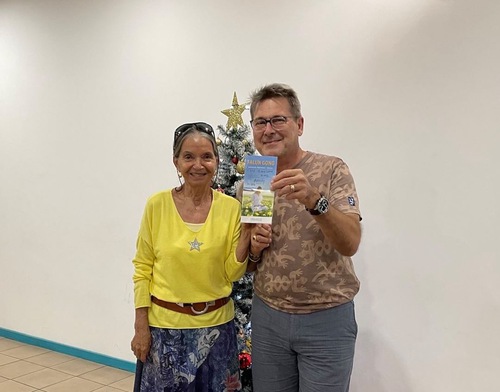 Background: What Is Falun Dafa and Why is the CCP Persecuting It?
Falun Dafa (also known as Falun Gong) was first introduced to the public by Mr. Li Hongzhi in Changchun, China, in 1992. The spiritual discipline is now practiced in over 100 countries and regions worldwide.
Millions of people who have embraced the teachings, which are based on the principles of Truthfulness, Compassion, and Forbearance, and have learned the five exercises, have experienced improved health and well-being.
Jiang Zemin, former head of the Chinese Communist Party (CCP), perceived the spiritual discipline's growing popularity as a threat to the CCP's atheistic ideology and on July 20, 1999, he issued an order to eradicate the practice.
Under Jiang's personal direction, the CCP established the 610 Office, an extralegal security organisation with the power to override the police and judicial systems and whose sole function is to carry out the persecution of Falun Dafa.
Minghui.org has confirmed the deaths of thousands of practitioners as a result of the persecution over the past 23 years. The actual number is believed to be much higher. Countless practitioners have been imprisoned and tortured for their faith.
There is concrete evidence that the CCP sanctions the harvesting of organs from detained practitioners, who are murdered to supply China's organ transplant industry.
Chinese version available
(Clearwisdom)