(Minghui.org) The Canadian House of Commons unanimously passed Bill S-223 to combat illegal human organ harvesting and trafficking with 324 votes on December 14, 2022. The bill is considered to be an important legal basis for Canada's crackdown on forced live organ harvesting.
Bill S-223 was originally sponsored by Senator Salma Ataullahjan. The bill proposes to strengthen Canada's regulation of human organ trafficking by amending the Criminal Code to create new offenses against trafficking in human organs and expand extraterritorial jurisdiction for the new offense.
The bill also seeks to amend the Immigration and Refugee Protection Act to prohibit permanent residents or foreign nationals from entering Canada if they engage in organ removal and trafficking without informed consent.
Senator Salma Ataullahjan who attended the reception after passage of the bill said that passage of S-223 was "a great day to celebrate." The senator has tried to get similar bills passed four times within the past five years.
"We're seeing more organ harvesting, not less, and I think Canada is one of the few countries where we don't align with our allies," she said. "Most of them have legislation, we don't. This legislation is long overdue, and I'm glad we finally succeeded."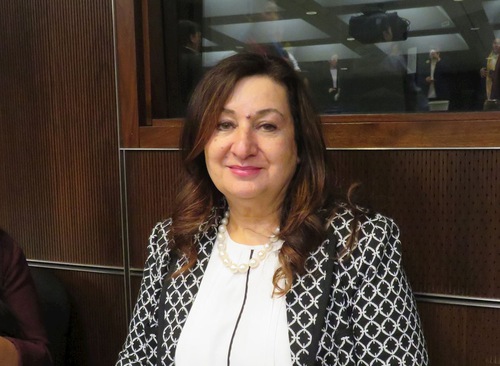 Bill S-223 Defends Dignity of All Human Beings
Garnett Genuis MP (Member of Parliament) delivered remarks on the bill passage in the reception on Parliament Hill. He said, "[Everyone possesses] a God-given dignity as human beings, and what we are trying to do when we speak about human rights is defend the idea of the inherent worth and dignity of all human beings—no matter where they live, no matter what faith they practice, no matter how big or how small they are, how old how young, how dependent or independent—that dignity is inherent in all human beings."
He added that Bill S-223 is special because it is an extraterritorial application of criminal law. "That's us saying in our Criminal Code, we are prepared to prosecute crimes that are committed by Canadians beyond our borders," he said.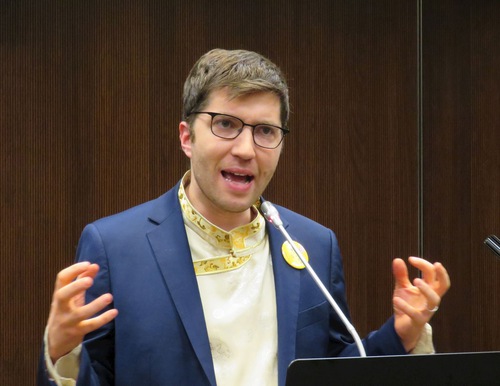 S-223 Is a Milestone
Arnold Viersen MP said he presented hundreds of petitions in the House of Commons calling for an end of the forced organ harvesting in China, and for the federal government to do something about it.
MP Viersen also paid tribute to late former Secretary of State for Asia-Pacific David Kilgour's contribution to the anti-organ harvesting movement.
"He was really the one that is the inspiration for me for working on this issue and he has done a lot of the hard work. This has been over 15 years in the making. It's a big day for celebration," he said.
He also commended Falun Gong practitioners from all over Canada for their excellent work in bringing these issues to the attention of all MPs and calling on the Chinese Communist Party (CCP) to end the live organ harvesting.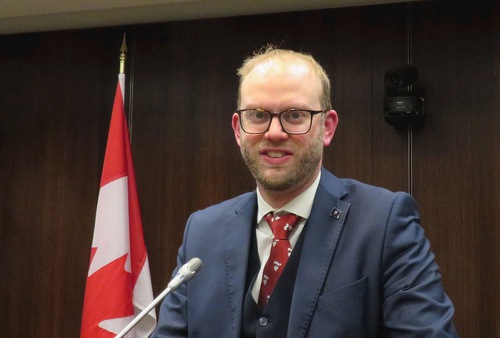 When asked about the impact of Bill S-223, Conservative MP Tako Van Popta said that Canadians have always stood up for human rights. "So I think it's in line with what Canadians think. We love China, but we do want minorities around the world to be protected," he said.
Cheryl Gallant MP said the passage of S-223 was a milestone.
MP Gallant said that many people were initially indifferent (to the CCP's live organ harvesting). "Twenty years later, this milestone has finally been achieved." She said that more and more people are waking up to it and hoping that this horrific practice will end and that the Chinese people will stand up and take their own destiny into their own hands.
Conservative MP Michael Chong said Canada needs to take a stronger approach against authoritarian regimes while standing up for democracy and the rule of law.
"We need to take a stronger stand on defending our values, our belief in democracy, our belief in freedom, our belief in human rights and the rule of law. That begins here at home by passing measures like this bill here today at the House of Commons. It will prohibit people in this country from participating in the terrible practice of organ harvesting, particularly [of] political prisoners," he said.
Chong, the Shadow Minister for Foreign Affairs, said that after the fall of the Berlin Wall the approach to deepen and broaden ties with authoritarian regimes through trade and investment taken by Western democracies was wrong-headed.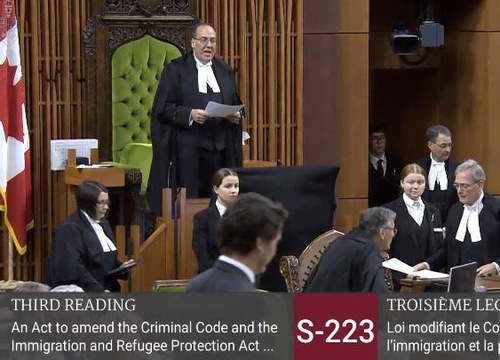 Garnett Genuis MP: Falun Gong Practitioners Are Targets of CCP's Live Organ Harvesting
Members of the Canadian Parliament generally believe that Bill S-223 is a response to the proliferation of illegal organ trafficking around the world and evidence of the CCP's large-scale organ harvesting from living prisoners of conscience.
Liberal Party Parliamentary Secretary Darren Fisher said in Parliament on December 7 that the bill introduced much-needed reforms aimed at ending the illegal trade in organs, which comes at the cost of human suffering and desperation. Organ trafficking is a global challenge.
Genuis MP said that Falun Gong practitioners have been targeted by the CCP for organ harvesting for decades. Now, more and more Uyghurs are also being targeted as part of the state-guided and state-controlled system.
Liberal MP Sameer Zuberi, the second sponsor of the bill, described the crime of live organ harvesting as outrageous. He thanked human rights lawyer David Matas and late former Secretary of State for Asia-Pacific David Kilgour for their work.
Since the CCP's secret large-scale harvesting of organs from living Falun Gong practitioners was exposed in 2006, Kilgour and Matas have jointly investigated, written a report outlining their findings and published the book Bloody Harvest.
"[Their investigation] has allowed us to obtain a wealth of evidence, not just anecdotally but empirically, that this is a disgusting phenomenon that is happening," MP Zuberi said.
He said Bill S-223 was an important piece of legislation that would, "help us address serious human rights issues" and send a, "clear and strong signal that we as a country do not accept this crime."
On December 7, during the debate on the third reading of the bill, Conservative MP James Bezan, vice-chair of the Standing Committee on National Defense, said, "We know this market exists. It is estimated that illegal organ trafficking brings in between one billion and two billion Canadian dollars a year in revenue. Twelve thousand illegal transplants are mainly from China. That's 12,000 transplants a year, and we have to end this."
Alexis Brunelle-Duceppe MP, a member of the Bloc Québécois, said on December 7, "China (the CCP) is the only country in the world that organises large-scale organ trafficking by harvesting organs from executed prisoners of conscience."
Chinese version available
(Clearwisdom)