(Minghui.org) Practitioners participated in the World Cultural Festival in Landsdowne Park on November 27, 2022, and introduced Falun Dafa, a traditional cultivation practice from China.
During the ten-hour colorful multicultural event with people of different ethnicities from 17 communities, the Falun Gong exercise demonstration gave the audience a refreshing view of the mind/body practice.
As five practitioners demonstrated the exercises, Jenny Dai, another practitioner, introduced Falun Dafa's characteristics and health effects to hundreds of people in the audience, "Falun Dafa was first introduced to the public in China by Mr. Li Hongzhi in 1992. Because of its extraordinary health benefits and profound principles, Falun Dafa quickly gained popularity. By 1999, it was estimated that 100 million people in China practiced."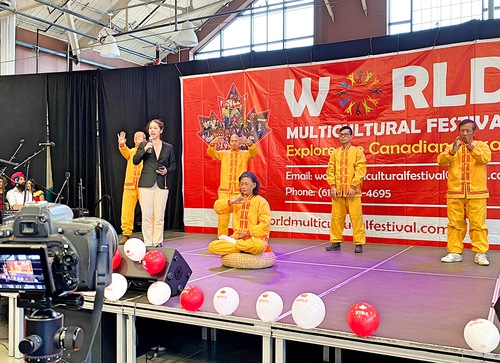 Dr. Gautam Ghosh, one of the festival organisers, said that this was the only world multicultural festival in Ottawa and one of the largest and most inclusive multicultural festivals in Canada. He praised the performance by the Chinese community, citing its beautiful and artistic presentation and its great cultural values.
Dr. Gautam Ghosh said that the Falun Dafa exercise demonstration was one of the most amazing things he had seen and that the meditation, which had a long history in China, is what people need when coping with anxiety brought on by work and life.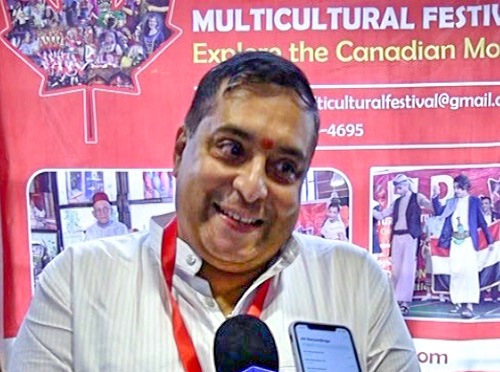 MP Marie-France Lalonde for Orléans praised the Falun Dafa practitioners in Canada for their great contributions to society, especially for offering free online workshops during the pandemic. She said that practitioners remind us of the importance of human rights, conscience, and freedom, as well as the values and benefits of Truthfulness, Compassion, and Forbearance.
Jenny Dai said that Falun Dafa uplifts people's spirits and improves their health in every part of the world. She said the calmness that Falun Dafa brings is much needed in today's busy world.
Chinese version available
(Clearwisdom)
Canada: Toronto Falun Dafa Group Invited to Perform in Four Christmas Parades