(Minghui.org) Practitioners in Kanagawa Prefecture gathered at Yokohama, the second largest city in Japan, on October 16, 2022 to expose the Chinese Communist Party's (CCP) atrocities, especially the persecution of Falun Dafa. Several elected officials and human rights advocates spoke at the event. They condemned the CCP's crimes including the forced organ harvesting, and called for the regime to be disintegrated.
City Councilor: Consistent Support
Zushi city councilor Maruyama spoke at the event and encouraged practitioners to continue their efforts. He said it was unfortunate that Falun Gong practitioners have been suppressed for over 20 years in China for their belief in Truthfulness-Compassion-Forbearance, which is why it is important that the Japanese public know what is happening.
He said, "Some people might think the CCP is very powerful, and such efforts are fruitless. But this is wrong since these grassroots efforts are effective."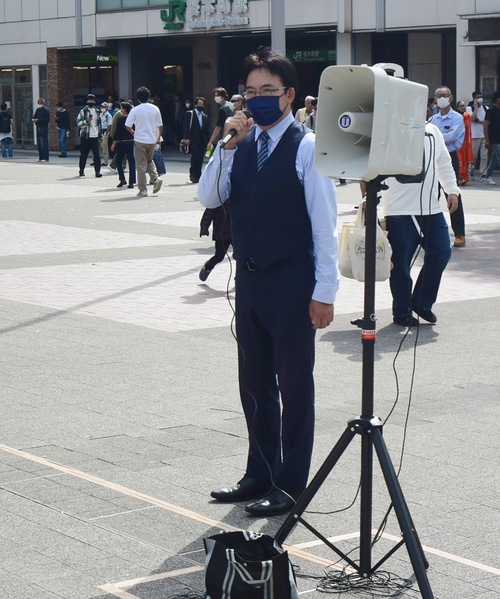 Crime of Organ Harvesting
Kotaro Miura is a critic, and he condemned the suppression in China especially the forced organ harvesting. "In fact, this malpractice has become a supply chain of organ trade." Miura said, "The CCP is afraid of this being exposed because it is so vicious.
Traditional culture has taught us the importance of common good, but the CCP opposes that and it promotes violence as well as material interests. Kotaro said the CCP has undermined thousands of years of history. "People are obliged to stop this atrocity since our world needs justice, kindness, and truth."
He expressed hope that more Japanese citizens as well as Chinese in Japan would see this event so they can support the righteous cause.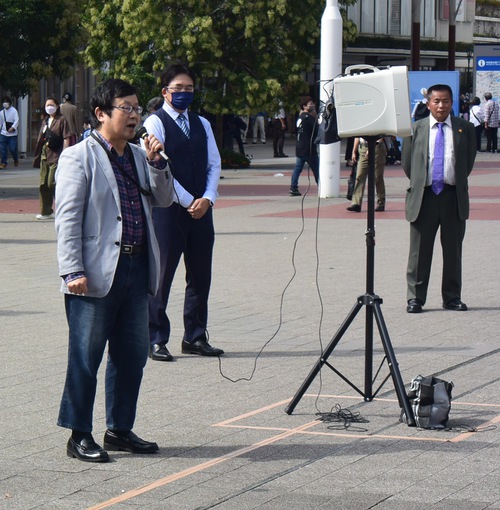 Traditional Values
Ms. Matsuoka from the Japan First Party said she knew about Falun Dafa and the principles of Truthfulness-Compassion-Forbearance. Compassion is what the CCP fears the most, but she believes the message of Truthfulness-Compassion-Forbearance will reach everywhere in China and the entire world.
She hopes the rally and march will help everyone learn about the suppression in China. She encouraged practitioners to keep up their efforts until the tragedies end.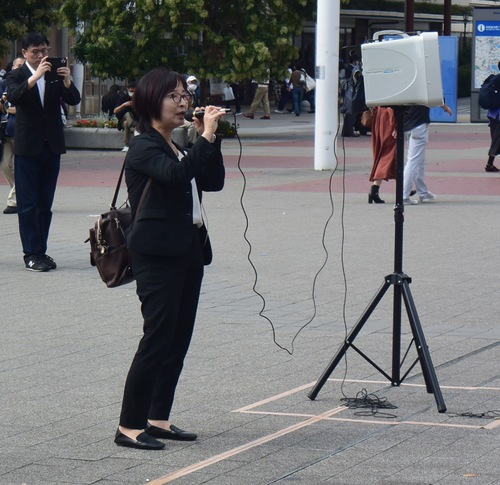 The Importance of Facts
Mr. Inagaki, head of the Japanese Falun Dafa Association, said that the practice has improved people's health and moral values through the principles of Truthfulness-Compassion-Forbearance. But the CCP has targeted traditional values during the past several decades, making the persecution of Falun Dafa one of the worst human rights violations in human history.
Mr. Inagaki stressed the importance of everyone staying informed about what is going on in China. The CCP has a track record of human rights abuse, and evidence now shows that the regime is threatening the entire world. He said that just like other speakers mentioned earlier, the persecution of Falun Dafa is endangering basic values and it is related to everyone. Mr. Inagaki said he hopes more people will step forward and reject the CCP.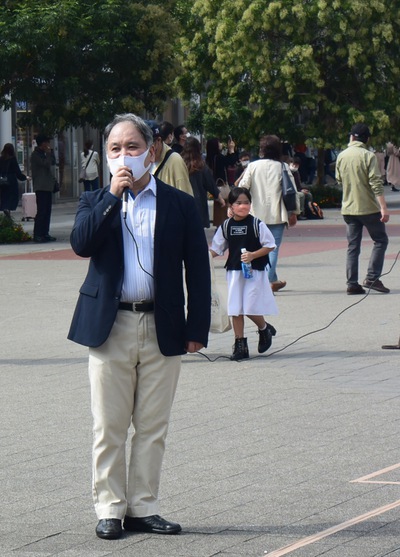 Positive Feedback from Spectators
Hundreds of practitioners participated in a march following the rally. With banners such as "Falun Dafa is Good," "400 Million Chinese have Quit the CCP," and "China ≠ CCP," the march was led by the Tian Guo Marching Band and accompanied by a waist drum group. The march started from Sakuragichō Station, passed through Yokohama's city centre and tourist attractions including Yokohama Red Brick Warehouse as well as Chinatown. Many people stopped to watch.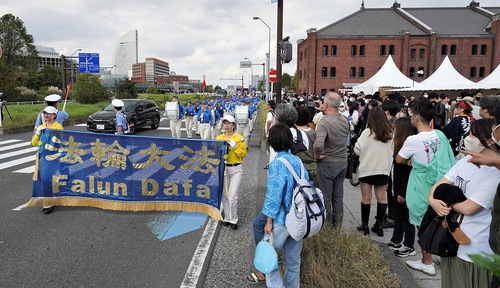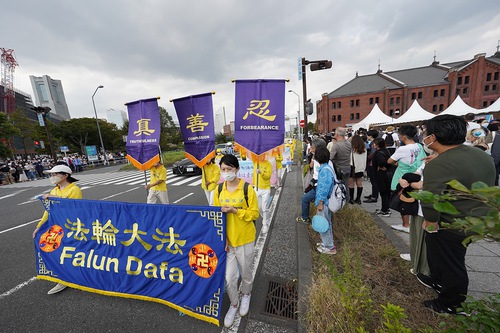 Public Expresses Support
Ms. Yamashita traveled from Kagoshima with her granddaughter. This was the first time she had heard about Falun Dafa. She thanked the practitioners for the information and promised to look into it.
When he saw the march at Sakuragichō Station, Mr. Takahashi said that many people did not know about the suppression yet. "You need to tell more people about this. Please keep it up!" he said.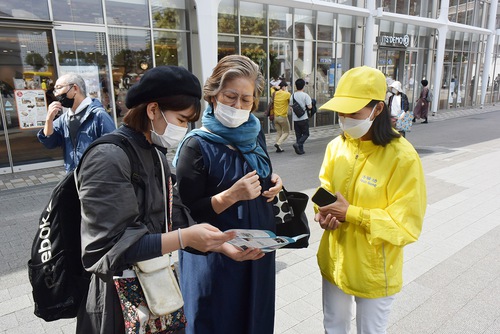 Ms. Nguyen from Nagoya was visiting Yokohama with her friends. "Coming from Vietnam, I know what communism is," she said. "I hope everyone can have freedom of belief."
Mr. Iwata, a tourist from Gifu, said he absolutely opposed the CCP. "The persecution of Falun Gong is wrong, not to mention forced organ harvesting," he said. He also wished practitioners well.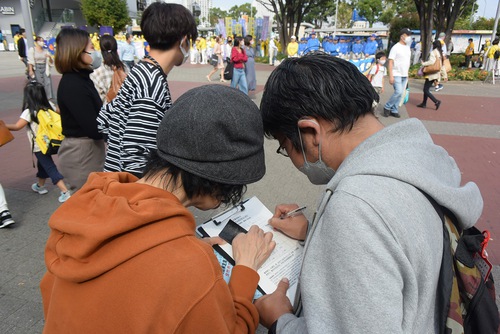 Mr. Mori who lives in Yokohama, said the forced organ harvesting was terribly wrong. "Although the CCP is still ruling China, the situation will change and people will regain their freedom," he explained.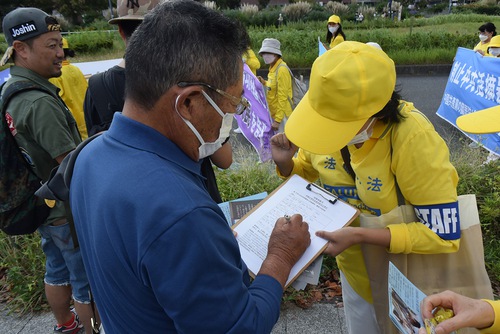 Mr. Sato, who is also from Yokohama, said, "I heard about the suppression of Falun Dafa while I was working in Taiwan. I am also aware of the organ harvesting in China. We need to work together and oppose the CCP."
Ms. Yamada, who lives in the area, praised the practitioners' events. "It will help people learn the horrible things that go on in China." Mr. Takaya agreed and said, "These tragedies are insane."
After Dang Anh Tlian and Nguyen Van Tal, two Vietnamese working in Japan, heard about the mistreatment practitioners suffered for their belief, both immediately signed the petition.
Mr. Shifang, who was in Yokohama on a business trip, said he had seen practitioners' activities before. "I like the rally and march. I sincerely hope more people will learn about the facts this way," he said.
Young Practitioner: A New Perspective
Mr. Wang Tianyu, a middle school student, began to practice Falun Dafa with his parents. "The practice gave me many new perspectives. I used to complain about other people or my situation," he said. "After I began practicing, I started to look within to see how I could improve." His friends found him more open-minded and easygoing. Some said he was like a new person.
"Compared to the principles of Truthfulness-Compassion-Forbearance, I still have a long way to go. But I am working on that and I am very thankful to Master Li, founder of the practice," he added.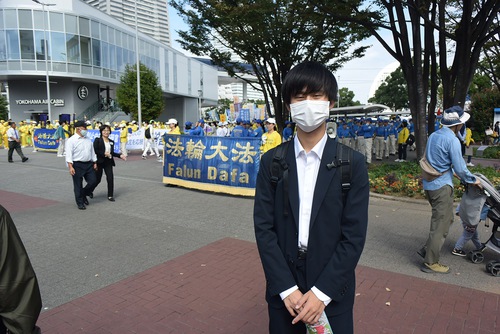 Background: What Is Falun Dafa and Why Is the CCP Persecuting It?
Falun Dafa (also known as Falun Gong) was first introduced to the public by Mr. Li Hongzhi in Changchun, China, in 1992. The spiritual discipline is now practiced in over 100 countries and regions worldwide.
Millions of people who have embraced the teachings, which are based on the principles of Truthfulness, Compassion, and Forbearance, and have learned the five exercises, have experienced improved health and well-being.
Jiang Zemin, former head of the Chinese Communist Party (CCP), perceived the spiritual discipline's growing popularity as a threat to the CCP's atheistic ideology and on July 20, 1999, he issued an order to eradicate the practice.
Under Jiang's personal direction, the CCP established the 610 Office, an extralegal security organisation with the power to override the police and judicial systems and whose sole function is to carry out the persecution of Falun Dafa.
Minghui.org has confirmed the deaths of thousands of practitioners as a result of the persecution over the past 23 years. The actual number is believed to be much higher. Countless practitioners have been imprisoned and tortured for their faith.
There is concrete evidence that the CCP sanctions the harvesting of organs from detained practitioners, who are murdered to supply China's organ transplant industry.
Chinese version available
(Clearwisdom)
Japanese Dignitaries Condemn Persecution of Falun Gong, Stand in Solidarity with Practitioners